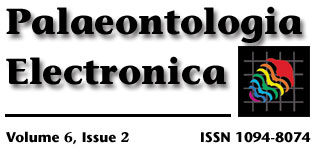 Authors: Manage Your References! (PDF)
Stefan Bengtson


Paleontology: A Candle in the Dark (PDF)
Jere H. Lipps


Letters

Biogeography of Some Eocene Larger Foraminifera, and Their Application in Distinguishing Geological Plates (PDF)
Peter Lunt

Morphometric Studies on Three Ostracod Species of the Genus Digmocythere Mandelstam from the Middle Eocene of Egypt (PDF)
Ashraf M. T. Elewa

Casting, Replication, and Anaglyph Stereo Imaging of Microscopic Detail in Fossils, with Examples from Conodonts and Other Jawless Vertebrates

(PDF)
Mark A. Purnell

PE NOTES: Within each article are links in the contents column to material that may be of further use to specific readers. There is a plain-language summary that is presented as text and in an oral version. There are multiple versions of the abstract in English, Franšais, Espa˝ol, Italiano, Deutsche, and Arabic. Acrobat PDF versions of the articles are available (click on PDF beside the title) or from the contents column within the individual articles.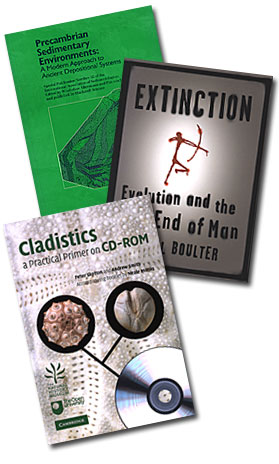 Cladistics:
A Practical Primer on CD-ROM (PDF)
Peter Skelton, Andrew Smith, and Neale Monks
Reviewed by R.P. Guralnick
Precambrian Sedimentary Environments:
A Modern Approach to Ancient Depositional Systems (PDF)
Edited by Wladyslaw Altermann and Patricia Corcoran
Reviewed by Frank Corsetti

Extinction: Evolution and the End of Man (PDF)
Michael Boulter
Reviewed by Sally E. Walker

Announcements
New Mexico DATAbase OnLine
Errata
The Thecamoebian Bibliography, 2nd Edition
Web Site Annotations
by P. Dave Polly
Paleontological and related web sites.
Paleontology newsletters and related electronic journals.
Teaching Resources
by William Riedel
Sites for teachers and students in primary and secondary schools. Includes web sites describing where fossils can conveniently be seen in situ and, in many instances, collected.
Contents
A list of items available in this issue available in Acrobat PDF format for easier printing.
Suggested Form of Citation
How to cite articles, editorials, and book reviews appearing in this issue.
Nomenclature Statement
How Palaeontologia Electronica fulfills the requirements for the publication of formal taxonomy.


Index of Palaeontologia Electronica Volumes
Alphabetical list of articles
Alphabetical list of authors
Keyword terms index


Archive Information
Information regarding repository libraries.
Archive & Mirror Sites
Back Issues
---
Copyright: Coquina Press
19 December 2003
http://palaeo-electronica.org