Revision of Dromilites bucklandii (Crustacea, Decapoda, Brachyura): Type material revealing its real identity, a junior synonym, and a new species
Plain Language Abstract
Dromiidae, also known as sponge crabs, is one of the earliest families of Brachyura. Known since the Late Jurassic, they are well represented during the Eocene epoch, which triggered the descriptions of well-known fossil species from deposits in South-eastern England since the mid-nineteenth century (London Clay Formation). This study is based on a simple observation: the original material that allowed the description of the Eocene crab species Dromilites bucklandii differs from all the material subsequently described as such. It actually corresponds to a rarer species, with a rather flat carapace, which has been described much later as a new species: D. simplex. Here, we demonstrate that this latter species has actually to be considered as D. bucklandii, and we create the new species D. belli to include all the fossil crabs, displaying ornamented carapaces that have been mistakenly identified as D. bucklandii for more than 150 years. We show, by providing images of historic non-figured and new well-preserved material, that these two species differ from each another, regardless of the growth stage of the carapaces.
Resumen en Español
in progress
Traducción: Enrique Peñalver (Sociedad Española de Paleontología) or Diana Elizabeth Fernández
Résumé en Français
in progress
Translator: Antoine Souron
Deutsche Zusammenfassung
Revision von Dromilites bucklandii (Crustacea, Decapoda, Brachyura): Typenmaterial offenbart seine wahre Identität, ein Juniorsynonym und eine neue Art
Einige der fossilen Krabben aus dem späteozänen London Clay waren unlängst Gegenstand einiger Revisionen, darunter die hervorragend erhaltenen dromiiden (Schwamm-) Krabben. Wir untersuchten das Originalmaterial des Typus von Dromilites bucklandii von Milne Edwards, das sich von allen nachfolgend beschriebenen Stücken zu unterschieden scheint. Der Typus von D. bucklandii ist conspezifisch mit dem sehr viel später beschriebenen D. simplex Quayle und Collins, 1981. Stücke bei denen sich nachfolgende Autoren - von denen Bell (1858) der häufigsten ist - typischerweise auf D. bucklandii beziehen, werden hier formal als die neue Art D. belli n. sp. beschrieben. Diese neue Art wird basierend auf den Abbildungen und neuen Stücken von Bell beschrieben, die eine ausgeprägte ontogenetische Variation bei der Carapax-Aeroloation aufweisen. Zur Dokumentation der ontogenetischen Variation und des Sexualdimorphismus untersuchten wir beim gesamten Material das Größenspektrum, die Variationen bei der Ornametierung und das Geschlecht (das in vielen Fällen bestimmt werden konnte, da der Abdomen erhalten war). Diese Vergleiche bauen auf der neuen Bildgebung auf, die bis dato für die Forschungsarbeit nicht zugänglich waren. Wir stellen mit dieser Untersuchung eine Beschreibung und Abbildung des Typusmaterials zur Verfügung, das von den Wissenschaftlern des Neunzehnten Jahrhunderts nur grob beschrieben war (und oft keine Abbildungen hatte). Hiermit erweitern wir unsere Kenntnis über ausgestorbene Brachyura. Wir stellen Abbildungen von allen britischen Typen von Dromilites zur Verfügung.
Schlüsselwörter: Krabben; Dromioidea; Eozän; Synonymie; Ontogenie; London Clay
Translator: Eva Gebauer
Arabic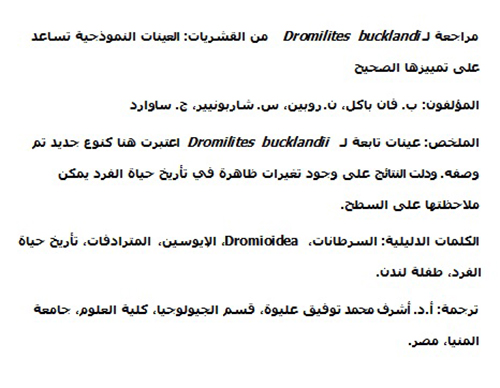 Translator: Ashraf M.T. Elewa