Who's that girl? A singular Tropiduchidae planthopper from the Eocene Baltic amber (Hemiptera: Fulgoromorpha)
Plain Language Abstract
Tropiduchidae (planthoppers) is a family with extremely high morphological disparity resulting in numerous tribes, both extant and extinct, placed within. Here we describe a new tribe of these insects from the Eocene Baltic amber, presenting a peculiar set of morphological characters not found in any of known recent or fossil representatives of the family. The morphological peculiarities of this fossil are expressed by 'flatoidinisation syndrome' which is discussed in the paper.
Resumen en Español
in progress
Traducción: Enrique Peñalver (Sociedad Española de Paleontología) or Diana Elizabeth Fernández
Résumé en Français
in progress
Translator: Antoine Souron
Deutsche Zusammenfassung
Who's that girl? Eine einzelne tropiduchide Spitzkopfzikade aus dem eozänen Baltischen Bernstein (Hemiptera: Fulgoromorpha)
Ein neuer Tribus tropiduchider Spitzkopfzikaden aus dem Baltischen Bernstein - Gedanotropidini trib. nov. mit der neuen Gattung und Art Gedanotropis sontagae gen. et sp. nov. wird beschrieben. Es wird ein Schlüssel zu den Tribus und Gattungen der Tropiduchidae aus dem eozänen Baltischen Bernstein vorgelegt. FT-IR-Spectrophotometrie wird zur Herkunftsbestätigung von Museumsmaterial und seiner Dokumentation vorgeschlagen. Es werden die ökoevolutionären Auswirkungen von bestimmten morphologischen Merkmalen der neuen Taxa diskutiert und das 'Flatoidinisationsssyndrom' wird eingeführt.
Schlüsselwörter: neuer Tribus; neue Gattung; neue Art; 'Flatoidinisationsssyndrom'; Baltischer Bernstein
Translator: Eva Gebauer
Arabic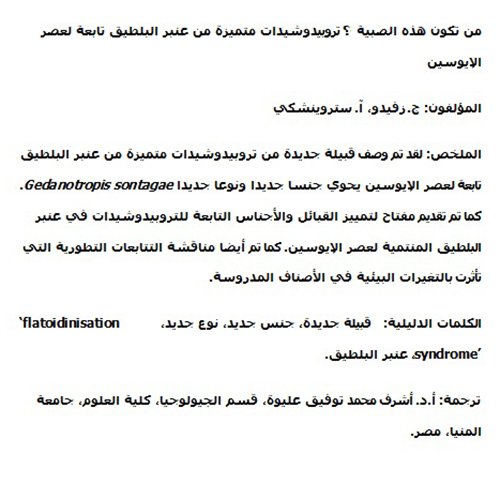 Translator: Ashraf M.T. Elewa