Miminipossum notioplanetes, a Miocene forest-dwelling phalangeridan (Marsupialia; Diprotodontia) from northern and central Australia
Plain Language Abstract
Research into the prehistory of Australia's marsupials conducted by the University of New South Wales in Sydney and the South Australian Museum in Adelaide has revealed a new family, genus and species of small Miocene possum. This new species existed in 23-15 million-year-old (Early to Middle Miocene) ecosystems that may have stretched continuously at least halfway across the continent of Australia from Riversleigh in northwestern Queensland to the Tirari Desert in central South Australia. The relationship of this new group to other possum groups is uncertain because as yet too little is known about these new marsupials. But because it was one of 15 other unique kinds of extinct marsupials shared by the fossil deposits in the two areas, it is reasonable to hypothesize that the lush, wet forest conditions interpreted to have been present in Riversleigh during the Early and Middle Miocene were also present at the same time in the centre of the Continent.
Resumen en Español
Miminipossum notioplanetes, un Phalangerida mioceno habitante de bosques (Marsupialia; Diprotodontia) del norte y centro de Australia
Miminipossum notioplanetes representa una nueva familia (Miminipossumidae) del suborden Phalangerida del Mioceno Temprano/Medio descubierta en la fauna "Two Trees Local Fauna" de la "Riversleigh World Heritage Area" en el noroeste de Queensland y en la fauna "Kutjamarpu Local Fauna" del desierto de Tirari en el norte de Australia del Sur. Debido a la convergencia generalizada en las características clave de P3 y M1 entre las familias del suborden Phalangerida, las relaciones interfamiliares de Miminipossumidae son inciertas. La edad de la "Kutjamarpu Local Fauna" ha sido puesta en duda con estimaciones que van desde el Oligoceno tardío hasta el Mioceno Medio. El nuevo taxón aumenta a 15 el número de taxones en la "Kutjamarpu Local Fauna" que también están presentes en las asociaciones de "Riversleigh's Faunal Zone B" (Mioceno temprano) y de "Riversleigh's Faunal Zone C" (Mioceno Medio). Aunque existe poca evidencia de correlación biótica para la estimación de edad en el Oligoceno tardío, persiste la duda sobre si la edad es más probable que sea Mioceno temprano o Medio. En lo que respecta a las implicaciones paleoambientales, debido a que se concluyó que tanto las asociaciones fósiles de Riversleigh del Mioceno temprano como las del Mioceno Medio se depositaron en bosques templados y húmedos de tierras bajas ricos en especies, se considera que el mismo o similar paleoambiente del Mioceno temprano/Medio se habría presentado en el centro de Australia cuando la asociación fósil de Kutjamarpu se estaba originando.
Palabras clave: Miminipossumidae; Mioceno; Riversleigh; Kutjamarpu; nuevo género; nueva especie
Traducción: Enrique Peñalver (Sociedad Española de Paleontología)
Résumé en Français
in progress
Translator: Antoine Souron
Deutsche Zusammenfassung
Miminipossum notioplanetes, ein miozäner Phalangeride (Marsupialia; Diprotodontia) aus Nord-und Zentralaustralien
Miminipossum notioplanetes repräsentiert eine neue früh/mittelmiozäne Familie (Miminipossumidae) von Phalangeriden aus der Two Trees Local Fauna der Riversleigh Naturwelterbestätte im nordwestlichen Queensland und der Kutjamarpu Local Fauna der Tirari Wüste im nördlichen South Australia. Weil unter den phalangeriden Familien bei den Schlüsselmerkmalen von P3 and M1 sehr viele Konvergenzen auftreten, sind die interfamiliären Beziehungen der Miminipossumidae unsicher. Über das Alter der Kutjamarpu Local Fauna besteht Uneinigkeit und die Schätzungen schwanken zwischen spätem Oligozän und mittlerem Miozän. Das neue Taxon erhöht die Anzahl der Kutjamarpu Local Fauna Taxa auf 15, die mit den Assemblagen der Riversleigh Faunenzone B (frühes Miozän) und der Riversleigh Faunenzone C (mittleres Miozän) geteilt werden. Obwohl es ziemlich wenig biokorrelative Unterstützung für ein spätoligozänes Alters gibt, bestehen Zweifel ob das Alter eher frühes oder spätes Miozän ist. Es kann durchaus sein, dass dieselbe oder eine ähnliche früh/mittelmiozäne Paläoumwelt zur Zeit als die Kutjamarpu Assemblage akkumuliert wurde bis nach Zentralaustralien hineinreichte, weil sowohl für die frühmiozäne Riversleigh Assemblage als auch für die spätmittelmiozäne Riversleigh Assemblage gefolgert wurde, dass sie in temperierten, feuchten und artenreichen Tiefladwäldern akkumuliert wurden.
Schlüsselworter: Miminipossumidae; Miozän; Riversleigh; Kutjamarpu; neue Gattung; neue Art
Translator: Eva Gebauer
Arabic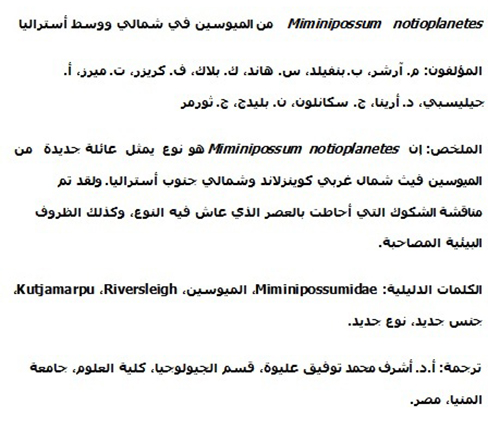 Translator: Ashraf M.T. Elewa