Articles
The first fossil insect from the deep-water marine Early Miocene of Zillerleite, Germany (Diptera: Bibionidae)
Plain Language Abstract
Fossil insects are generally found in outcrops of terrestrial origin and more rarely in near-shore marine palaeoenvironments. Discoveries of insects in deep-water marine deposits are extremely rare. We report the discovery of the first insect, a fly, in the deep-water deposit of Zillerleite in Bavaria. Such discoveries can be informative of the proximity of the coasts or of ancient routes of migrations of insects.
Resumen en Español
in progress
Traducción: Enrique Peñalver (Sociedad Española de Paleontología) or Diana Elizabeth Fernández
Résumé en Français
Le premier insecte fossile des dépôts marins profonds du Miocène inférieur de Zillerleite, Allemagne (Diptera: Bibionidae)
Les insectes fossiles sont en général absents dans les gisements d'origine marine, avec les cas exceptionnels des riches sites du Jurassique inférieur d'Europe du Nord, du Jurassique supérieur d'Allemagne et du Paléogène du Danemark. Dans ces dépôts, les insectes fossiles sont associés à des paléoenvironnements côtiers, souvent de lagons. Nous signalons la découverte exceptionnelle d'un Diptère Bibionidae des niveaux de molasses marine du Miocène inférieur de Zillerleite (Bavière, Allemagne), qui représente le premier insecte fossile connu de ce gisement. Il appartient au genre Penthetria et fait partie des rares cas d'insectes fossiles collectés dans des dépôts marin profonds.
Mots clefs : Insecta; Bibionidae; dépôts marins; Miocène; Aquitanien; Allemagne
Translator: Author
Deutsche Zusammenfassung
In progress
Translator: Eva Gebauer
Arabic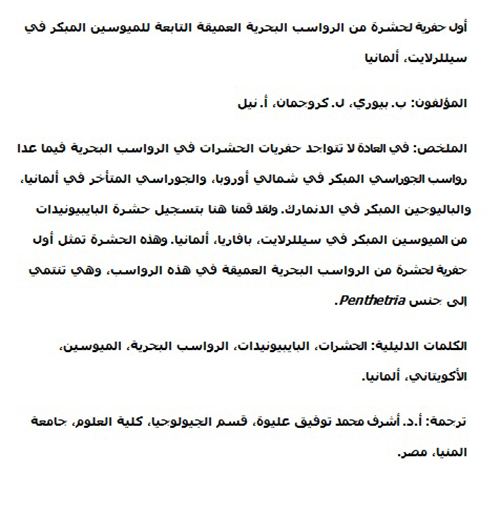 Translator: Ashraf M.T. Elewa
Bernhard Beaury. Seerosenweg 10b, 83236 Übersee, Germany. This email address is being protected from spambots. You need JavaScript enabled to view it.
Bernhard Beaury, Searcher, Assistant at Bayerische Staatssammlung für Paläontologie at Mainz, Germany
Collecting fossils since 1970, main emphasis in helvetic and molasse sediments in southeastern bavaria, especially fossil sharks.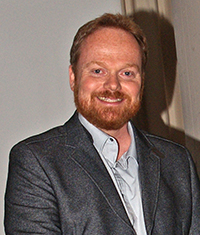 Lars Krogmann. Staatliches Museum für Naturkunde Stuttgart, Entomologie, Rosenstein 1, 70191 Stuttgart, Germany. This email address is being protected from spambots. You need JavaScript enabled to view it.
Lars Krogmann, Dr., Searcher at the State Museum of Natural History Stuttgart, Entomology, specialist on Hymenoptera, recent and fossil.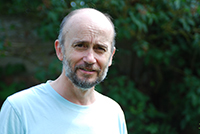 André Nel. Institut de Systématique, Évolution, Biodiversité, ISYEB - UMR 7205 - CNRS, MNHN, UPMC, EPHE, Muséum national d'Histoire naturelle, Sorbonne Universités, 57 rue Cuvier, CP 50, Entomologie, F-75005, Paris, France. This email address is being protected from spambots. You need JavaScript enabled to view it.
André Nel, Dr, Pr. at the MNHN, Paris, specialist in fossil insects.
FIGURE 1. Penthetria species undetermined, photograph under isopropanol. Scale bar equals 2 mm.