Lori L. Manship
Department of Geosciences
Texas Tech University
Lubbock, Texas, 79409-1053
USA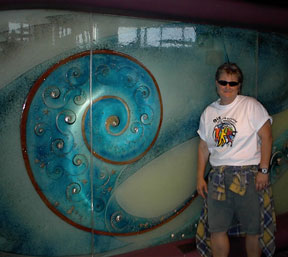 I received my B.S. degree in Geology from Sul Ross State University in 2001, my M.S. degree in Geology/Paleontology from Bowling Green State University in 2003, and I currently am pursuing my Ph.D. degree in Geology/Paleontology with a minor in GIS from Texas Tech University. My current research is working on the Western Interior Coilopoceras springeri incorporating GIS. This research is an investigation into the intraspecific sutural variation of this ammonite species from the Upper Cretaceous Chispa Summit Formation. I am also working on the Frasnian (Late Devonian) conodont Palmatolepis spp. for species discrimination based on shape variation using GIS.
Other areas of interest include teaching geology and paleontology incorporating a field-based approach. I believe in a hands-on approach to stimulate curiosity and learning. Among other activities I enjoy are hiking, camping, caving, fishing, and watching the Weather Channel.