Anna K. Behrensmeyer
Department of Paleobiology
National Museum of Natural History
MRC 121
P.O. Box 37012
Smithsonian Institution
Washington, DC 20013-7012, USA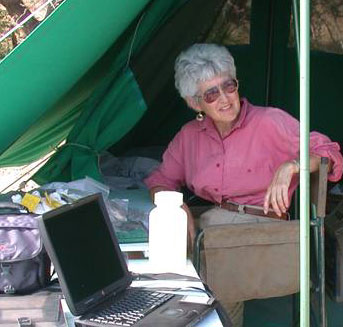 Kay Behrensmeyer received her doctorate in vertebrate paleontology and sedimentology from the Department of Geological Sciences, Harvard University, in 1973. After several post-doctoral positions and some teaching for the Earth Science Board, UC, Santa Cruz, she became a research curator at the National Museum of Natural History, where she has been since 1981. She is also an adjunct professor in the Geosciences Department at the University of Arizona, Tucson, and served as Acting Associate Director for Science at NMNH from 1993-96.
Her chief interests involve taphonomy and paleoecology, with a particular focus on the later Cenozoic terrestrial records of East Africa and Pakistan. Much of her career so far has centered on understanding taphonomic processes that alter and destroy organic remains and how these processes affect information preserved in the fossil record. This understanding forms a basis for reconstructing various aspects of ancient faunal communities and tracing them through time in relation to changes in paleoclimate and other environmental variables. Developing new approaches to data collecting in the field has figured prominently in her research agenda. Currently, Kay is working on the taphonomic and paleoecological projects in the Pakistan Siwalik sequence, the Turkana Basin and the Olorgesailie Basin in the rift valley of Kenya, and the Hadar Formation of Ethiopia. She is also continuing her 30-year study of actualistic taphonomy in Amboseli National Park, Kenya.