Manfred Krautter
Institut für Geologie und Paläontologie
Universität Stuttgart
Herdweg 51, 70174 Stuttgart
Germany
Photo shows a happy MK holding a still-living Farrea occa.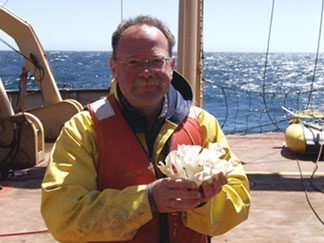 Professor Dr. Manfred Krautter obtained his Diploma in Geology and Palaeontology in 1985 and his Ph.D. in Geology in 1990, both at the University of Stuttgart. Since the early eighties he is focused on the palaeoecology and taxonomy mainly of Jurassic sponges and sponge reefs including the accompanying fauna. This interest resulted in his habilitation (equivalent to a second PhD ) about the "Palaeoecology of postpalaeozoic siliceous sponges". In 2003 he joined Hannover University where he held a temporary professorship in general geology until 2004. At present he holds a temporary position at the Institute of Geology and Palaeontology in Stuttgart.
His scientific work in western and central Europe has involved research directed at basin analysis in Jurassic and Cretaceous strata. Among other interests, he is currently focused on fossil and Recent siliceous sponges, palaeoecology of fossil marine invertebrates, sedimentology and diagenesis of limestones as well as biostratigraphy. His research concerns the biology and ecology of hexactinellid sponges in particular. This involves studies of modern species and of particular problems in the fossil record. Together with Kim W. Conway and J. Vaughn Barrie, he is participating in studies concerning the biology and ecology of the glass sponge reefs off British Columbia, Canada with the aim of better understanding the fossil record of these reef forms.
Personal website of MK at: http://www.porifera.org.