Editorials
Articles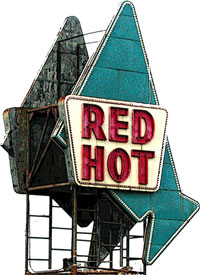 Cover
We borrowed part of our cover artwork from Peter Wilf. It's a sign that typifies American roadhouses, and also a landmark to many paleontologists who have looked for red hot fossils. We think it is particularly befitting for this issue, which is full of good reading, and also the first time we have produced three issues in one year. So here's to a Red Hot issue, and many more to come.
PE NOTES: Within each article are links in the contents column to material that may be of further use to specific readers. There is a plain-language summary and there are multiple versions of the abstract in English, Français, Español, Deutsche, Arabic, and Polski. PDF versions of the articles are available (click on "print" beside the title) or from the contents column within the individual articles.
ISSN: 1094-8074, web version; 1532-3056, CD-ROM; 1935-3952, print.
Copyright: Coquina Press
Volume 10, Issue 3
December 2007
http://palaeo-electronica.org