COMMENTARY
Articles
Cover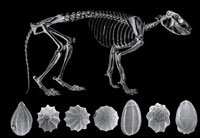 The images for this cover were chosen because they seemed to typify our first attraction to paleontology—why many of us became paleontologists. Was it the old bones or field camp?
PE NOTES: Within each article are links in the contents column to material that may be of further use to specific readers. There is a plain-language summary and there are multiple versions of the abstract in English, Français, Español, Deutsche, Arabic, and Polski. PDF versions of the articles are available (click on "print" beside the title) or from the contents column within the individual articles.
ISSN: 1094-8074, web version; 1532-3056, CD-ROM; 1935-3952, print.
Copyright: Coquina Press
Volume 11, Issue 1
March 2008
http://palaeo-electronica.org