A taxonomic revision of orthosternous scorpion from the English Coal-measures aided by X-ray Micro-Tomography (XMT)
Plain Language Abstract
The ecology of the oldest fossil scorpions is a contentious issue, with some arguing that the oldest representatives lived in marine environments. Recently developed x-ray techniques were applied to the Carboniferous scorpion Compsoscorpius buthiformis. The data obtained from this technique allows us to better understand the morphology and ecology of this early scorpion. Its anatomy is compared to extant scorpions and found to resemble modern "errant" scorpions adapted to an arid environment – and may represent a transitional form between aquatic and terrestrial species. Other fossil scorpion specimens from nearby fossil site are found to be conspecific with C. buthiformis.
Resumen en Español
Revisión taxonómica de los escorpiones ortosternos del "Coal Measures" (Carbonífero) de Inglaterra con la ayuda de la microtomografía de rayos X (XMT)
La sistemática de los escorpiones fósiles, en particular la de las asociaciones encontradas en los depósitos carboníferos conocidos como "Coal Measures", resulta problemática debido a la existencia de numerosos taxones, frecuentemente monotípicos y basados en un conjunto limitado de caracteres. Estos escorpiones paleozoicos pueden contribuir a aclarar la naturaleza del grupo basal de los escorpiones y, por tanto, suministrar información para los ya largos debates sobre el origen del grupo corona y las relaciones entre los linajes actuales. Los taxones del Carbonífero se encuentran frecuentemente fosilizados en concreciones de siderita y pueden estar preservados en tres dimensiones. En este estudio se analizan dos de esos ejemplares pertenecientes a la especie Compsoscorpius buthiformis (Pocock, 1911) con ayuda de la microtomografía de rayos X (XMT) y de la reconstrucción computarizada. Estos métodos revelan nuevos e importantes detalles de la anatomía, tales como los apéndices marchadores, que permiten una comparación más precisa con otros taxones de la misma edad. Se concluye que muchos de esos taxones son sinónimos más recientes de C. buthiformis y se analizan críticamente las prácticas taxonómicas llevadas a cabo con anterioridad en relación con los escorpiones de los "Coal Measures". También se revisa la ecología de C. buthiformis a la luz de las nuevas pruebas aportadas por la XMT. En particular, se señala que ciertos aspectos de sus apéndices marchadores y de la anatomía de su metastoma son análogos a los de los escorpiones litófilos actuales y a los de los que habitan entre las hojarasca.
Palabras clave: Escorpiones; microtomografía de rayos X; terrestrialización; Carbonífero; siderita
Traducción: Miguel Company
Résumé en Français
Une révision taxinomique aidée par microtomographie à rayons-X (XMT) de scorpions orthosternes provenant des couches de houille anglaises
Les systématique des scorpions fossiles – particulièrement celle des assemblages diversifies trouvés dans les dépôts de houiller du Carbonifère – est problématique, étant caractérisée par un large nombre de taxa souvent monotypiques, et basée sur un ensemble limité de caractères. Ces scorpions paléozoïques ont un potentiel pour élucider la nature du groupe-souche des scorpions et donc pour contribuer au long débat concernant l'origine du groupe-couronne et les relations entre les différentes lignées actuelles. Les taxa carbonifères sont souvent trouvés dans des concrétions de sidérite et peuvent être préservés en trois dimensions. Cette étude se concentre sur deux de ces fossiles de l'espèce Compsoscorpius buthiformis (Pocock, 1911) à l'aide de microtomographie à rayons-X (XMT) et reconstruction assistée par ordinateur. Les balayages révèlent de nouveaux détails importants de l'anatomie, tels que les pattes, ce qui permet une comparaison plus détaillée avec les autres taxa contemporains. Plusieurs de ces taxa sont finalement identifiés comme des synonymes de C. buthiformis et les usages taxonomique passés sont, lorsqu'il réfèrent aux scorpions des couches a houilles, font l'objet de critiques. L'écologie de C. buthiformis est également révisée à la lumière des nouvelles preuves issues du XMT. En particulier, les aspect de pattes et de l'anatomie metastomale sont analogues a ceux des scorpions lithophiliques et scorpions 'errants' de feuilles mortes actuels.
Mots clés: scorpions ; micro tomographie à rayons-X ; adaptation terrestre ; carbonifère ; sidérite
Translator: Olivier Maridet
Deutsche Zusammenfassung
Eine taxonomische Revision der orthosternen Skorpione aus den englischen Kohlelagerstätten mit Hilfe von Röntgen-Mikrotomographie (XMT)
Die Systematik der Skorpione ist problematisch, speziell derer aus den diversen Assemblagen der karbonischen Kohlelagerstätten. Diese Schwierigkeit kommt durch eine hohe Anzahl von häufig monotypischen Taxa zustande, die auf einem eingeschränkten Merkmalssatz basieren. Die paläozoischen Skorpione liefern neue Informationen über die Stammgruppe der Skorpione und erhellen damit die lang anhaltenden Debatten bezüglich des Ursprungs der Kronengruppe und die Beziehungen zwischen noch bestehenden Linien. Karbonische Taxa werden oft in Sideritkongretionen gefunden und können so dreidimensional erhalten werden. Im Folgenden werden zwei solcher Fossilien der Art Compsoscorpius buthiformis (Pocock, 1911) mit Hilfe von Röntgen-Mikrotomographie und Computerrekonstruktion untersucht. Diese Scans verdeutlichen wichtige neue anatomische Details wie die Laufbeine, die einen detaillierten Vergleich mit gleichzeitig auftretenden Taxa ermöglichen. Es wird hier aufgezeigt, dass viele dieser Taxa Juniorsynonyme von C. buthiformissind. Auch wird das bisherige taxonomische Verfahren bezüglich der Kohlelagerstätten bemängelt. Die Ökologie vonC. buthiformis wird ebenso angesichts der neuen Erkenntnisse mit XMT überprüft. Besonders Aspekte die das Laufbein und die metastomatale Anatomie betreffen sind analog mit denen der noch bestehenden lithophilen und 'aberranten' Blätter-Streu Skorpione.
SCHLÜSSELWÖRTER: Skorpione; Röntgen-Mikrotomographie; Verlandung; karbonisch; Siderit
Translators: Eva Gebauer and Anke Konietzka
Arabic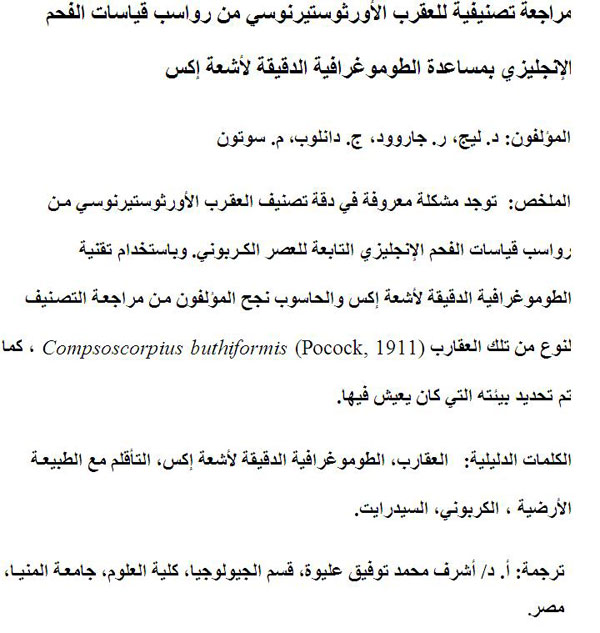 Translator: Ashraf M.T. Elewa
Polski Abstrakt
Rewizja taksonomiczna skorpionów ortosternowych z angielskiego karbonu produktywnego przeprowadzona przy użyciu mikrotomografii rentgenowskiej (XMT)
Systematyka kopalnych skorpionów - szczególnie bogatych zespołów znanych z osadów karbonu produktywnego - jest problematyczna, charakteryzując się znaczną ilością w większości monotypowych taksonów, opartych na ograniczonej liczbie cech. Te paleozoiczne skorpiony mają potencjał by wyjaśnić naturę grupy pnia skorpionów, a więc i wziąć udział w trwającej od dawna debacie nad pochodzeniem grupy koronnej i pokrewieństwami między żyjącymi liniami. Karbońskie taksony są często znajdowane w konkrecjach syderytowych i mogą być zachowane trójwymiarowo. W naszej pracy badamy dwa okazy Compsoscorpius buthiformis (Pocock, 1911) używając mikrotomografii rentgenowskiej (XMT) i rekonstrukcji komputerowych. Nasze skany ujawniają nowe szczegóły anatomii elementów takich jak odnóża kroczne, co umożliwia bardziej szczegółowe porównanie z równowiekowymi formami. Wiele z nich okazuje się u być młodszymi synonimami C. buthiformis, a dotychczasowa praktyka taksonomiczna w odniesieniu do karbonu produktywnego, poddana zostaje krytyce. Również ekologia C. buthiformis jest przedyskutowana w świetle nowych danych dostarczonych przez XMT. W szczególności, aspekty anatomii odnóży krocznych i anatomii metasomalnej, są analogizowane z występującymi u dzisiejszych form litofilicznych i 'błędnych' skorpionów liściowych.
Słowa kluczowe:skorpiony; mikrotomografia rentgenowska; wyjście na ląd; karbon; syderyt
Translators: Dawid Mazurek and Robert Bronowicz
Riassunto in Italiano
Revisione tassonomica di uno scorpione orthosterno dalle English Coal-Measures mediante la microtomografia a raggi X (XMT)
La sistematica degli scorpioni fossili, e in particolare quella delle associazioni dei depositi carboniferi delle Coal Measures, è problematica in quanto caratterizzata da un gran numero di taxa monotipici basati su un set di caratteri limitato. Lo studio degli scorpioni paleozoici potrebbe potenzialmente fare luce sul gruppo degli scorpioni basali e di conseguenza fornire nuovi dati per dirimere dibattiti di lunga data riguardanti l'origine del crown group e le relazioni fra le linee evolutive attuali. I taxa carboniferi si rinvengono spesso in concrezioni di siderite e si conservano tridimensionalmente. In questo studio ci occupiamo di due esempi di questo tipo, appartenenti alla specie Compsoscorpius buthiformis (Pocock, 1911), mediante microtomografia a raggi X (XMY) e successiva ricostruzione al computer. Le scansioni hanno rivelato nuovi importanti dettagli dell'anatomia (come l'apparato locomotorio) che permettono una comparazione più dettagliata con i taxa coevi. Molti di tali taxa si sono rivelati essere sinonimi di C. buthiformis. Viene inoltre riesaminata l'ecologia di C. buthiformis alla luce delle nuove evidenze fornite dalla XMT. Sottolineiamo in particolare che l'apparato locomotorio e l'anatomia metastomale sono analoghi a quelli degli scorpioni attuali litofili ed "erranti" di leaf-litter.
Parole chiave: Scorpioni; microtomografia a raggi X; terrestrializzazione; Carbonifero; siderite
Translator: Chiara Angelone