Discovery of a Pleistocene mysticete whale, Georgia Bight (USA)
Ervan G. Garrison, Greg McFall, Alexander Cherkinsky, and Scott E. Noakes
Plain Language Abstract
During the fall of 2006, scientific divers from The University of Georgia (UGA) and the National Oceanic and Atmospheric Administration (NOAA) were conducting a reconnaissance dive at JY reef approximately 20 nautical miles offshore Georgia. During this dive, a large fossilized bone was discovered partially embedded in the reef. On subsequent dives, loose sand was removed from around the bone and a small section was recovered (see video in Appendix). This bone fragment was radiocarbon dated to approximately 36,000 years before present (byp). However, since the bone was determined to be much larger than originally thought, it would require extensive excavation, thus a bottom disturbing permit was required. After approximately one year of discussions with multiple state and federal agencies, the United States Army Corps of Engineers issued a permit for excavation. Excavation began in the summer of 2008 and involved cutting through fossilized shell beds before reaching softer, but hard packed silt that encased the large bone. Divers worked diligently with hammers, chisels and knives to cut away the overburden and carefully remove the sediment immediately around the bone. After numerous dives, the bone was recovered in sections totaling approximately 1.5 m in length. The bone has been preliminarily identified as an Atlantic gray whale mandible. Subsequent work included stabilization, restoration and comparative paleontological study to verify our preliminary taxonomic identification. A joint UGA and Emory University team professionally restored the bone for study and display. The results of these studies are reported in this paper.
Resumen en Español
Hallazgo de un cetáceo misticeto del Pleistoceno en el golfo de Georgia (EE. UU.)
En este artículo se da cuenta del hallazgo de restos subósiles de un cetáceo misticeto en un yacimiento submarino situado en el golfo de Georgia, a unos 30 km mar adentro de la isla de St. Catherines. Los restos incluyen un dentario casi completo (~77 %) (mandíbula izquierda) y dos vértebras fuertemente erosionadas. El descubrimiento inicial de la mandíbula tuvo lugar en 2006, pero la excavación no se completó hasta el verano de 2008. Las dos vértebras, mal preservadas, fueron halladas cerca del mismo afloramiento, del cual habían sido exhumadas por la erosión. Las dos vértebras fueron datadas pero no han sido analizadas en este trabajo. La datación por radiocarbono de los subfósiles, llevada a cabo mediante espectrometría de acelerador de partículas (AMS) utilizando bioapatito en lugar de colágeno, sugiere una edad común para los restos esqueléticos de entre 34000 y 37000 años, aunque no es segura la pertenencia de todos los restos a un mismo individuo o, ni siquiera, a un mismo taxón. La edad calculada para los subfósiles concuerda con la edad del sedimento, una lumaquela de conchas, previamente determinada por la datación mediante AMS de inclusiones y por la datación directa de los sedimentos mediante luminiscencia estimulada ópticamente (OSL). Además, también se obtuvieron edades para la lumaquela mediante racemización de aminoácidos (AAR). El análisis comparativo de los caracteres morfológicos preservados del dentario recolectado con los de mandíbulas de misticetos sugiere afinidades con los Balaenopteridae o los Eschrichtiidae. Junto con el reciente hallazgo de materiales pleistocenos en el Mar del Norte (Europa), los nuevos restos bien datados de Norteamérica podrían aportar nuevas pruebas de la desaparición de la ballena gris en el Atlántico durante el Cuaternario.
Palabras clave: Ballena; Misticeto; Pleistoceno; golfo de Georgia
Traducción: Miguel Company
Résumé en Français
Découverte d'une baleine mysticète Pléistocène, baie de Georgia (USA)
Des preuves subfossiles, incluant une mandibule gauche presque complète (~77 %) et deux vertèbres fortement érodées, d'une baleine mysticète, ont été découverts, sous l'eau, in situ, dans le baie de Georgia, à 30 kms des côtes de l'île St. Catherine, Georgia. La découverte de la mandibule fut faite initialement en 2006 mais l'extraction n'a été finie qu'à l'été 2008. Deux vertèbres on été retrouvées à proximité, ayant été érodées à partir du même affleurement que la mandibule. Les deux vertèbres ont été datées mais ne sont pas analysées dans le présent compte rendu. Une datation directe des subfossiles, avec la technique de datation radiocarbone par spectromètre de masse par accélération (AMS), utilisant la bioapatite, plutôt que le collagène, suggèrent un âge commun pour ces éléments de squelette, compris entre 34.000 to 37.000 ka, mais l'attribution de ces restes à un même individu, ou même, à un même taxa, reste pour spéculative. Les âges déterminés pour ces subfossiles sont en accord avec l'âge de dépôts géologiques, et avec l'âge d'une coquille de coquina précédemment déterminé par datation AMS des inclusions, et la datation directe des sédiments utilisant la luminescence optiquement stimulée (OSL). En complément, un âge a été obtenu pour la coquille par racemisation des acides aminés (AAR). Nos analyses comparatives supportent la diagnose d'une mandibule de baleine mysticète. Des comparaisons supplémentaires des caractères morphologiques préservés avec ceux des mandibules de mysticètes supportent une diagnose plus poussée en tant que balaenopteridé ou eschrichtiidé. Associée aux récentes découvertes d'âge pléistocènes en Europe dans le bassin de la Mer du Nord, ces restes pourraient fournir une nouvelle preuve bien datée de l'extirpation de la baleine grise dans le bassin Atlantique au Quaternaire.
Mots clés : baleine, Pléistocène, baie de Georgia
Translator: Olivier Maridet
Deutsche Zusammenfassung
Fund eines Bartenwals aus dem Pleistozän von Georgia Bight (USA)
In der Georgia Bight, 30 km von der Küste von St. Catherine's Island in Georgia wurde unter Wasser in Situ ein subfossiler Nachweis mit einem nahezu kompletten linken Unterkiefer ( ~77 %) und zwei stark erodierten Wirbeln eines Bartenwals entdeckt. Ursprünglich wurde der Unterkiefer bereits 2006 entdeckt, jedoch waren die Ausgrabungen erst im Sommer 2008 beendet. Zwei schlecht erhaltene Wirbel, die aus derselben Fundstelle wie das Dentale herausgewittert waren, wurden in der Nähe gefunden. Sie wurden datiert, werden jedoch in diesem Report nicht analysiert. Eine direkte Datierung der Subfossilien mit Beschleunigungs-Massenspektrometrie – Radiokarbonverfahren (AMS) mit Bioapatit anstatt Kollagen ergab eine Altersspanne von 34 000 bis 37 000 Jahre. Jedoch ist es spekulativ die Reste einem Tier oder damit einem Taxon zuzuschreiben. Das ermittelte Alter stimmt gut mit dem Alter der geologischen Ablagerungen überein. Diese Coquina Lage wurde erst kürzlich mit AMS Datierung von Einschlüssen und direkter Datierung von Sedimenten mit der Optisch Stimulierten Lumineszenz (OSL) datiert. Zusätzlich wurden für die Coqunia Aminosäure Racemisierungsalter (AAR) erzielt. Unsere vergleichende Analyse unterstützt die Diagnose für ein Dentale eines Bartenwals. Weitere Vergleiche der erhaltenen morphologischen Merkmale mit denen von Unterkiefern von Bartenwalen erlauben eine weitere Zuordnung zu den Balaenopteriden oder Eschrichtiiden. Zusammen mit anderen pleistozänen Funden in Europa und im Nordseebecken können diese Funde einen neuen gut datierten Nachweis für den ausgerotteten Grauwal im quartären atlantischen Becken darstellen.
SCHLÜSSELWÖRTER: Wal; Mysticeti; Pleistozän; Georgia BightIn progress
Translators: Eva Gebauer
Arabic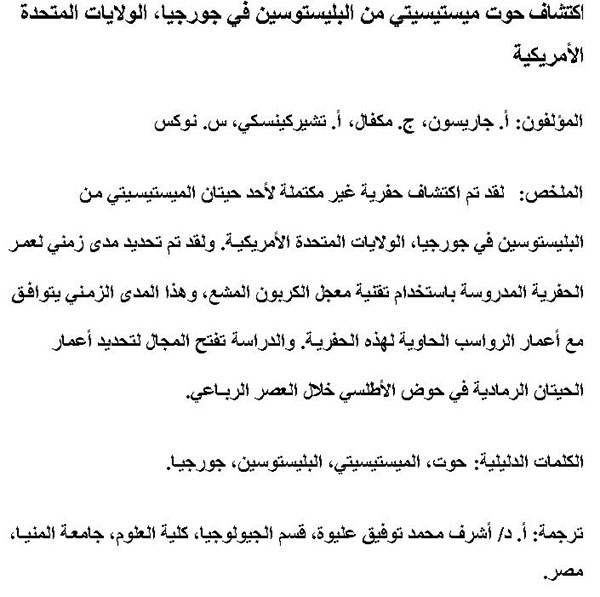 Translator: Ashraf M.T. Elewa