New carnivoraforms (Mammalia) from the middle Eocene of California, USA, and comments on the taxonomic status of 'Miacis' gracilis
Plain Language Abstract
The extinct group of carnivorous mammals that gave rise to the living mammalian order Carnivora (which today includes dogs, cats, and their relatives) are known as basal carnivoraforms. According to previous molecular and paleontological studies, the evolutionary history of this group during the middle Eocene (49 to 37 million years ago) holds a key to illuminating the origin of carnivorans. Yet the diversity and distributions of carnivoraforms from this critical time period are poorly understood, partly because of limited taxonomic work since the early twentieth century. In an effort to remedy this situation, I examined in detail fossil carnivoraforms from the Uintan and the earliest Duchesnean North American Land Mammal Ages (ca. 47-41 million years ago) of southern California, which has yielded a remarkable diversity of middle-Eocene mammals. As the result, I describe in this paper two new genera as well as significant specimens of three known and two possibly-new taxa. In total, a minimum of 11 species of carnivoraforms are recognized in this regional fossil record. Of the nine species known from the late Uintan through the earliest Duchesnean ages (ca. 43-41 million years ago), at least six are apparently endemic to southern California. This high endemism is consistent with previous observations of increased faunal provinciality (i.e., different regions having distinct sets of species or genera) during this time period in North America, which may have reflected major geologic transformations taking place on the continent. The notably high number of carnivorous mammals corresponds to a high number (over 50 species in the late Uintan) of non-carnivorous mammals in the same region, suggesting a broad ecological link between mammalian predator and prey diversity in the deep geologic past.
Resumen en Español
Nuevos carnivoramorfos (Mammalia) del Eoceno medio de California, EE.UU., y comentarios sobre el estatus taxonómico de 'Miacis' gracilis
El Eoceno medio es un período clave para el estudio de la evolución temprana de los carnivoramorfos y el origen del grupo corona de los carnívoros. En este trabajo se describen dos nuevos géneros de carnivoramorfos del Uintiense (NALMA) de California meridional y se dan a conocer ejemplares no descritos hasta ahora de Procynodictis progressus, 'Miacis' gracilis, 'Miacis' hookwayi y dos taxones indeterminados para cubrir algunas de las lagunas en el conocimiento taxonómico. En concreto, los materiales fósiles aquí descritos apoyan la ubicación de P. vulpiceps and P. progressus en el mismo género aunque sugieren identidades distintas a nivel específico. Análogamente, 'M.' gracilis, que ha sido puesto en sinonimia con P. vulpiceps por algunos autores, se considera aquí una especie distinta de P. vulpiceps y P. progressus. Se reconocen un mínimo de once taxones carnivoramorfos en el Eoceno medio de California meridional, incluyendo nueve del Uintiense tardío al Duchesniense basal (entre hace unos 43 y 41 Ma). Entre estos últimos, al menos seis taxones son aparentemente endémicos de esta región, en consonancia con la alta provincialidad de las faunas norteamericanas de mamíferos durante esta época. Además de los carnivoramorfos, se han reconocido cuatro taxones de creodontos y un mesoniquio. La elevada riqueza taxonómica de mamíferos carnívoros de Eoceno medio en California meridional está relacionada con una alta diversidad de mamíferos no carnívoros, lo que está de acuerdo con la correlación entre diversidad de mamíferos depredadores y presas observada a distintas escalas espacio-temporales. Las distribuciones estratigráficas de los taxones del Uintiense tardío estudiados en este trabajo coinciden con las edades recientemente revisadas de las asociaciones de vertebrados de la Formación Sespe del condado de Ventura (California).
Palabras clave: Carnivoramorpha; Carnivoramorfos; Eoceno; California; nuevo género
Traducción: Miguel Company
Résumé en Français
Nouveaux carnivoraformes (Mammalia) de l'Eocène moyen de la Californie, Etats-Unis, et commentaires sur le statut taxonomique de 'Miacis' gracilis
L'Éocène moyen constitue une période importante pour comprendre le début de l'évolution des carnivoraformes et l'origine des carnivores. Je décris ici deux nouveaux genres de carnivoraformes provenant de l'âge des mammifères terrestres de l'Amérique du Nord de Uintan en Californie du Sud et signaler les spécimens jusque-là non décris de Procynodictis progressus, 'Miacis' gracilis, 'Miacis' hookwayi, et deux taxons indéterminés pour combler certaines lacunes dans les connaissances taxonomiques. Plus précisément, les matériaux fossiles décrits ici soutiennent la place de P. vulpiceps et P. progressus dans le même genre, mais suggèrent leurs identités distinctes au niveau de l'espèce. De même, 'M.' gracilis, qui a été placé en tant que synonyme de P. vulpiceps par certains auteurs, est considérée comme une espèce distincte de P. vulpiceps et P. progressus. Un minimum de 11 taxons carnivoraformes sont reconnus dans l'Eocène moyen de la Californie du sud, dont neuf provenant de la fin du Uintan jusqu'au début Duchesnean (env. 43-41 Ma). Parmi ces derniers, au moins six taxons sont apparemment endémique à cette région, se conformant ainsi au fort provincialisme des faunes de mammifères d'Amérique du Nord au cours de cette période. En plus des carnivoraformes, quatre taxons de créodontes et un mesonychid sont connus. La richesse taxonomique particulièrement élevé des mammifères carnivores de l'Eocène moyen de la Californie du Sud est associée à une forte diversité de mammifères non carnivores dans la même région; ceci est en accord avec les corrélations de la diversité entre prédateurs et proies mammifères qui ont déjà été observé à différentes échelles spatio-temporelles. Les distributions stratigraphiques des taxons de la fin de l'Uintan rapportés ici sont en accord avec les âges récemment révisées des assemblages de vertébrés de la Formation Sespe du comté de Ventura, en Californie, dans le sens parcimonieux.
Mots-clés: Carnivoramorpha; Carnivoraformes; Eocène; Californie; nouveau genre
Translator: Kenny Travouillon
Deutsche Zusammenfassung
Neue Carnivoraforme (Mammalia) aus dem mittlere Eozän von Kalifornien, USA und Bemerkungen zur taxonomischen Stellung von 'Miacis' gracilis
Das mittlere Eozän ist eine wichtige Epoche was das Verständnis der frühen Evolution der Carnivoraformen und den Ursprung der Kronengruppen – Carnivoren angeht. Es werden hier zwei neue Gattungen von Carnivoraformen des nordamerikanischen "Land Mammal Ages" (Uintium) aus Kalifornien beschrieben und es wird über bisher unbekanntes Material von Procynodictis progressus, 'Miacis' gracilis, 'Miacis' hookwayi und zwei unbestimmte Taxa berichtet, um einige der taxonomischen Lücken zu schließen. Speziell das hier beschriebene Fossilmaterial unterstützt die Zuordnung von P. vulpiceps und P. progressus in dieselbe Gattung, legt aber Unterschiede auf Artniveau nahe. Ebenso wird 'M.' gracilis, das von einigen Autoren mit P. vulpiceps synonymisiert wurde, als unterschiedliche Art angesehen und zwar sowohl zu P. vulpiceps als auch zu P. progressus. Ein Minimum an 11 carnivoraformen Taxa wurde im mittleren Eozän von Südkalifornien erkannt, von denen neun aus dem späten Uintium bis zum frühesten Duchesnium (vor ca. 43-41 Mio. Jahren) stammen. Von letzterem sind mindestens sechs Taxa offensichtlich endemisch in dieser Region und bestätigen so die hohe Provinzialität der nordamerikanischen Säugetierfaunen während dieser Zeit. Zusätzlich zu den Carnivoraformen sind vier Taxa von Creodonten und ein Mesonychide bekannt. Die bemerkenswert hohe taxonomische Fülle der mittel-eozänen fleischfressenden Säugetiere in Südkalifornien hängt mit der hohen Diversität an nicht- fleischfressenden Säugetieren von dort zusammen. Dieses Muster stimmt mit der Korrelation von Räuber und Beute Verhältnissen überein, welche in Bezug auf Säugetiere in verschiedenen raumzeitlichen Maßstäben beobachtet wurden. Die stratigraphischen Verteilungen der hier beschriebenen Taxa aus dem späten Uintium stimmen im Sinne der Parsimonie mit den kürzlich revidierten Altern der Wirbeltierassemblagen der Sespe Formation des Ventura County, Kalifornien, überein.
Schlüsselwörter: Carnivoramorpha; Carnivoraforme; Eozän; Kalifornien; neue Gattung
Translator: Eva Gebauer
Arabic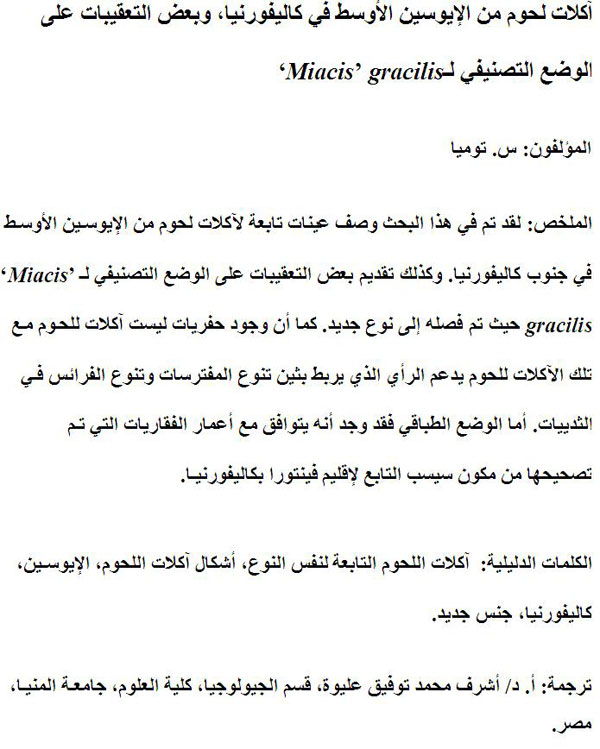 Translator: Ashraf M.T. Elewa