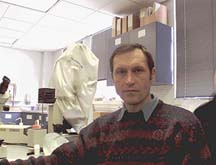 Vladimir I. Davydov
All Russian Geological Research Institute (VSEGEI)
St. Petersburg and Permian Research Institute (PRI)
Boise State University
Department of Geosciences
1910 University Drive
Boise, Idaho, 83725
USA

Vladimir I. Davydov is a Senior Scientist of the All Russian Geological Research Institute (VSEGEI) and is currently a Research Professor at the Permian Research Institute, Department of Geosciences, Boise State University. He graduated from Tadzhik State University after which he spend several years mapping the Pamirs, Central Asia. Since 1977 Davydov has worked at VSEGEI where he has concentrated on Upper Paleozoic stratigraphy and fusulinid biostratigraphy in various regions of Asia, Arctic Norway and, most recently, in the Western U.S. and Carnic Alps. His scientific background also includes research interests in magnetostratigraphy, biogeochemistry, paleoclimatology and sequence stratigraphy. His current research involves refining the fusulinid biostratigraphy of Pennsylvanian and Permian systems based on both phylogenetic studies of fusulinids and semi-quantative biostratigraphical tools (e.g., graphic correlation).

Inger Nilsson
Saga Petroleum ASA
P.O. Box 490, N-1301
Sandvika, Norway