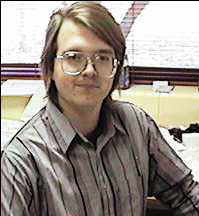 Ben Waggoner
Department of Biology, University of Central Arkansas; Conway, AR 72035-0001 USA

Ben Waggoner was born in Lafayette, Louisiana, a town so remote and isolated from the rest of America that it didn't receive its first mega-mall until 1979. Attending Edgar A. Martin Middle School, Waggoner was repeatedly voted "Most Accident-Prone" by his peers, a prophetic foreshadowing of his later career. After a distinguished high-school career, if that is not an oxymoron, Waggoner entered Tulane University in New Orleans, graduating in 1991 with a B.S. in Biology and a B.A. in Russian. He also spent the summer of 1989 juggling, fire-eating, unicycling and stilt- walking with a small circus, which played such venues as the
Wisconsin State Fair; the Jim Thorpe, Pennsylvania Volunteer Fire Department; the Port Elizabeth, New Jersey VFW; and Boscov's Department Store, in Dover, Delaware.
Entering the University of California at Berkeley, Waggoner turned to paleontology under the tutelage of major professor Dr. Jere Lipps. He spent the fall and winter of 1993, and the summer of 1994, as a visiting researcher at the Paleontological Institute in Moscow, studying the Ediacara-type biotas of the White Sea region with Dr. Mikhail A. Fedonkin. He also played bass guitar in one of Berkeley's most renowned unsigned, unrehearsed, and downright apocryphal rock bands: Satan, Lettuce and Tomato. Realizing that it was the only way to get rid of him, in 1997 the University of California at Berkeley awarded Waggoner a Ph.D. in Integrative Biology. He recently joined the faculty of the Department of Biology at the University of Central Arkansas. Dr. Waggoner's publications include papers in Nature, Science, and the Annals of Improbable Research (twice).