Thecamoebian communities as proxies of seasonality in Lake Sadatal in the Ganga-Yamuna Plains of North India
Plain Language Abstract
Thecamoebians are microscopic, single celled animals that occur primarily in a variety of freshwater habitats. They are cosmopolitan in distribution and occur in lake sediments from tropics to the Arctic region, peat bogs and salt marshes. They are highly sensitive to environmental changes thus have been used as proxies for a variety of environmental and climatic parameters, levels of chemical and organic pollution, fluctuation in oxygen concentration and water temperatures in lakes. Lake Sadatal is situated near Mallanwan in the Ganga-Yamuna Plains of North India. It is a shallow remnant of a past oxbow lake left by meandering river Ganga. This region shows strong seasonality and average atmospheric temperature during winter (December-March) range between 7-20ºC and during summer (April-June) range between 21- 45ºC (2005-2007). Diverse assemblages of thecamoebians were recovered from Lake Sadatal showing distinct summer and winter communities for three years. Thecamoebian concentrations were higher during summer monsoon months than winter. This study successfully demonstrates how seasonal changes control abundances of different taxa and composition of thecamoebian assemblages in a tropical lake. The results of this research can be used to study seasonal changes in Holocene paleoclimate research using lake sediment cores.
Resumen en Español
Uso de las comunidades de tecamebas como "proxies" de estacionalidad en el lago Sadatal, llanura del Ganges-Yamuna, norte de la India
Las tecamebas son protistas provistos de concha que habitan en diversos ambientes salobres y de agua dulce. Se han utilizado con éxito como "proxies" para diferentes parámetros climáticos y ambientales en estudios limnológicos y paleolimnológicos. El Sadatal es un lago permanente situado cerca de la pequeña ciudad de Mallanwan (coord. geogr.: 27° 3' 0" N, 80° 9' 0" E) en la llanura del Ganges-Yamuna, en el norte de la India. El lago Sadatal es un vestigio poco profundo de un antiguo lago en herradura formado a partir de los meandros del río Ganges y sus afluentes. Su profundidad máxima es de 1.5 m en verano y de unos 3 m durante la estación de los monzones, en julio y agosto. El suelo de la zona es salino, rico en sodio, con una alcalinidad máxima de pH 10. El clima de la región muestra una elevada estacionalidad, con temperaturas atmosféricas medias que oscilan entre 7 y 20ºC durante el invierno (diciembre a marzo) y entre 21 y 45ºC durante el verano (abril a junio), según datos del período 2005-2007. Para el presente estudio se recogieron muestras diversas de tecamebas del lago Sadatal que reflejan comunidades distintas para el verano y el invierno durante tres años. Los Centropyxidae y Arcellenidae dominan durante los meses más fríos, con baja humedad y precipitación (octubre a marzo), mientras que Amphitrema spp. y Difflugia oblonga "triangularis" son dominantes durante el verano y los meses con más alta prcipitación y humedad coincidentes con los monzones (abril a septiembre). El predominio de Amphitrema spp. está relacionado con la abundancia de detritos de la planta acuática Lemna durante el verano en el fondo del lago. Las concentraciones totales de tecamebas son mayores durante el verano y los meses de los monzones que en invierno.
PALABRAS CLAVE: Tecamebas resistentes a los ácidos; estacionalidad; sedimentación lacustre; llanura del Ganges-Yamuna; India
Traducción: Miguel Company
Résumé en Français
Les communautés thécamoebiennes comme proxy de saisonnalité dans le lac Sadatal dans les plaines du Ganga Yamuna du nord de l'Inde.
Les thécamoebiens sont de protistes à test que l'on trouve dans une variété d'habitats d'eau douce et d'environnements saumâtres. Ils ont été utilisés avec succès en tant que proxy pour les paramètres environnementaux et climatiques dans des études limnologiques et paléolimnologiques. Le lac perpétuel de Sadatal est situé proche de la petite ville de Mallanwan (latitude 27° 3' 0" Nord et longitude 80° 9' 0" Est) dans les plaines du Ganga-Yamuna au nord de l'Inde. Le lac Sadatal est un vestige peu profond d'un ancien bras mort laissé par les méandres du fleuve Ganga et ses affluents (profondeur maximum ~1,5 m pendant l'été et ~3,0 m pendant la saison de mousson en juillet-août). Le sol autour de cette région est salin, riche en sodium, avec un maximum d'alcalinité du sol de pH 10. La région montre une forte saisonnalité et des températures atmosphériques moyennes variant entre 7-20°C durant l'hiver (décembre-mars) et variant entre 21- 45°C durant l'été (avril-juin) (2005-2007). Des thécamoebiens taxonomiquement diversifiés et mélangés ont été extrait du lac Sadatal montrant des communautés distinctes pour l'été et l'hiver sur trois ans. Les centropyxidés et arcellenidés dominent les mois à humidité et précipitation faibles (octobre-mars) alors que Amphitrema spp. et Difflugia oblonga "triangularis" dominent l'été et les mois de précipitation et humidité élevées (avril-septembre). La dominance de Amphitrema spp. Est reliée à l'abondance des détritus d'herbe aquatique Lemna au fond du lac en été. La concentration totale de thécamoebiens était plus élevée durant les mois de mousson estivale que durant les mois d'hiver.
Mots Clés : thécamoebiens résistants à l'acide ; saisonnalité ; sédiments lacustres ; plaines Ganga-Yamuna ; Inde
Translator: Olivier Maridet
Deutsche Zusammenfassung
Vergesellschaftungen von Thecamöben als Indikatoren für die Saisonalität des Sadatal-Sees in der Ganga-Yamuna-Ebene von Nordindien
Thecamöben sind Protisten der Testaceen-Gruppe, die in vielen verschiedenen Frisch- und Brackwasser-Habitaten zu finden sind. In limnologischen und paläolimnologischen Studien wurden sie bereits erfolgreich als Indikatoren für eine Vielzahl von ökologischen und klimatischen Parametern eingesetzt.
Der ganzjährig wasserführende Sadatal-See liegt nahe der kleinen Stadt Mallanwan (27° 3' 0" nördliche Breite und 80° 9' 0" östliche Länge) in der Ganga-Yamuna-Ebene von Nordindien.
Der See ist ein Überbleibsel eines Altwasserarms des mäandernden Ganges und seiner Nebenflüsse (maximale Tiefe ~1.5 m im Sommer und ~3.0 m während des Juli-August Monsuns). Die Erde dieser Region ist salzhaltig, natriumreich und hat eine maximale Alkalinität von pH10. Die Gegend weist eine ausgeprägte Saisonalität auf, die Durchschnittswerte der Lufttemperatur betragen im Winter (Dezember – März) 7 – 20°C und im Sommer (April – Juni) 21 – 45°C (2005 – 2007). Die im Laufe von drei Jahren dem See entnommenen Thecamöben sind taxonomisch divers und gemischt, mit deutlichen Sommer- und Winter-Vergesellschaftungen. Centropyxiden und Arcelleniden dominieren in den Monaten mit niedriger Feuchtigkeit und geringem Niederschlag (Oktober – März), wohingegen Amphitrema spp. und Difflugia oblonga "triangularis" im Sommer und in den Monsunmonaten mit hoher Luftfeuchtigkeit und starkem Niederschlag (April – September) dominieren. Die Dominanz von Amphitrema spp. korreliert mit einem hohen Anteil von Detritus der aquatischen Pflanze Lemna am Seegrund während der Sommermonate. Zur Monsunzeit im Sommer war die Konzentration der Thecamöben höher als im Winter.
SCHLÜSSELWÖRTER: Säureresistente Thecamoeben; Säsonalität; Seesedimente; Ganges-Yamuna Ebene; Indien
Translator: Anke Konietzka
Arabic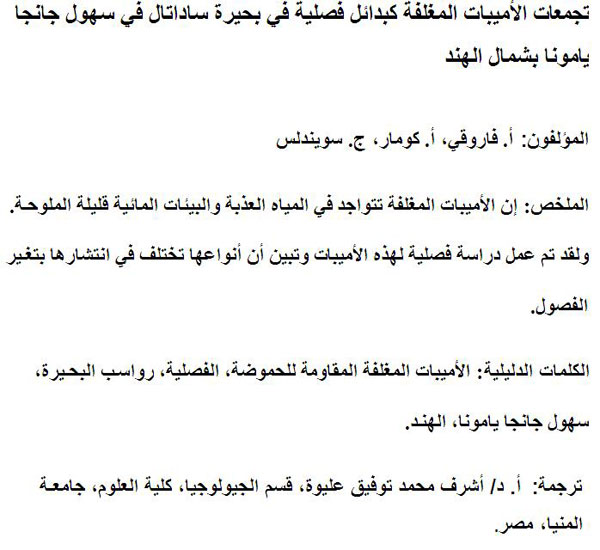 Translator: Ashraf M.T. Elewa
Polski Abstrakt
ZESPOŁY TEKAMEB JAKO WSKAŹNIKI SEZONOWOŚCI W JEZIORZE SADATAL NA RÓWNINACH GANGA YAMUNA W PÓŁNOCNYCH INDIACH
Tekameby to pierwotniaki skorupkowe występujące w różnego rodzaju środowiskach, zarówno słodkowodnych jak i słonawych. Stosuje się je z powodzeniem jako wskaźniki najrozmaitszych parametrów środowiskowych i klimatycznych w badaniach limnologicznych oraz paleolimnologicznych. Stałe jezioro Sadatal jest zlokalizowane w pobliżu małego miasteczka Mallanwan (szer. geog. N 27° 3' 0" i dł. geog. E 80° 9' 0") na Równinach Ganga-Yamuna Północnych Indii. Jezioro Sadatal jest płytką pozostałością wyschniętego łukowatego jeziora utworzonego przez meandrującą rzekę Ganges i jej dopływy (maks. gł. ~1.5m podczas lata oraz ~3.0m podczas pory deszczowej w lipcu i sierpniu). Gleba w tym rejonie jest słona, bogata w sod, o maksymalnej zasadowości wynoszącej pH 10. Region ten cechuje duża sezonowość, a przeciętne temperatury podczas zimy (grudzień-marzec) wahają się w przedziale 7-20°C, natomiast podczas lata (kwiecień-czerwiec) w przedziale 21- 45°C (2005-2007). Przemieszane i zróżnicowane taksonomicznie tekameby zostały wydobyte z jeziora Sadatal pokazując odmienne zespoły dla lata i zimy na przestrzeni trzech lat. Centropiksydy i arcellenidy dominowały w chłodniejszych miesiącach o niższej wilgotności i opadach (październik-marzec), natomiast Amphitrema spp. i Difflugia oblonga "triangularis" dominowały w lecie oraz w miesiącach pory deszczowej o wyższej liczbie opadów i wilgotności powietrza (kwiecień-wrzesień). Dominacja rodzaju Amphitrema spp. jest powiązana z obfitością detrytusu wodorostów z rodzaju Lemna na dnie jeziora podczas lata. Całkowite nagromadzenia tekameb były większe podczas letnich miesiąców pory deszczowej niż w zimie.
Słowa kluczowe: odporne na kwas tekameby, sezonowość, osady jeziorne, Równiny Ganga-Yamuna, Indie
Translation: Dawid Mazurek and Robert Bronowicz
Riassunto in Italiano
Le comunità di tecamebe come proxy di stagionalità nel Lago Sadatal (pianure del Gange-Yamuna, India settentrionale)
Le tecamebe sono protisti provvisti di guscio che vivono in una grande varietà di habitat di acqua dolce e salmastra. Sono già stati usati con successo come proxy di numerosi parametri ambientali e climatici in studi limnologici e paleolimnologici. Il Lago Sadatal è uno specchio d'acqua perenne situato nelle vicinanze della cittadina di Mallanwan (27° 3' 0" N, and 80° 9' 0" E) nelle pianure del Gange-Yamuna (India settentrinale). E' poco profondo (profondità massima durante l'estate ~1.5 m, che sale a ~3.0 m durante la stagione monsonica di luglio-agosto) ed è ciò che rimane di un lago di meandro lasciato dal fiume Gange e dai suoi tributari. Il suolo in quest'area è salino, ricco di sodio, con alcalinità massima pH 10. Nella regione c'è una forte stagionalità, con una temperatura atmosferica media variabile tra 7 e 20 °C durante l'inverno (dicembre-marzo) e 21-45 °C durante l'estate (aprile-giugno) (2005-2007).
Nel corso di tre anni sono state recuperate dal lago Sadatal comunità di tecamebe differenti in estate e inverno, caratterizzate da un'alta diversità tassonomica. Centropyxidi ed Arcellenidi dominano i mesi più freschi, caratterizzati da bassa umidità e scarse precipitazioni (ottobre-marzo), mentre Amphitrema spp. e Difflugia oblonga "triangularis" sono prevalenti durante l'estate e i mesi monsonici caratterizzati da umidità alta e precipitazioni abbondanti (aprile-settembre). La prevalenza di Amphitrema spp. è da mettere in relazione all'abbondanza di frammenti della pianta acquatica Lemna sul fondale durante l'estate. La concentrazione totale di tecamebe riscontrata è stata più alta durante i mesi estivi monsonici che durante l'inverno.
Parole chiave: tecamebe acido-resistenti; stagionalità; sedimenti lacustri; pianure del Gange-Yamuna; India
Translator: Chiara Angelone