Anjum Farooqui


Birbal Sahni Institute of Palaeobotany
53 University Road
Lucknow 226 007
India
Dr (Mrs) Anjum Farooqui completed her M.Sc. and Ph.D degree in 'Environmental Botany' and at present is a senior Scientist working in Birbal Sahni Institute of Palaeobotany, 53, University Road, Lucknow, India. Her Research work includes problems related to geobotanical and biogeochemical prospecting of heavy metals in terrestrial as well as aquatic ecosystem. Since a decade from now she is working on Quaternary climate, sea level changes and coastal vegetation along the eastern coastline of India using multi-proxy parameters. She has acquired expertise in palynology, geobotanical prospecting of heavy metals and fresh water thecamoebians and has to her credit about 65 publications.
Arun Kumar
Center for Petroleum and Minerals

Research Institute
King Fahd University of Petroleum and Minerals
Dhahran 31261
Saudi Arabia (correspondance author)
Arun Kumar is a Research Scientist and Professor at the Research Institute, King Fahd University of Petroleum Exploration (KFUPM), Dhahran in Saudi Arabia. He teaches Historical Geology and Palynology and works as a consulting palynologist to various oil companies in Saudi Arabia.

In 1999 he obtained Ph.D. degree in Earth Science from Carleton University, Ottawa, Canada and B.Sc. & M.Sc. degrees in Geology from Lucknow University, India. He was a Nuffield Foundation research fellow at Sheffield University in 1980-81 and Matsumae Foundation research fellow at Nagasaki University in 1989. During the past forty years he has taught at several universities and worked with oil companies as a geologist and biostratigrapher in different parts of the world.

His areas of research interest include palynology and biostratigraphy in basin exploration and benthic foraminifers & thecamoebians as proxies for environmental, oceanographic and climate change during the past 15 K yr.
Graeme T. Swindles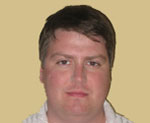 School of Geography
University of Leeds
Leeds, LS2 9JT
United Kingdom
Graeme T. Swindles graduated from Durham University in 2002 and received a Ph.D. in palaeoecology from Queen's University Belfast in 2006. After working for three years as a lecturer at the University of Bradford, UK, Graeme is now a lecturer in Earth System Dynamics at the University of Leeds, UK. His research interests include: the causes and nature of Holocene climate change, the use of testate amoebae as environmental indicators, the long-term dynamics of peatland environments and statistical modelling of microfossil data.