Fauna and ecology of the Holothurian Bed, Llandrindod, Wales, UK (Darriwilian, Middle Ordovician), and the oldest articulated holothurian
Plain Language Abstract
Trilobites are among the most popular of fossil groups, and during the Ordovician Period, they often dominated the fossil faunas of mudstone beds deposited on the outer continental shelf. This apparent abundance may be misleading, however: because trilobites have a mineral (calcite) skeleton, they preserved easily, biasing the fossil record in their favour. It is much rarer to discover more delicate organisms in fine detail, although offshore muddy habitats today are often dominated by sponges, brittle-stars and sea-cucumbers instead of arthropods. This paper describes a new deposit from the Middle Ordovician (approximately 462 million years ago) of Wales that has yielded not only the trilobites, but a diverse community of organisms including sponges, palaeoscolecidan worms and the extinct carpoid echinoderms. It also preserves the oldest known complete sea-cucumbers, the bodies of which are so soft that they are very rarely fossilized even in sites of exceptional preservation. These small, globular fossils show primitive features of the group that help relate them to other types of echinoderm. Most importantly, the fauna of this site shows that fossil communities that appear to be typical of Ordovician muddy seas can in reality be ecologically very different, and an analysis of the available data suggests that trilobites were a relatively minor component of the fauna, after brachiopods, sponges and armoured worms.
Resumen en Español
Fauna y ecología de la Holothurian Bed, Llandrindod, Gales, Reino Unido (Darriwiliense, Ordovícico medio) y la holoturia articulada más antigua
Al contrario de lo que ocurre en el Cámbrico, los yacimientos con una preservación excepcional (Lagerstätten) del Ordovícico muestran diferencias significativas entre ellos, lo que sugiere una diversidad mucho mayor de las paleocomunidades durante este intervalo. No está claro, sin embargo, qué parte de la diversidad ecológica del Ordovício es debida a lo atípico de las facies o a que las comunidades estén representadas por la mayor parte de las biotas excepcionales conocidas. En este trabajo describimos un nuevo Lagerstätte, preservado gracias a una alta tasa de sedimentación y a una piritización temprana, del Ordovícico medio (Darriwiliense, Biozona de Hustedograptus? teretiusculus) de Gales. Un análisis preliminar de la ecología de la fauna, que incluye un nuevo método para estimar la abundancia en vida a partir de la abundancia preservada de los distintos grupos, ha revelado que, aunque la asociación fósil esté dominada por los trilobites, los organismos dominantes en la comunidad viva eran los braquiópodos, las esponjas de los órdenes Reticulosa y Protomaxonida y los paleoescolécidos, siendo los carpoideos y los holoturoideos tan abundantes como los trilobites. Bajo condiciones normales de preservación, esta comunidad aparecería como la típica fauna de mudstone del Ordovícico, suponiendo que se trate de una comunidad relativamente normal de ambiente marino abierto. La biota no se asemeja mucho a ninguna de las faunas excepcionales descritas previamente en el Ordovícico, lo que sugiere que hay una gran cantidad de diversidad oculta en las comunidades de esa edad. Entre los taxones excepcionales se encuentra el holoturoideo articulado más antiguo conocido, Oesolcucumaria eostre gen. et sp. nov., que es una pequeña forma globular con ambulacros parcialmente esqueletizados.
Palabras clave: Echinodermata; preservación excepcional; nuevo género; nueva especie; paleoecología; piritización
Traducción: Miguel Company
Résumé en Français
Une révision du trilobite dévonien malvinokaffrique dalmanitidé Dalmanitoides Delo, 1935, sur la base de nouvelles données provenant d'Argentine
A la lumière de nouvelles informations sur l'holotype et de matériel additionnel provenant de Dévonien inférieur de la région type d'Argentine, le trilobite dalmanitidé Dalmanitoides Delo, 1935, est re-diagnostiqué et considéré comme un dalmanitidé plutôt qu'un synphoriiné. Des comparaisons suggèrent que Gamonedaspis Braniša et Vaněk, 1973, est un synonyme de Dalmanitoides, de sorte que ce genre dévonien inférieur-moyen inclue au moins cinq espèces : quatre nommées formellement en Amérique du Sud D. drevermanni (Delo, 1935), D. boehmi (Knod, 1908), D. scutata (Braniša et Vaněk, 1973), et D. accola (Clarke, 1913), de même qu'une espèce d'Afrique du Sud traitée ici en nomenclature ouverte (D. sp. A). Bien que le nombre d'espèces de Dalmanitoides suggère que la diversification des dalmanitinés cosmopolites était déjà en place dans les bassins malvinokaffriques, une affinité forte avec le genre boréal et plus ancien Roncellia Lespérance et Bourque, 1971, suggérerait qu'une migration depuis le domaine paléobiogéographique d'Amérique de l'Est pendant le Dévonien inférieur serait à l'origine du clade, ce qui est en accord avec les schémas paléobiogéographiques reconnus sur la base de la distribution des synphoriinés.
MOST CLES : trilobites dalmanitidés ; Dévonien ; Argentine ; malvinokaffrique ; Dalmanitoides; Gamonedaspis; Systématique; Paléobiogéographique
Translator: Olivier Maridet
Deutsche Zusammenfassung
Ökologie und Fauna der Holothurien-Schicht, Llandrindod, Wales, UK (Darriwillium, Mittleres Ordovizium) unddie älteste artikulierte Holothurie
Im Gegensatz zu kambrischen Lagerstätten weisen die exzellent erhaltenen ordovizischen Fundstätten eine taxonomisch deutlich reichhaltigere Fauna auf. Dies weist auf eine größere Diversität der damaligen Lebensgemeinschaft hin. Unklar istallerdings, inwieweit diese hohe ökologische Diversität im Ordovizium auf eine atypische Fazies zurückzuführen ist, bzw. in wieweit diese auf Lebensgemeinschaften basieren, die auf Ausnahme-Biota zurückzuführen sind.
Diese Arbeit beschreibt eine neue Lagerstätte aus dem mittleren Ordovizium von Wales (Darriwilium, Hustedograptus? teretiusculus Biozone), die durch hohe Sedimentationsraten und frühe Pyritisierung entstanden ist. Die vorläufigen Untersuchungen zeigen, dass die Fauna nicht, wie angenommen, von Trilobiten geprägt ist, sondern dass Brachipoden, reticulosane und protomonaxinoide Schwämme und Paläoscoleciden dominieren. Desweiteren treten Carpoiden und Holothurien fast ebenso reichhaltig wie Trilobiten auf. Diese Untersuchungen beinhalten auch eine neuartige Methodik, um die erhaltende Menge der verschiedenen Gruppen in eine geschätzte Menge im Lebendzustand zu übertragen. Unter gewöhnlichen Erhaltungsumständen würde sich diese Lebensgemeinschaft als typische ordovizische Tonstein-Fauna darstellen, was wiederum implizieren würde, dass eine relativ normale Vergesellschaftung des offenen Meeres repräsentiert ist. Die vorliegende Zusammensetzung der Fauna ähnelt den bisher beschriebenen ordovizischen Faunen der Ausnahmefundstätten wenig. Dies kann als Hinweis darauf angesehen werden, dass es in den Vergesellschaftungen dieses Zeitalters eine starke verdeckte Diversität gibt. Unter den besonderen Taxa ist die älteste bekannte artikulierte Holothurie, Oesolcucumaria eostre gen. et sp. nov., eine kleine globulare Form mit teilweise skeletisiertemAmbulakralsystem.
Keywords: Echinodermata; Ausnahmeerhaltung; neue Gattung; neue Art; Paläoökologie; Pyritisierung
Translators: Eva Gebauer and Anke Konietzka
Arabic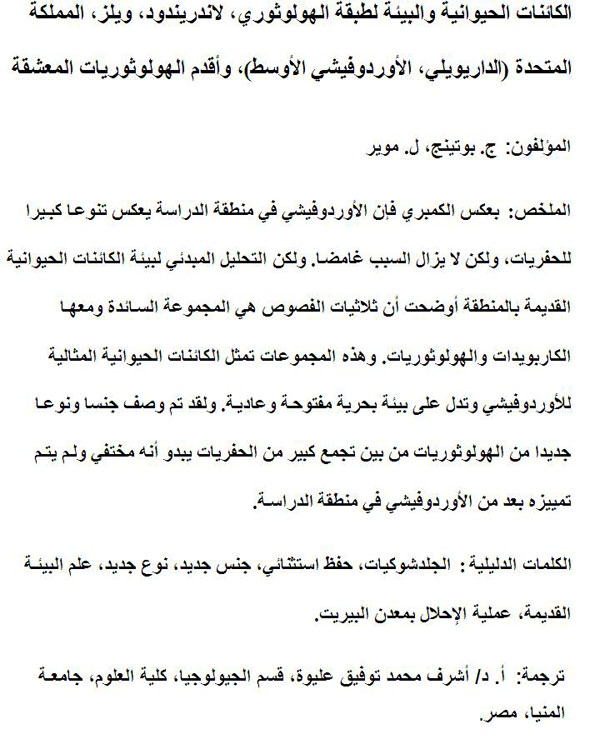 Translator: Ashraf M.T. Elewa
Polski Abstrakt
In progress
Translators: Dawid Mazurek and Robert Bronowicz