This email address is being protected from spambots. You need JavaScript enabled to view it.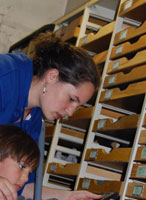 Department of Geology and Geophysics
Yale University
210 Whitney Avenue
P.O. Box 208109
New Haven, Connecticut 06520
USA
Natasha Vitek is a Master's student at the University of Texas at Austin. She received her Bachelors (BS) from Yale University. There, her undergraduate research focused on fossil soft-shelled turtles (Trionychidae), and her senior research project focused on Axestemys in particular.