Continuous 300,000-year fossil record: changes in the ornithofauna of Biśnik Cave, Poland
Teresa Tomek, Zbigniew M. Bocheński, Paweł Sochal, and Krzysztof Stefaniak
Plain Language Abstract
Biśnik Cave is situated in a limestone rock about 50 km northeast of Kraków, southern Poland. Its importance stems from the fact that it is one of the few sites in Europe, and the only one in Poland, with 300,000-year-long sequence of uninterrupted sediments, that cover the time span from before the Saalian (i.e., the Odra and Warta glacial periods) to the Holocene. The excavations yielded about 200,000 animal bones and more than 4,000 stone, bone and antler artifacts. Bird remains from Biśnik Cave consist of nearly 1,600 skeletal fragments of at least 96 taxa that represent a minimum of 285 individuals. The majority of the remains belong to Galliformes; relatively numerous are also Corvidae, Falconiformes, Anseriformes and species of the genus Turdus. The remains include one extinct falcon (Falco tinnunculus atavus) and four species new for the Polish fossil avifauna: the Eastern Imperial Eagle (Aquila heliaca), Pine Grosbeak (Pinicola enucleator), Parrot Crossbill (Loxia pytyopsittacus) and Common Redpoll (Carduelis flammea). Avian remains indicate a mosaic of various habitats in the surroundings of Biśnik Cave. Some kind of mature forest or at least sparsely growing trees, as well as water bodies, marshes, wet meadows, steppe and tundra habitats must have been present during the entire time of sedimentation. It is postulated that the Kraków-Częstochowa Upland was a local refugium for the forest fauna during the Saalian and Vistulian glaciations. Due to its geographic location, the region was probable a transition zone between the steppe habitats of Central Asia and the more oceanic environments of Western Europe.
Resumen en Español
Registro fósil continuo a lo largo de 300000 años: cambios en la ornitofauna de la cueva de Biśnik, Polonia
La cueva de Biśnik, excavada en rocas calizas, se sitúa unos 50 kilómetros al noreste de Cracovia, en el sur de Polonia. Su importancia radica en el hecho de que es uno de los pocos yacimientos europeos, y el único en Polonia, con una secuencia ininterrumpida de sedimentos que abarca un intervalo de 300000 años, desde antes del Saaliense hasta el Holoceno. Las excavaciones en dicha cueva han proporcionado cerca de 200000 huesos de animales y más de 4000 utensilios en piedra, hueso y asta. Los restos de pájaros hallados en Biśnik consisten en cerca de 1600 fragmentos esqueléticos de al menos 285 individuos pertenecientes a un mínimo de 96 taxones. La mayoría de los restos son de Galliformes, aunque son también relativamente abundantes los de Corvidae, Falconiformes, Anseriformes y el género Turdus. Los restos incluyen también un taxón extinguido (Falco tinnunculus atavus) y cuatro especies nuevas en la avifauna fósil de Polonia (Aquila heliaca, Pinicola enucleator, Loxia pytyopsittacus y Carduelis flammea). Los restos de aves indican la existencia de un mosaico de hábitats distintos en los alrededores de la cueva de Biśnik. Durante el intervalo de tiempo representado en los sedimentos habría algún tipo de bosque maduro o, al menos, árboles dispersos, así como cuerpos de agua y hábitats de marisma, praderas húmedas, estepa y tundra. La meseta de Cracovia-Częstochowa debió constituir un refugio para la fauna de los bosques durante las glaciaciones del Saaliense y del Vistuliense.
Palabras clave: aves fósiles, Pleistoceno, paleoambiente, paleoclima.
Traducción: Miguel Company
Résumé en Français
Un enregistrement continu de 300.000 ans: changements dans l'ornithofaune de la grotte de Biśnik, Pologne
La grotte de Biśnik est située dans des roches calcaires à environ 50 km au nord-est de Cracovie, sud de la Pologne. Sont importance repose sur la fait qu'elle est un des rares sites en Europe, et le seul en Pologne, avec une séquence ininterrompue de sédiments longue de 30.000 ans, couvrant une période allant du Saalien à l'Holocène. Les fouilles ont livré environ 200.000 os d'animaux et plus de 4.000 pierres, et artefacts d'os et de bois. Les restes d'oiseaux de la grotte de Biśnik se composent de près de 1.600 fragments de squelettes provenant d'au moins 96 taxa qui représentent au minimum 285 individus. La majorité des restes appartiennent aux Galliformes ; les Corvidae, Falconiformes, Anseriformes et le genre Turdus sont aussi relativement nombreux. Les restes incluent un taxon éteint (Falco tinnunculus atavus) et quatre nouvelles espèces pour les avifaunes fossiles polonaises (Aquila heliaca, Pinicola enucleator, Loxia pytyopsittacus and Carduelis flammea). Les restes d'oiseaux indiquent l'existence d'une mosaïque d'habitats variés dans les alentours de la grotte de Biśnik. Un certain type de forêt mature ou au moins d'arbres peu développés, de même que d'étendue d'eau, marais, prairies humides, et d'habitat de steppe et toundra ont dû être présents pendant toute la période de sédimentation. L'hypothèse est faite que les hautes terres de Cracovie-Częstochowa constituaient un refuge local pour les faunes forestières pendant le Saalien et les glaciations Vistuliennes.
Mots clés: oiseaux fossiles, Pléistocène, paléoenvironnent, paléoclimat
Translator: Olivier Maridet
Deutsche Zusammenfassung
Ein durchgehender Fossilrekord von 300 000 Jahren: Änderungen in der Ornithofauna der Biśnik Höhle von Polen
Die Biśnik Höhle befindet sich in einem Kalksteingebirge ungefähr 50 km nordöstlich von Krakau, Südpolen. Ihre Bedeutung liegt darin, dass sie eine der wenigen Höhlen in Europa ist, und die einzige in Polen, die mit einer 300 000 Jahre andauernden ununterbrochenen Sedimentation eine Zeitspanne vom Saalium bis zum Holozän abdeckt. Die Ausgrabung hat mehr als 200 000 Tierknochen und mehr als 4 000 Stein-, Knochen-und Geweihartefakte hervorgebracht. Vogelreste aus der Biśnik Höhle bestehen aus beinahe 1 600 Skelettfragmenten von mindestens 96 Taxa, die ein Minimum an 285 Individuen repräsentieren. Der Großteil der Funde gehört zu den Galliformes. Relativ häufig sind auch Corvidae, Falconiformes, Anseriformes und die Gattung Turdus. Die Reste beinhalten ein ausgestorbenes Taxon (Falco tinnunculus atavus) und vier neue Arten der fossilen polnischen Avifauna (Aquila heliaca, Pinicola enucleator, Loxia pytyopsittacus and Carduelis flammea). Die Vogelreste deuten auf ein Mosaik von verschiedenen Habitaten in der Umgebung der Biśnik Höhle hin. Während der gesamten Sedimentationsperiode müssen sowohl eine Art von Waldbestand oder zumindest niedrig wachsende Bäume vorhanden gewesen sein, als auch Gewässer, Sümpfe, Feuchtwiesen, Steppe und Tundra Habitate. Es ist postuliert, dass das Kraków-Częstochowa Hochland während der Saale -und Vistula - Vereisungen ein lokales Refugium für die Waldfauna war.
SCHLÜSSELWÖRTER: fossile Vögel, Pleistozän, Paläoumwelt, Paläoklima
Translator: Eva Gebauer
Arabic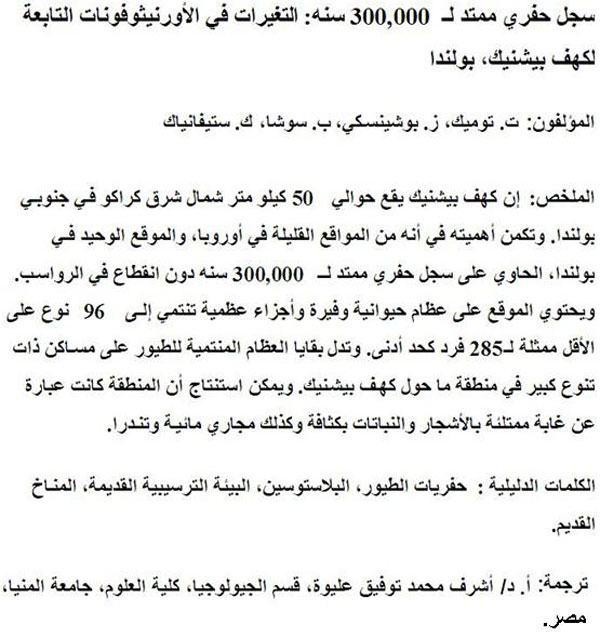 Translator: Ashraf M.T. Elewa
Polski Abstrakt
Ciągły, 300.000-letni, zapis kopalny: zmiany ornitofauny jaskini Biśnik, Polska
Jaskinia Biśnik jest usytuowana w wapiennych skałach południowej Polski, ok. 50 km na północny-wschód od Krakowa. Jest to jedno z niewielu stanowisk w Europie, a jedyne w Polsce, posiadające nieprzerwaną sekwencję osadów gromadzących się 300,000 lat i obejmujących okres od zlodowaceń Odry i Warty (Saalian) aż do holocenu. Wykopaliska prowadzone w tej jaskini dostarczyły około 200 000 szczątków zwierzęcych i ponad 4 000 zabytków z kamienia, kości i rogu. Szczątki ptasie z Jaskini Biśnik zawierały około 1 600 fragmentów kostnych należących do 96 taksonów i łącznie reprezentujących nie mniej niż 285 osobników. Większość szczątków ptasich należała do przedstawicieli grzebiących Galliformes; stosunkowo liczne były również kości reprezentujące krukowate Corvidae, szponiaste Falconiformes, blaszkodziobe Anseriformes oraz drozdy (rodzaj Turdus). Zachowane szczątki zawierały jednego wymarłego sokoła (Falco tinnunculus atavus) i cztery gatunki nowe dla kopalnej fauny Polski: orła cesarskiego (Aquila heliaca), łuskowca (Pinicola enucleator), krzyżodzioba sosnowego (Loxia pytyopsittacus) i czeczotkę (Carduelis flammea). Szczątki ptasie wskazują na obecność mozaiki biotopów w okolicy jaskini Biśnik. Dojrzały las, rzadko rosnące kępy drzew, otwarte wody, bagna, podmokłe łąki, step i tundra musiały być obecne w sąsiedztwie jaskini podczas całego okresu sedymentacji. To sugeruje, że Wyżyna Krakowsko-Częstochowska była lokalnym refugium dla fauny leśnej podczas zlodowaceń Odry, Warty i Wisły. Z powodu geograficznego położenia Wyżyny region ten był prawdopodobnie strefą przejściową między stepami centralnej Azji a strefą lasów liściastych Europy zachodniej.
Słowa kluczowe: kopalne ptaki, plejstocen, paleośrodowisko, paleoklimat
Translation: supplied by authors
Riassunto in Italiano
Un record fossile continuo lungo 300,000 anni: variazioni nell'ornitofauna di Biśnik Cave, Polonia
La Biśnik Cave è impostata in rocce calcaree a 50 km a nordest di Cracovia, Polonia meridionale. La sua importanza risiede nel fatto che è uno dei pochi siti in Europa e l'unico in Polonia che registra una sequenza ininterrotta di 300,000 anni, ovvero da epoche antecedenti al Saaliano all'Olocene. I lavori di scavo hanno riportato alla luce circa 200,000 ossa di animali e più di 4,000 manufatti di pietra, osso e corno. I resti di uccelli della Biśnik Cave consistono in quasi 1,600 frammenti scheletrici di almeno 96 taxa per un numero minimo di 285 individui. La maggior parte dei resti appartiene all'ordine Galliformes, relativamente numerosi sono Corvidae, Falconiformes, Anseriformes e il genere Turdus. Annoveriamo fra l'altro un taxon estinto (Falco tinnunculus atavus) e quattro specie nuove nel record fossile dell'avifauna polacca (Aquila heliaca, Pinicola enucleator, Loxia pytyopsittacus e Carduelis flammea). I resti di uccelli indicano un mosaico di diversi habitat nei dintorni della Biśnik Cave: foreste, o quantomeno alberi sparsi, specchi o corsi d'acqua, paludi, wet meadows, steppe e tundra sembrano essere stati presente durante l'intero intervallo di sedimentazione. Ipotizziamo che la Kraków-Częstochowa Upland costituisse un rifugio per la fauna di foresta durante le glaciazioni Saaliana e Vistuliana.
Parole chiave: uccelli fossili, Pleistocene, paleoambiente, paleoclima
Translator: Chiara Angelone