Xijun Ni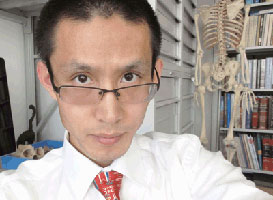 Division of Paleontology
American Museum of Natural History
Central Park West at 79th Street
New York, New York 10024
USA
and Key Laboratory of Evolutionary Systematics of Vertebrates
Institute of Vertebrate Paleontology and Paleonanthropology
Xi Zhi Men Wai Street 142
Beijing, 100044
China
Xijun Ni obtained his Ph.D. in ecology at the Beijing Normal University. He got postdoctoral training and rushed in paleontology in the Institute of Vertebrate Paleontology and Paleoanthropology (IVPP) and the American Museum of Natural History (AMNH). He was recruited in the Hundred-Talent Program of the Chinese Academy of Sciences, and appointed as a research professor in the IVPP. He is also a research associate in paleontology at the AMNH and the Carnegie Museum of Natural History. His research interests lie in four areas: searching for primate, tree shrew, flying lemur, rodent, and other mammalian fossils; applying high resolution CT imaging and 3-dimensional digital reconstruction techniques in evolutionary and functional morphology studies; reconstructing phylogenetic relationships of primates, tree shrews, flying lemurs, rodents and other major groups of mammals based on large combined data matrices; and paleoecology and biochronology inference based on studying mammalian faunas.

John J. Flynn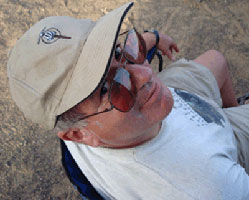 Division of Paleontology and Richard Gilder Graduate School
American Museum of Natural History
Central Park West at 79th Street
New York, New York 10024
USA
John Flynn is the Frick Curator of Fossil Mammals & Dean of the Richard Gilder Graduate School at the American Museum of Natural History. Author of more than 120 scientific publications, Flynn's research focuses on the phylogeny and evolution of mammals and Mesozoic vertebrates, geological dating, plate tectonics, and biogeography. He also is curator for the Museum's "Extreme Mammals" traveling exhibition, and has contributed articles to Scientific American, Natural History, and National Geographic, provided scientific expertise for several popular science books, and been featured in numerous television and radio shows, newspapers and magazines. Dr. Flynn has led more than 50 paleontological expeditions to Chile, Perú, Colombia, Madagascar, Angola, India, and the Rocky Mountains, supported by the U.S. National Science Foundation, the National Geographic Society, NASA, and other organizations. In 2001 Flynn received a Guggenheim Fellowship for a year of research, writing and expeditions in South America and was elected a Fellow of the American Association for the Advancement of Science in 2009. He is a member of the External Advisory Board for Yale's Peabody Museum, and has served the Society of Vertebrate Paleontology (SVP) as President (1999-2001) and member of the Board/Executive Committee (1993-2002), as received the Joseph T. Gregory Award (2007) and the Alfred Sherwood Romer Prize from the SVP. With a specialty in mammalian paleontology and paleomagnetism, Flynn has spent his career searching for important new fossil mammal localities, as well as developing better ways to read the age of rocks and fossils, leading to more accurate geological time scales. He has contributed to numerous public education projects (university, museum, web, and popular science), is actively pursuing research on mammalian evolution (particularly the anatomy, DNA and evolution of Carnivora and extinct relatives), and has current field programs focusing on the Andes Mountains of Chile, Amazon Basin of Perú, and Mesozoic deposits of Madagascar and India.

André R. Wyss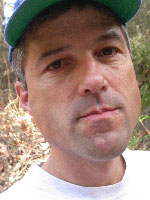 Department of Earth Science
University of California- Santa Barbara
Santa Barbara, California 93106
USA
André Wyss is a Professor and Vice-Chair of the Department of Earth Science at the University of California- Santa Barbara, and a Research Associate in Paleontology at the American Museum of Natural History. Averse to such missives as this biography, only the editorial threat of being deemed "LAME" spurred his cooperation. Ensconced in his first floor, west-facing office, Wyss is enjoying his slow ride on a sliver of crust formerly belonging to North America. His abiding research interests are, 1) elucidating the history of mammals using fossils, and 2) applying the chronologic information offered by these data to a variety of geologic problems. His field activities are generally aimed at geographic regions and stratigraphic intervals having received little previous paleontological attention, including the Andes of central Chile and the early Mesozoic of western Madagascar.