More "dinosaur" and "pterosaur" rock art that isn't
Phil Senter

Plain Language Abstract
To support claims of the coexistence of humans with dinosaurs and pterosaurs, young-earth creationist authors have identified several pieces of ancient rock art as depictions of dinosaurs or pterosaurs. Here, nine such claims are investigated. An alleged pterosaur painting in Black Dragon Canyon, Utah is actually not a single painting. Its "head" and "neck" are a painting of a person with outstretched arms. Its torso and limbs are those of a painting of a second person with outstretched arms, whose body continues into the "pterosaur's" "wing." The other "wing" is a painting of a horned serpent. The three paintings only appear connected because someone outlined the group with chalk. An alleged dinosaur petroglyph in Havasupai Canyon, Arizona is a stylized bird with an extension on one foot; the hooked line that represents its head and neck is a stylized bird head. A second alleged dinosaur petroglyph in Havasupai Canyon has no dinosaurian features and could be a stylized rabbit or bighorn sheep. An alleged dinosaur cave painting in Tanzania is an obvious giraffe. Three alleged cave paintings of long-necked dinosaurs in Zambia have short necks and most likely represent lizards. An alleged dinosaur painting on Agawa Rock in Lake Superior Provincial Park, Ottawa represents Underwater Panther, a supernatural lake guardian of Ojibwe tradition. An alleged pterosaur painting at Alton, Illinois, is the product of the imagination of a nineteenth-century American author. These pieces of rock art now join the ever-growing pile of discredited "evidence" for the ancient coexistence of humans and dinosaurs.
Resumen en Español
Más "dinosaurios" y "pterosaurios" de arte rupestre que no lo son
Los autores creacionistas que defienden la idea de una Tierra joven, en consonancia con la cronología bíblica, han identificado diversas obras de arte rupestre antiguo como ilustraciones de dinosaurios o pterosaurios que apoyarían la pretendida coexistencia de los humanos con esos organismos. En este artículo se investigan nueve de esas supuestas identificaciones. Un dibujo de un presunto pterosaurio en Black Dragon Canyon (Utah) es, en realidad, una imagen compuesta. Su "cabeza" y su "cuello" corresponden al dibujo de una persona con los brazos extendidos. Su "tronco" y "extremidades" pertenecen al dibujo de una segunda persona, también con los brazos extendidos, cuyo cuerpo continúa para dar un "ala" del pterosaurio. La otra "ala" corresponde al dibujo de una serpiente cornuda. Los tres dibujos parecen conectados simplemente porque alguien perfiló el grupo con tiza. Un petroglifo de un supuesto dinosaurio en Havasupai Canyon (Arizona) es un ave estilizada con una extensión en una de sus patas; le línea en forma de gancho que representa su cabeza y su cuello es una cabeza de ave estilizada. Otro petroglifo de un presunto dinosaurio en Havasupai Canyon es una figura estilizada de un muflón de las Rocosas. El dibujo de un dinosaurio en una cueva de Tanzania se trata indudablemente de una jirafa. Tres pinturas rupestres de supuestos dinosaurios de cuello largo en Zambia tienen, en realidad, cuellos cortos y, muy probablemente, corresponden a lagartos. Otro presunto dibujo de un dinosaurio en Agawa Rock en el Parque provincial del lago Superior (Ottawa) es una representación de la pantera de agua, un guardián sobrenatural del lago de la mitología ojibwa. Finalmente, el pretendido dibujo de un pterosaurio en Alton (Illinois) no es más que el producto de la imaginación de un autor norteamericano del siglo XIX. Estas obras de arte rupestre se suman al conjunto cada vez mayor de "pruebas" desacreditadas de la coexistencia de humanos y dinosaurios.
PALABRAS CLAVE: arte rupestre, petroglifo, pictograma, Black Dragon, Havasupai Canyon, creacionismo de la Tierra joven, dinosaurios, pterosaurios
Traducción: Miguel Company
Résumé en Français
Encore plus d'œuvres d'art sur pierre de "dinosaures" et de "ptérosaures" qui n'en sont pas
Pour appuyer la prétendue coexistence des humains et des dinosaures et ptérosaures, les auteurs du créationnisme Jeune-Terre ont identifié plusieurs spécimens d'œuvres d'art sur pierre anciennes comme des dessins de dinosaures ou de ptérosaures. Nous étudions ici neufs de ces allégations. Un prétendu ptérosaure peint dans le Canyon Black Dragon en Utah n'est en fait pas composé d'une seule peinture. Sa "tête" et son "cou" sont une peinture d'une personne avec des bras très etirés. Son torse et ses pattes sont une peinture d'une deuxième personne aux bras étirés, dont le corps se continue en "aile du ptérosaure". L'autre "aile" est une peinture d'un serpent corné. Les trois peintures apparaissent connectées seulement parce que quelqu'un a entouré le tout à la craie. Un prétendu pétroglyphe de dinosaure dans le Canyon Havasupai en Arizona est un oiseau stylisé avec une extension sur un pied; la ligne en crochet qui représente sa tête et son cou est une tête d'oiseau stylisée. Un second ptéroglyphe prétendu de dinosaure dans le Canyon Havasupai est un mouflon canadien stylisé. Une peinture de grotte en Tanzanie représentant un prétendu dinosaure est en fait une giraffe très nette. Trois autres peintures de grotte de "dinosaures" à long cou en Zambie ont en fait des cous courts et représentent très certainement des lézards. Une peinture d'un prétendu dinosaure sur Agawa Rock dans le Parc Provincial du Lac Supérieur à Ottawa représente une panthère sous l'eau, un gardien du lac surnaturel de la tradition Ojibwe. Une peinture de prétendu ptérosaure à Alton dand l'Illinois est le produit de l'imagination d'un auteur américain du 19è siècle. Ces oeuvres d'art sur pierre rejoignent la pile sans fin de "preuves" dicréditées de la coexistence humains-dinosaures.
Mots-clefs: œuvres d'art sur pierre, ptéroglyphe, pictographe, Black Dragon, Canyon Havasupai, créationnisme Jeune-Terre, Dinosauria, Pterosauria.
Translator: Loïc Costeur
Deutsche Zusammenfassung
Weitere "Dinosaurier" und Flugsaurier" Felszeichnungen, die keine sind.

Autoren der Young-Earth Kreationisten haben einige alte Felsmalereien als Abbildungen von Dinosauriern oder Flugsauriern identifiziert um ihre Behauptungen einer Koexistenz von Dinosauriern und Flugsauriern zu unterstützen, Hier werden neun solcher Behauptungen untersucht. Eine angebliche Flugsaurierzeichnung im Black Dragon Canyon von Utah ist tatsächlich keine einzelne Zeichnung. "Kopf" und "Hals" stellen eine Person mit ausgestreckten Armen dar. Körper und Beine gehören zu einer zweiten Person mit ausgestreckten Armen, deren Körper in den "Flugsaurierflügel" ausläuft. Der andere "Flügel" stellt die Zeichnung einer gehörnten Schlange dar. Die drei Zeichnungen erscheinen nur dadurch als Ganzes weil jemand sie mit Kalk umrahmt hat. Ein angeblicher Dinosaurier-Pteroglyh im Havasupai Canyon von Arizona ist ein stilisierter Vogel mit einer Extension am einen Fuß. Die hakenförmige Linie, die Kopf und Hals darstellt ist ein stilisierter Vogelkopf. Ein zweiter angeblicher Dinosaurier-Pteroglyh im Havasupai Canyon stellt ein stilisiertes Dickhornschaf dar. Eine angebliche Dinosaurier-Zeichnung in Tansania ist eindeutig eine Giraffe. Drei angebliche Höhlenzeichnungen von Langhalsdinosauriern in Sambia haben kurze Hälse und stellen höchstwahrscheinlich Eidechsen dar. Eine angebliche Dinosaurierzeichnung am Agawa Rock im Lake Superior Provincial Park von Ottawa stellt den Unterwasserpanther dar, einen übernatürlichen Seewächter der Ojibwe Tradition. Eine angebliche Dinosaurierzeichnung in Alton, Illinois entstammt der Fantasie eines amerikanischen Autors aus dem Neunzehnten Jahrhundert. Diese Felszeichnungen gesellen sich nun zum ständig wachsenden Haufen an diskreditierte " Beweisen" für die historische Koexistenz von Menschen und Dinosauriern.

SCHLÜSSELWÖRTER: Felszeichnungen, Petroglyph, Piktograph, Black Dragon, Havasupai Canyon, Young-Earth Kreationsimus, Dinosauria, Pterosauria
Translators: Eva Gebauer
Arabic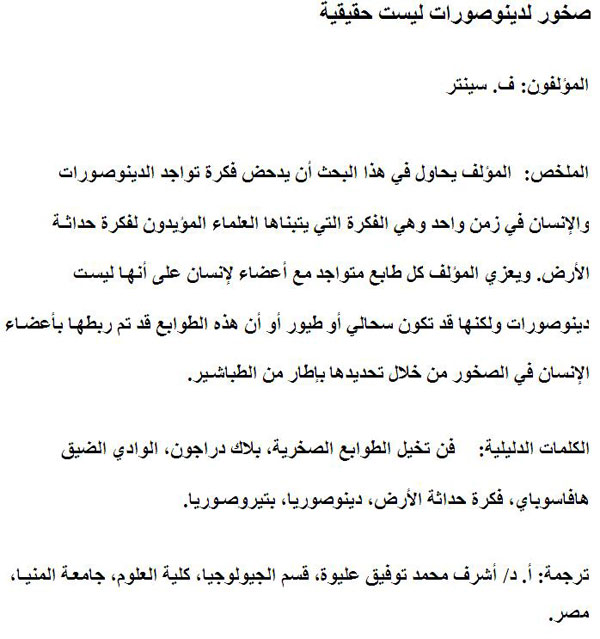 Translator: Ashraf M.T. Elewa
Polski Abstrakt
WIĘCEJ RYSUNKÓW NASKALNYCH PRZEDSTAWIAJĄCYH "DINOZAURY" I "PTEROZAURY", KTÓRYCH NIE BYŁO
W celu poparcia współwystępowania ludzi z dinozaurami i pterozaurami kreacjoniści młodej Ziemi zidentyfikowali kilka starożytnych malowideł naskalnych jako przedstawiające dinozaury i pterozaury. W artykule tym dziewięć z nich zostało poddanych analizie. Domniemane malowidło pterozaura z Black Dragon Canyon (Utah) nie stanowi w istocie jednego obrazu. Jego "głowa" i "szyja" stanowią malowidło człowieka z rozstawionymi na boki rękami. Jego tułów i kończyny należą do malowidła innego człowieka z rozstawionymi na bok rękami, którego ciało przechodzi w "skrzydło pterozaura". Drugie "skrzydło" jest malowidłem rogatego węża. Trzy malowidła wydają się połączone jedynie przez fakt, iż ktoś obrysował je wszystkie razem kredą. Przypuszczalny rysunek naskalny dinozaura z Havasupai Canyon (Arizona), jest wyobrażeniem ptaka z wydłużoną jedną stopą. Hakowata linia przedstawiająca jego głowę i szyję jest wyobrażeniem głowy ptaka. Drugi przypuszczalny rysunek naskalny dinozaura z Havasupai Canyon jest wyobrażeniem owcy kanadyjskiej. Domniemane malowidło jaskiniowe dinozaura z Tanzanii jest w rzeczywistości żyrafą. Trzy domniemane malowidła jaskiniowe długoszyich dinozaurów w Zambii mają krótkie szyje i najprawdopodobniej przedstawiają jaszczurki. Domniemane malowidło dinozaura na Agawa Rock w Lake Superior Provincial Park (Ottawa) przedstawia podwodną panterę, nadprzyrodzonego strażnika jeziora w tradycji Ojibwe. Przypuszczalne malowidło pterozaura w Alton (Illinois) jest tworem wyobraźni dziewiętnastowiecznego amerykańskiego pisarza. Wszystkie te przykłady twórczości naskalnej dołączają do cały czas rosnącego zbioru zdyskredytowanych "dowodów" na współwystępowanie ludzi i dinozaurów.
Słowa kluczowe: twórczość naskalna, petroglify, piktogramy, Black Dragon, Havasupai Canyon, kreacjonizm młodej Ziemi, Dinosauria, Pterosauria
Translators: Dawid Mazurek, Robert Bronowicz, and Daniel Madzia