A possible fossil paralarva (Cephalopoda: Coleoidea) from the Solnhofen Lithographic Limestones (Upper Jurassic, southern Germany)
Joachim T. Haug, Isabelle Kruta and Carolin Haug
Plain Language Abstract
The first possible fossil remains of a (para-)larva of a cephalopod (e.g., cuttlefish, octopuses) were discovered in the Upper Jurassic Solnhofen Lithographic Limestones from southern Germany, which are ca. 150 million years old. The fossil is three millimetres long and leaf-shaped, consisting of mainly the central part of the pen, which is related to the cuttlebone in cuttlefish. Parts of the lateral areas are faintly preserved. The middle line is marked by a sharp keel, a pear-shaped structure is present posteriorly (the side opposing the arms). On the opposite, anterior side the pen has a kite-shaped area bearing small pits. This general morphology is, for example, similar to certain trachyteuthids, exclusively fossil coleoid cephalopods from different Jurassic and Cretaceous deposits. Also resemblances to certain other Jurassic coleoids (muensterellids) are pointed out. The special morphology of the here described specimen is interpreted as special characters of an early developmental stage. This together with its small size makes its very likely that the new fossil is a paralarva, although we cannot provide the evidence from its ecology usually necessary for this assignment. As there is no similarly small comparative material available, the exact systematic identification of the new specimen is currently not possible.
Resumen en Español
Una posible paralarva fósil (Cephalopoda, Coleoidea) de las calizas litográficas de Solnhofen (Jurásico superior, sur de Alemania)
Se describe un posible gladius fragmentario de un cefalópodo paralarval de las calizas litográficas de Solnhofen (Alemania meridional, Jurásico superior, Titónico inferior). El ejemplar tiene 3 mm de longitud y forma de hoja, y corresponde principalmente al campo medio del gladius, aunque existen también restos apenas perceptibles de los campos laterales. La línea media está marcada por una quilla aguda. En el extremo posterior se encuentra una estructura piriforme, mientras que en el anterior se observa un área con forma deltoidea ornamentada con pequeñas fosetas. Teniendo en cuenta la forma general, la presencia de una quilla y la región anterior deltoidea y ornamentada, el gladius se asemeja al de ciertos Trachyteuthididae, aunque algunos caracteres también son similares a los de los Muensterellidae. La especial morfología del ejemplar descrito se interpreta como consecuencia de su estadio ontogenético, lo que, unido a su pequeño tamaño, nos hace pensar que se trate de un ejemplar paralarval, aunque no podemos aportar las necesarias evidencias ecológicas en favor de esa atribución. Tampoco es posible una clara asignación sistemática, dado que no existe material comparable de tan pequeño tamaño.
Palabras clave: paleo-evo-devo; cefalópodos; gladius; ontogenias fosilizadas; larva; microscopía de fluorescencia
Traducción: Miguel Company
Résumé en Français
Une possible paralarve fossile (Cephalopoda: Coleoidea) des calcaires lithographiques de Solnhofen (Jurassique supérieur, sud de l'Allemagne)
Nous décrivons un possible gladius fragmentaire de céphalopode paralarvaire provenant des calcaires lithographiques de Solnhefen (Jurassique supérieur, Tithonien inférieur). Le spécimen fait 3mm de long et est en forme de feuille, représentant principalement le champ médian du gladius. De faibles restes indiquent l'ancienne position des champs latéraux. La ligne médiane est marquée par une quille anguleuse. Sur la partie postérieure il y a une structure en forme de pointe. Antérieurement, une surface en forme de cerf-volant est ornementée avec de petits trous. La morphologie principale ressemble, par exemple, a certains trachyteuthididés, sur la base de la forme, de la présence de la quille et de la région antérieure en forme de cerf-volant ornementée. La ressemblance avec certains caractères de muensterellidés est également mise en évidence. La morphologie spéciale du spécimen décrit est interprétée comme due à des causes ontogénétiques.
Ces observations de même que la petite taille attribuent à ce spécimen un statut paralarvaire potentiel, bien que nous ne puissions pas fournir les preuves écologiques de cette assignation. Une attribution claire à un quelconque groupe systématique est empêchée par le fait qu'il n'existe aucun matériel de taille similaire disponible pour comparaison.
Mots clés : paléo-évo-dévo ; céphalopodes ; gladius ; ontogénies fossilisées ; larve ; microscopie par fluorescence
Translator: Olivier Maridet
Deutsche Zusammenfassung
Eine mögliche Paralarve (Cephalopoda: Coleoidea) aus den Solnhofener Plattenkalken (Oberjura, Süddeutschland)
Wir beschreiben hier ein mögliches unvollständiges Gladius der Paralarve eines Kopffüßers aus den Solnhofener Plattenkalken, Süddeutschland (Oberjura, Untertithon). Das Fossil ist blattförmig und etwa drei Millimeter lang. Erhalten ist vor allem das mediane Feld des Gladius, die lateralen Felder sind nur undeutlich und unvollständig erhalten. Die Mediane ist durch einen prominenten Kiel gekennzeichnet, der posterior in eine birnenförmige Struktur übergeht. Anterior befindet sich eine mit kleinen Gruben ornamentierte Fläche in Form eines Drachenvierecks. Die grundlegende Morphologie erinnert beipielsweise an manche Trachyteuthiden, vor allem in der Form, im Vorhandensein eines prominenten medianen Kiels und der ornamentierten Fläche in Form eines Drachenvierecks. Auch manche Muensterelliden zeigen diese Merkmale. Die ungewöhnliche Morphologie des hier beschriebenen Fossils interpretieren wir als Folge seines frühen ontogentischen Stadiums. Auch aufgrund der geringen Größe des Fossils halten wir es für wahrscheinlich, dass das Fossil eine Paralarve ist, auch wenn die erforderlichen ökologischen Informationen fehlen. Eine sichere systematische Zuordnung des Fossils ist zur Zeit nicht möglich; andere Stücke vergleichbarer Größe sind bisher nicht bekannt.
Schlüsselwörter: Palaeo-Evo-Devo; Cephalopoda; Gladius; fossilisierte Entwicklung; Larve; Fluoreszenzmikroskopie.
Translators: Authors
Arabic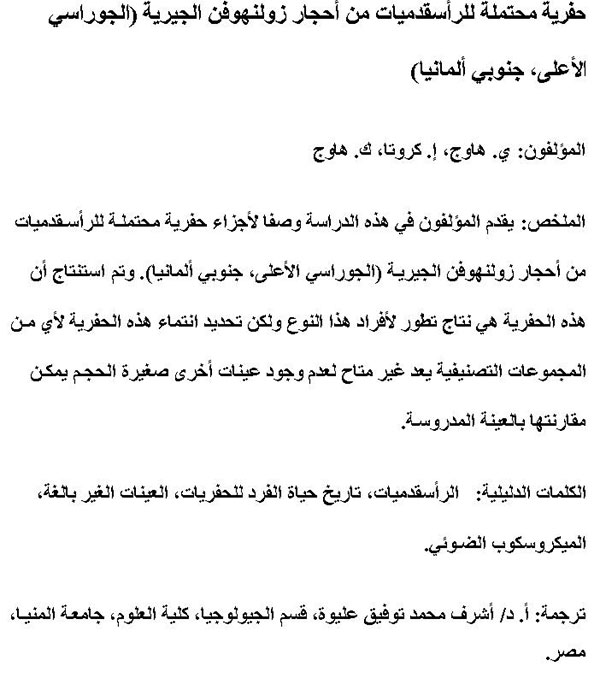 Translator: Ashraf M.T. Elewa