Joachim T. Haug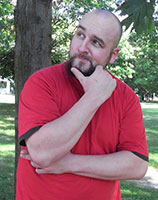 University of Greifswald
Zoological Institute and Museum
Department of Cytology and Evolutionary Biology
Soldmannstr. 23
17487 Greifswald
Germany
Joachim T. Haug studied animal ecology (major), sociobiology and palaeontology (minors) at the Julius-Maximilians-Universität Würzburg. After the receipt of the Diplom in 2005, he moved to the work group Biosystematic Documentation at the University of Ulm for his PhD thesis. There he worked on the early crustaceans from the Cambrian 'Orsten', which are preserved three-dimensionally and with minute details. To make the entire morphology clearly visible, Joachim produced computer-based 3D models for each developmental stage of a species, resulting in a 4D model of the species. With 4D models reconstructed for the different species, differences in the developmental pattern between the species became visible. These changes in the developmental timing, so-called heterochronic events must have occurred several times during early crustacean evolution. Due to these findings, Joachim got interested in studying such evolutionary changes of development also in fossils from other deposits and focussed on Palaeo-Evo-Devo (see also http://www.palaeo-evo-devo.info). After his defense in 2009 and two further years as postdoctoral researcher in Ulm, he received a Feodor Lynen research fellowship from the Alexander von Humboldt-Foundation, with which he went to Yale University and returned to Germany, now doing research at the University of Greifswald. Besides 3D modelling, Joachim is also interested in different methods of imaging (documentation and presentation).

Isabelle Kruta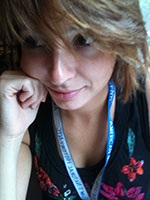 Yale University
Department of Geology and Geophysics
PO Box 208109
New Haven, Connecticut 06520-8109
USA
and
American Museum of Natural History
Division of Paleontology (Invertebrates)
New York, New York 10024
USA
Isabelle Kruta studied at University Modena e Reggio Emilia and obtained both her diploma (MD- 2007) and Ph.D (2011) at the Museum d'Histoire Naturelle in Paris. She got postdoctoral training at Yale University and at the American Museum of Natural History (AMNH). Her research interest is on cephalopod paleobiology and more specifically on exceptional preservation of soft tissue in ammonites. Among several techniques she uses Synchrotron µCT in order to reconstruct elements that are present in the body chamber of the animal. Her aim is a better understanding of the ecology of this group as well as new insights in phylogeny.

Carolin Haug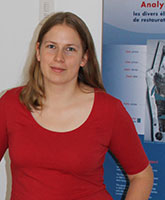 University of Greifswald
Zoological Institute and Museum
Department of Cytology and Evolutionary Biology
Soldmannstr. 23
17487 Greifswald
Germany
Carolin Haug studied biology at the Julius-Maximilians-Universität Würzburg with animal ecology as major subject and sociobiology and palaeontology as minor subjects. She received her Diplom in 2005 and moved to the University of Ulm for her PhD thesis. In the work group Biosystematic Documentation she investigated the ontogeny and evolution of the arthropod head shield on a wide spectrum of fossil and extant specimens. Due to the very different demands of the material, she developed new imaging techniques or modified existing methods together with her collaborators, for example, composite imaging, stereo photography or autofluorescence macro- and microscopy. In 2011, Carolin defended her PhD thesis. She was at Yale University as postdoctoral researcher and is currently at the University of Greifswald. Besides optimising imaging techniques, she is interested in fossilised development (see also http://www.palaeo-evo-devo.info) and in the evolution of tagmosis. For this purpose, she investigates mainly arthropods from different deposits yielding exceptional preservation, such as Rhynie chert, Solnhofen Lithographic Limestones, the 'Orsten', Burgess Shale, or Mazon Creek, always in comparison to their extant relatives.