This email address is being protected from spambots. You need JavaScript enabled to view it.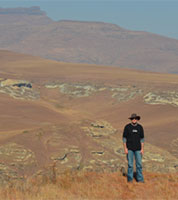 Department of Biomedical Sciences
Grand Valley State University
312 Padnos Hall
Allendale, Michigan 49401
USA
Justin W. Adams received his PhD in physical anthropology from Washington University in St. Louis in 2006. His research focus is on the evolution of African mammals in southern Africa and the paleoecology and taphonomy of the South African primate-bearing cave deposits. He has excavated and described mammalian assemblages from several Pliocene and Pleistocene fossil localities including Gondolin, Luleche, and Hoogland. He is currently an Associate Professor of Anatomy in the Department of Biomedical Sciences at Grand Valley State University.