Andrew B. Heckert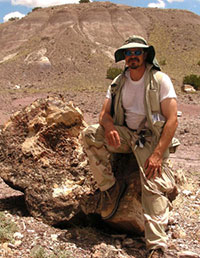 Department of Geology
Appalachian State University
ASU Box 32067
Boone, North Carolina 28608-2067
U.S.A.
website
Andrew Heckert earned a B.S. in Geology summa cum laude from Denison University in 1993 before earning an M.S. (1997) and Ph.D. (2001) from the Department of Earth & Planetary Sciences at the University of New Mexico. Subsequent to this he worked as the Geoscience Collections Manager at the New Mexico Museum of Natural History (2002-2005) before taking a post at Appalachian State University, where he is an associate professor in geology and director of the McKinney Geology Teaching Museum.

Heckert's research interests revolve around Late Triassic stratigraphic, biostratigraphic, and paleontologic issues, focusing primarily on microvertebrates, but he enjoys ranging up and down the section, and has collected vertebrates ranging in age from Devonian to Pleistocene, conducting field work across the American West and now in his new home state of North Carolina.
Photo by Alan Erickson.

Jessica A. Miller-Camp

Department of Geology
Appalachian State University
ASU Box 32067
Boone, North Carolina 28608-2067, U.S.A.
currently: Department of Geoscience
121 Trowbridge Hall
University of Iowa
Iowa City, Iowa, 52242
U.S.A.
Jessica Miller-Camp earned a B.S. in Geology from Appalachian State University in 2007 where she studied the tooth enamel microstructure of several archosaurs. Since then she earned an M.S. in Geoscience at the University of Iowa (2010) for a geometric morphometrics study of the dicynodont Lystrosaurus. She is currently enrolled as a Ph.D. student at the University of Iowa undertaking a dissertation on the phylogenetics, taxonomy, biogeography, and morphology of Alligatorinae.