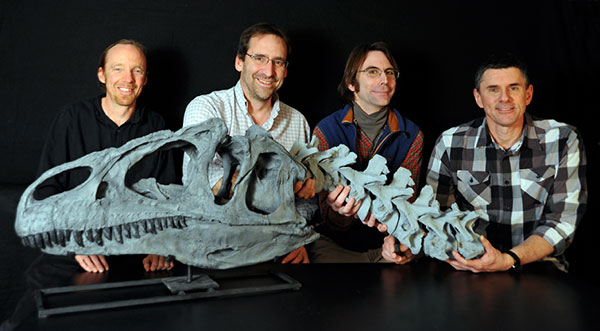 Authors (left to right): Eric Snively, John R. Cotton, Ryan Ridgely, and Lawrence M. Witmer.
This email address is being protected from spambots. You need JavaScript enabled to view it.
Department of Mechanical Engineering
Russ College of Engineering
249 Stocker Center
Ohio University,
Athens, OH 45701
USA
Eric Snively is a post-doctoral researcher and instructor at Ohio University. His graduate work at the University of Calgary and Ohio University emphasized feeding and locomotor function in carnivorous dinosaurs. He contributed to field education with the Royal Tyrrell Museum, and raptor outreach with the Calgary Wildlife Rehabilitation Society. He taught and mentored students at Villanova University, Ohio University, and as an Ingenuity fellow at the University of Alberta. His research seeks to infer function and behavior of fossil animals (including dinosaurs and ceteartiodactyls), using finite element analysis, dynamics, and new statistical methods.

This email address is being protected from spambots. You need JavaScript enabled to view it.
Department of Mechanical Engineering
Russ College of Engineering
249 Stocker Center
Ohio University
Athens, OH 45701
USA
John Cotton is Assistant Professor of Mechanical Engineering and Biomedical Engineering at Ohio University. He received his Ph.D. from Virginia Tech in 1998 in Engineering Mechanics, where his research focused on simulating the deformation of hair cell bundles to better understand mechanotransduction in the inner-ear. As a postdoc at the University of Southampton he developed methods to simulate fatigue damage in bone. His research is broadly concerned with characterizing the mechanical properties of biological structures, as well as simulating their mechanical response using finite element and other numerical modeling techniques.

This email address is being protected from spambots. You need JavaScript enabled to view it.
Department of Biomedical Sciences
Heritage College of Osteopathic Medicine
Ohio University
Athens, OH 45701
USA
Ryan Ridgely graduated from the University of Rhode Island in 2000. He is an integral member of the Witmer lab where he is a research technician participating in NSF grant collaborations on cephalic anatomy evolution in dinosaurs. His major area of work is in digital morphology, which is working with CT (CAT) scans and MR imaging to produce 3D visualization models of internal anatomy in modern and extinct vertebrates.

This email address is being protected from spambots. You need JavaScript enabled to view it.This email address is being protected from spambots. You need JavaScript enabled to view it.">
Department of Biomedical Sciences
Heritage College of Osteopathic Medicine
Ohio University
Athens, OH 45701
USA
Lawrence M. Witmer is a Professor of Anatomy at the Ohio University Heritage College of Osteopathic Medicine in Athens, Ohio. He was awarded the Ohio University Presidential Research Scholar Award and is the Chang Professor of Paleontology. He received degrees from Cornell University, the University of Kansas, and the Johns Hopkins University School of Medicine. An important aspect of this research is "fleshing out" extinct dinosaurs and their kin with the soft tissues not normally preserved as fossils. Witmer has received numerous National Science Foundation grants, and has published articles in Science, Nature, and many in other technical journals.