The oldest fossil record of bandicoots (Marsupialia; Peramelemorphia) from the late Oligocene of Australia
Plain Language Abstract
Two new species of bandicoots (marsupials) are described from fossil deposits in South Australia, aged between 26.1 and 23.6 million years old. These bandicoots are currently the oldest fossils from this group. The two species are quite small, under 250 grams and principally fed on insects. Our analysis of relationships within this group shows that these two species are related to a species from the Riversleigh World Heritage Area (WHA), Queensland, and the Kutjamarpu Local Fauna in South Australia.
Resumen en Español
El registro fósil más antiguo de bandicuts (Marsupialia; Peramelemorphia), del Oligoceno tardío de Australia
Se describen dos nuevos representantes del Oligoceno tardío de marsupiales del orden Peramelemorphia (bandicuts y bilbis) procedentes de la Formación Etadunna (Australia Meridional). Bulungu muirheadae sp. nov., de la Zona B (Fauna Local [FL] de Ditjimanka) está representada por varios dentarios y molares superiores e inferiores aislados. Bulungu campbelli sp. nov., de la Zona C (FL de Ngapakaldi), está representada únicamente por un dentario y una maxila. Ambas especies constituyen los registros más antiguos de bandicuts descritos hasta al momento. Las dos son de pequeño tamaño (masa corporal estimada <250 gramos) en comparación con la mayoría de especies actuales de bandicuts y, de acuerdo con su morfología dental, probablemente eran insectívoras. Aparentemente se trata de formas congéneres de Bulungu palara de las faunas locales miocenas de Riversleigh (Queensland) y de Kutjamarpu (Formación Wipajiri, Australia Meridional). No obstante, el peramelemorfo de la Zona B parece ser más plesiomórfico que B. palara dado que retiene centrocristas completas en todos los molares superiores.
Palabras clave: Peramelemorfo; Oligoceno; Australia Meridional; bandicut; nueva especie; marsupiales
Traducción: Miguel Company
Résumé en Français
Le plus ancien registre fossile de bandicoots (marsupiaux; Peramelemorphia) de l'Oligocène supérieur d'Australie
Deux nouveaux représentants de l'ordre marsupiale Peramelemorphia (bandicoots et bilbies), provenant de la Formation d'Etadunna dans l'état de l'Australie du Sud, datant de l'Oligocène supérieur, sont décrits ici. Bulungu muirheadae sp. nov., provenant de la zone B (Faune Locale de Ditjimanka [LF]), est représenté par plusieurs dentaires et molaires supérieures et inférieures isolées. Bulungu campbelli sp. nov., provenant de la zone C (Ngapakaldi LF), est représenté par un seul dentaire et maxillaire. Ensemble, ils représentent les plus anciens fossiles de bandicoots décrits à ce jour. Ils sont tous les deux de petite taille (masse corporelle estimée <250 grammes) par rapport à la plupart des espèces vivantes de bandicoot et d'après leur morphologie dentaire, ils étaient probablement insectivores. Ils semblent appartenir au même genre que Bulungu palara, présent dans les faunes de Riversleigh, site du patrimoine mondial (WHA), au Queensland, et dans Kutjamarpu LF (Formation de Wipajiri), en Australie du Sud, datant du Miocene. Cependant, le péramélémorphien de la zone B semble être plus plésiomorphe que B. palara à cause de la rétention de complète centrocristae sur toutes les molaires supérieures.
Mots-clés: Péramélémorphien; Oligocène; Australie du Sud; bandicoot, nouvelles espèces; marsupiaux
Translator: Author
Deutsche Zusammenfassung
Der älteste Fossilnachweis von Beuteldachsen (Marsupialia; Peramelemorphia) aus dem späten Oligozän von Australien
Es werden hier zwei spätoligozäne Vertreter der Beuteltierordnung Peramelemorphia (Beuteldachse und Bilbies) aus der Etadunna Formation von Südaustralien beschrieben. Bulungu muirheadae sp. nov. aus Zone B (Ditjimanka Lokale Fauna [LF]) ist mit einigen Unterkiefern und isolierten unteren und oberen Molaren repräsentiert. Bulungu campbelli sp. nov. aus Zone C (Ngapakaldi LF) ist mit einem einzigen Unterkiefer und einer Maxilla repräsentiert. Zusammen stellen sie die ältesten fossilen beschriebenen Beuteldachse dar. Beide sind klein (angenommenes Körpergewicht <250 Gramm) im Vergleich zu den meisten heute lebenden Beuteldachsen und waren ihrer Gebissmorphologie nach wahrscheinlich Insektenfresser. Sie scheinen mit Bulungu palara aus miozänen Lokalfaunen der Riversleigh World Heritage Area (WHA), Queensland und der Kutjamarpu LF (Wipajiri Formation) von Südaustralien kongenerisch zu sein. Allerdings scheint der Peramelemorphe aus Zone B plesiomorpher zu sein, da er komplette Centrocristae auf allen unteren Molaren beibehalten hat.
SCHLÜSSELWÖRTER: Peramelemorphe; Oligozän; Südaustralien; Beuteldachs; neue Art; Beuteltiere
Translators: Eva Gebauer
Arabic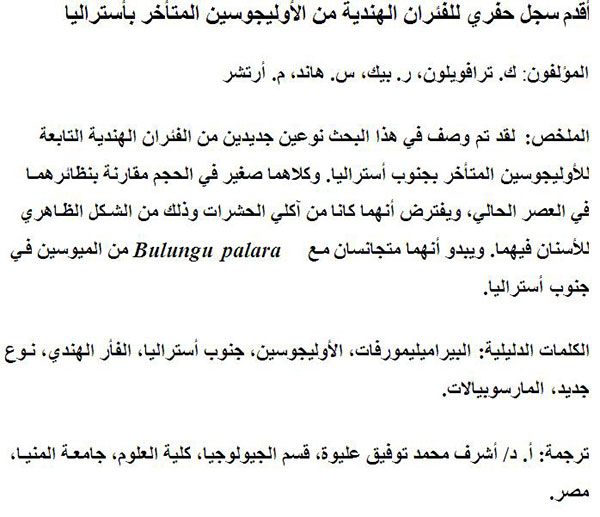 Translator: Ashraf M.T. Elewa