Lizards and amphisbaenians (Reptilia, Squamata) from the late Eocene of Sossís (Catalonia, Spain)
Plain Language Abstract
Lizards, including worm-lizards (amphisbaenians), are described from the Eocene of Spain for the first time. The presence of iguanians, geckos, lacertids, scincids, cordyliforms, amphisbaenians, anguines, and glyptosaurines corresponds well with contemporaneous localities in other parts of Europe, particularly those of the Phosphorites du Quercy, France. The lizards identified at Sossís and other Iberian localities provide new information on the geographical and temporal distribution of the group and have the potential to shed light on patterns of faunal interchange both within the Iberian Peninsula and between it and the rest of Europe at an important period in the evolution of European faunas.
Resumen en Español
Lagartos y anfisbenios (Reptilia, Squamata) del Eoceno inferior de Sossís (Cataluña, España)
Se describe una nueva y diversa asociación de lagartos y anfisbenios eocenos de la localidad clásica de mamíferos de Sossís (Cataluña, España). Representa la primera asociación de lagartos del Paleógeno de España y la primera del Eoceno superior de la Península Ibérica. La composición a nivel de familia se asemeja a la de otras localidades europeas contemporáneas, con la presencia de iguanios, geckos, lacértidos, escíncidos, cordiliformes, anfisbenios, anguinos y gliptosaurinos. Muchas de estas famílias todavía ocurren en Cataluña, pero la presencia de taxones termofílicos como iguanios y cordiliformes indican condiciones mas cálidas durante el Eoceno. La correspondencia más exacta se da con las localidades francesas de las Phosphorites du Quercy. Sossís y otras asociaciones de escamosos paleógenos tienen el potencial de contribuir al conocimiento de los patrones de intercambio entre diferentes bioprovincias paleógenas, complementando los datos existentes sobre mamíferos de las mismas.
Palabras clave: Squamata; lagartos; anfisbenios; Eoceno; Península Ibérica; España.
Traducción: Authors
Résumé en Français
Lézards et amphisbènes (Reptilia, Squamata) de l'Eocène de Sossís (Catalogne, Espagne)
Un nouvel assemblage de l'Eocène diversifié en lézards et en amphisbènes provenant de la localité mammifère classique de Sossís (Catalogne, Espagne) est décrite. Il représente le premier assemblage de lézards du Paléogène de l'Espagne et de la première localité de lézards de la fin de l'Eocène provenant de la péninsule ibérique. La composition au niveau familiale de l'assemblage réplique exactement celle d'autres localités européennes contemporaines, avec la présence d'iguanes, geckos, lacertidae, scincidae, cordyliforms, amphisbènes, anguines, et glyptosaurines. Beaucoup de ces familles sont toujours présentes en Catalogne, mais la présence d'espèces thermophiles comme les iguanes et cordyliforms est révélateur de conditions plus chaudes au cours de l'Eocène. La correspondance faunique la plus proche est avec les localités françaises contemporaines des phosphorites du Quercy. Sossís et d'autres nouveaux assemblages de squamates du Paléogène espagnols ont le potentiel d'augmenter notre connaissance des modes d'échanges fauniques entre les différentes bio-provinces du Paléogène, complétant les données existantes sur les mammifères.
Mots-clés: squamates, lézards; amphisbènes; Eocène; Péninsule Ibérique; Espagne
Translator: Olivier Maridet
Deutsche Zusammenfassung
Eidechsen und Doppelschleichen (Reptilia, Squamata) aus dem späten Eozän von Sossís (Katalonien, Spanien)
Es wird eine neue vielfältige Ansammlung von Eidechsen und Doppelschleichen aus dem späten Eozän der klassischen Säugetierfundstelle Sossís (Katalonien, Spanien) beschrieben. Sie repräsentiert die erste paläozäne Ansammlung von Eidechsen aus Spanien und die erste späteozäne Eidechsen-Lokalität auf der Iberischen Halbinsel. Die Zusammensetzung auf Familienebene repliziert die anderer zeitgleicher europäischer Lokalitäten, mit dem Vorhandensein von Leguanartigen, Geckos, Echte Eidechsen, Skinke, Krokodilartige, Doppelschleichen, Schleichen und Glyptosaurine. Viele dieser Familien kommen in Katalonien immer noch vor. Thermophile Taxa wie Leguanartige und Krokodilartige weisen auf wärmere Verhältnisse während des Eozäns hin. Die größte Übereinstimmung bezüglich der Fauna besteht mit den zeitgleichen französischen Lokalitäten der Phosphorites du Quercy. Sossís und andere neu entdeckte paläozäne spanische Squamaten-Ansammlungen haben das Potential zum Verständnis der Faunenaustauschmuster zwischen verschiedenen paläozänen Bioprovinzen beizutragen und ergänzen so die bereits existierenden Daten von Säugetieren.
Schlüsselwörter: Squamata; Eidechsen; Amphisbaenia; Eozän; Iberische Halbinsel; Spanien
Translators: Eva Gebauer
Arabic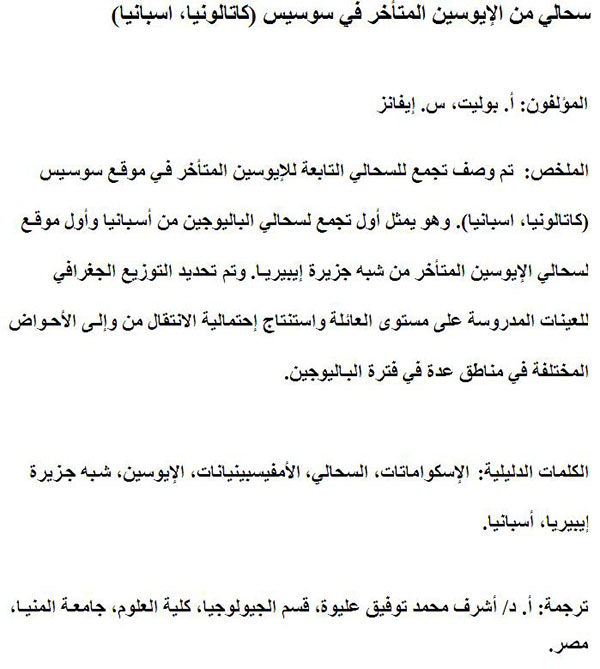 Translator: Ashraf M.T. Elewa