Ricardo Araújo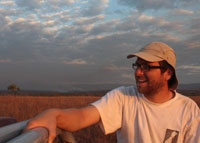 Huffington Department of Earth Sciences
Southern Methodist University
Dallas, Texas 75275
USA
and Museu da Lourinhã
Rua João Luís de Moura, 95
2530-158 Lourinhã
Portugal
Ricardo Araújo is currently completing his doctoral degree at the Southern Methodist University. The doctoral dissertation focuses on Angolan plesiosaurs, functional morphology, and myological reconstruction in plesiosaurs. He is part of the PaleoAngola project, an international collaborative endeavor that aims to study and collect the vast Angolan paleontological heritage. Ricardo is also a co-leader of the PalNiassa project, a Portuguese-Mozambican cooperation that aims to trigger research and increase dynamism in Mozambican academia, by means of an invaluably important, diverse and undiscovered fossil record. Ricardo also actively collaborates with the Museu da Lourinhã, Portugal, on dinosaur eggs and embryos.

Michael J. Polcyn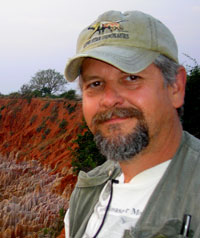 Huffington Department of Earth Sciences
Southern Methodist University
Dallas, Texas 75275
USA
Michael J. Polcyn is Director of the Digital Earth Laboratory, Lecturer and Research Associate in the Roy M. Huffington Department of Earth Sciences at Southern Methodist University. His current research interests include the systematics of mosasauroids and adaptations in secondarily aquatic tetrapods. Research also includes application of technology to problems in paleontology.