This email address is being protected from spambots. You need JavaScript enabled to view it.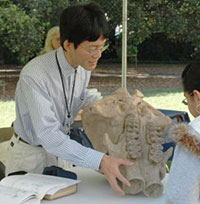 Museum of Paleontology
Museum of Vertebrate Zoology
and Department of Integrative Biology
University of California
Berkeley, California 94720
USA
Susumu Tomiya is a vertebrate paleontologist at the University of California Museum of Paleontology and a lecturer in the Department of Integrative Biology at University of California, Berkeley. He holds degrees from the Johns Hopkins University (Earth and Planetary Sciences, B.A.) and University of California, Berkeley (Integrative Biology, Ph.D.). His research interests include diversity dynamics of fossil vertebrates, paleoecology and evolution of mammalian carnivores, and use of paleontological data to inform conservation biology.