Appendicular skeleton and dermal armour of the Late Cretaceous titanosaur Lirainosaurus astibiae (Dinosauria: Sauropoda) from Spain
Verónica Díez Díaz, Xabier Pereda Suberbiola, and José Luis Sanz
Plain Language Abstract
The appendicular skeleton and osteoderms of the Spanish titanosaur (Dinosauria: Sauropoda) Lirainosaurus astibiae
Titanosaurs were the most succesful and diverse group of sauropod dinosaurs from the Late Cretaceous. They inhabited every landmass, even Antarctica, and were the only clade within Sauropoda that reached the end of the Mesozoic.
Five titanosaurian species are well-known from the Late Cretaceous of Europe: Magyarosaurus and Paludititan from Romania, Ampelosaurus and Atsinganosaurus from France, and Lirainosaurus from Spain. Nowadays, Lirainosaurus is one of the best-known titanosaurs from Europe, thanks to the detailed description of its cranial (basicrania and teeth) and postcranial (axial and appendicular remains, and osteoderms) remains.
This paper focuses on the description of the appendicular skeleton and dermal armour of Lirainosaurus, and the comparison with the other European titanosaurs confirms that it clearly differs from them. In addition, a body size up to 6 meters and a body mass of at least 2-4 tonnes for the largest individuals of Lirainosaurus is suggested, being one of the most slender titanosaurs found to date.
Resumen en Español
Esqueleto apendicular y armadura dérmica del titanosaurio Lirainosaurus astibiae (Dinosauria: Sauropoda) del Cretácico superior de España
Lirainosaurus astibiae es el mejor conocido de los saurópodos titanosaurios de la Península Ibérica. Fue descrito inicialmente por Sanz y colaboradores en 1999 a partir de varios restos craneales y postcraneales del Cretácico superior de Laño (norte de España). Recientemente nuevos restos procedentes de esta y otras localidades ibéricas han sido atribuidos a la especie. Este artículo se centra en la descripción del esqueleto apendicular y de la armadura dérmica de Lirainosaurus. La comparación con otros titanosaurios europeos confirma que Lirainosaurus astibiae se diferencia claramente de ellos y resalta dos características apendiculares diagnósticas: la presencia de una prominencia dorsal junto con una cresta ventral en la cara medial de la lámina escapular y la combinación de un proceso anterolateral y una cresta anteroventral en la placa esternal. La aplicación de las ecuaciones para la estimación de la masa corporal y el tamaño en saurópodos sugiere una longitud de hasta 6 metros y un peso de entre 2 y 4 toneladas para los individuos más grandes de Lirainosaurus astibiae, lo que lo convierte en uno de los titanosaurios más gráciles hallados hasta la fecha. El estudio del esqueleto postcraneal no axial apoya la hipótesis de que Lirainosaurus astibiae es un litostrotio derivado cercano a los Saltasauridae.
Palabras clave: Lirainosaurus; Titanosauria; esqueleto apendicular; armadura dérmica; España; Cretácico superior
Traducción: Miguel Company
Résumé en Français
Squelette appendiculaire et armure dermique du titanosaur du Crétacé supérieur Lirainosaurus astibiae (Dinosauria: Sauropoda) de l'Espagne
Lirainosaurus astibiae est la plus connue des espèces de sauropodes titanosaurien de la péninsule ibérique. Elle a été décrite par Sanz et ces collaborateurs en 1999 à base de plusieurs restes crâniens et postcrâniens du Crétacé supérieur de Lano (nord de l'Espagne) ; de nouveaux restes de cet endroit et de d'autres sites fossiles ibériques ont récemment été rapportés à cette espèce. Ce papier se concentre sur la description du squelette appendiculaire et de l'armure dermique de Lirainosaurus. La comparaison avec d'autres titanosaures européens confirme que Lirainosaurus astibiae diffère clairement des autres espèces, et met à jours deux caractéristiques appendiculaires diagnostiques: la présence d'une proéminence dorsale avec une crête ventrale sur la surface interne de la lame scapulaire, et la combinaison d'une excroissance antérolatérale et une crête antéro-ventrale sur la plaque sternale. Les équations de prédiction de la masse corporelle et la taille chez les sauropodes suggèrent une taille de corps jusqu'à 6 mètres et une masse corporelle d'au moins 2-4 tonnes pour les plus grands individus de Lirainosaurus astibiae, il est l'un des plus sveltes titanosaures trouvés à ce jour. L'étude du squelette postcrânien non-axiale soutient l'hypothèse que Lirainosaurus astibiae est un lithostrotian près de la famille Saltasauridae.
Mots-clés: Lirainosaurus; Titanosauria; squelette appendiculaire; armure dermique; Espagne; Crétacé supérieur
Translator: Olivier Maridet
Deutsche Zusammenfassung
Appendikular-Skelett und Hautpanzer des spätkretazischen Titanosauriers Lirainosaurus astibiae (Dinosauria: Sauropoda) aus Spanien
Lirainosaurus astibiae ist die am besten bekannte titanosauride Sauropodenart der Iberischen Halbinsel. Er wurde 1999 von Sanz und Mitarbeitern auf der Basis von einigen cranialen und postcranialen Überresten aus der späten Kreide von Laño (Nordspanien) beschrieben; neue Funde von dieser und anderen iberischen Fossil-Fundstätten wurden kürzlich dieser Art zugeschrieben. Diese Arbeit konzentriert sich auf die Beschreibung des Appendikular-Skeletts und den Hautpanzer von Lirainosaurus. Vergleiche mit anderen europäischen Titanosauriern bestätigen, dass Lirainosaurus sich deutlich von diesen unterscheidet und streichen zwei diagnostische Merkmale im Appendikular-Skelett heraus: das Vorhandensein einer dorsalen Wölbung zusammen mit einem ventralen Kamm auf der medialen Oberfläche des Schulterblatts und die Kombination von einem anterolateralen Vorsprung mit einem anteroventralen Kamm auf dem Sternum. Kalkulationen zu Maßen bei Sauropoden weisen auf eine Größe bis zu sechs Meter und ein Gewicht von bis zu zwei bis vier Tonnen für die größten Individuen von Lirainosaurus astibiae hin. Damit gehört das Skelett zu einem der schmaleren bis jetzt gefundenen Titanosauriden. Untersuchungen des nicht-axialen Postkranialskeletts unterstützten die Annahme, dass Lirainosaurus astibiae ein abgeleiteter Lithostrotide ist, nahe verwandt mit den Saltasauridae.
Schlüsselwörter: Lirainosaurus; Titanosauria; Appendikular-Skelett; Hautpanzer; Spanien; Obere Kreide
Translator: Eva Gebauer
Arabic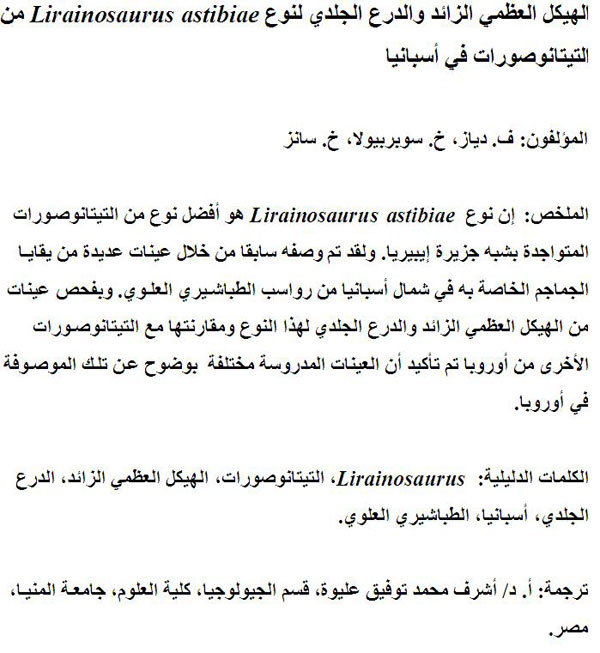 Translator: Ashraf M.T. Elewa