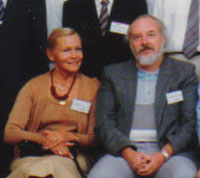 Richard A. Reyment
Palaeozoological Section
Swedish Museum of Natural History
Box 50007
Stockholm
Sweden

Born on December 4, 1926, in Coburg, Vic., Australia. Holds the degrees of Filosofie Doktor (Stockholm, 1956) and D. Sc. (Melbourne, 1967). Former British Colonial servant. Academic appointments at Stockholm University, University of Ibadan (Nigeria), Uppsala University (Professor of Geology from 1967 to 1991). Fellow of the Royal Swedish Academy of Sciences, fellow of the Brazilian Academy of Sciences and furthermore.
Studies of random events in time (including volcanic outbreaks and earth tremors), the analysis of shape variation, applications of multivariate statistical analysis in geology and biology, including taxonomy, quantitative genetics and ecology. Several articles on quantitative linguistics (Tsiganology), and the genetic history of the Moors of the Iberian Peninsula, serological statistics, and the history of geology.
Current scientific activities are concerned with variability in invertebrates (geometric morphometrics), multivariate analysis of serological data, the analysis of recurrent morphotypes in ammonites, compositional multivariate statistical analysis in biology and geology and the application of the theory of point processes to volcanic activity.