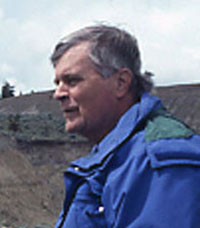 George Poinar, Jr.
Department of Zoology
Oregon State University
Corvallis, Oregon 97331
USA
.
George Poinar spent most of his professional life at the University of California, Berkeley, where he conducted research on insects,nematodes,biological control and amber fossils. He received a broad undergraduate education at Cornell University, where as an undergraduate, he initially studied ornithology with Peter Paul Kellogg in the Department of Wildlife conservation. However, the brilliant lectures of Loren Petry guided him into Botany, which led to a summer job testing wild plants as hosts of the leafhopper-transmitted aster yellows virus. This in turn led to a graduate assistantship in Entomology. Discovering a nematode parasite in the newly introduced alfalfa weevil that was devastating pastures through the eastern states led to specialization in Nematology and Parasitology. After graduating from Cornell he spent a year at the Rothamsted experimental station in England studying Nematology with Basal Goodey and other members of the department. Later, he continued studying study nematodes with wim Oosterbrink in Wageningen, Alain Chabaud in Paris and I. A. Rubstov in St. Petersburg. He joined the insect Pathology group at UC Berkeley as director of the insect Disease Diagnostic Service. He concentrated on nematode parasites of both agricultural crops and medically important insects, serving as a consultant for the Food and Agriculture Department and the World health organization. His research projects took him to Western Samoa, New Guinea, Australia, Malaysia, Phillipines,Thailand and Africa. In the latter continent, he described nematode parasites from blackfly vectors transmitting onchocerciasis, mosquito malaria vectors of malaria and Tse Tse flies carrying trypanosomiasis. Knowledge gained from these studies provided the background for recognizing pathogens in amber entombed vectors entombed. After Retiring from Berkeley, George moved to Corvallis Oregon where he now works out of the Zoology Department.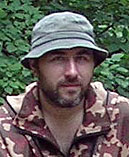 Andrei A. Legalov
Institute of Systematics and Ecology of Animals
Siberian Branch
Russian Academy of Sciences
Frunze Street, 11
Novosibirsk 630091
Russia

Systematics, phylogeny and evolution of Curculionid-beetles (Curculionoidea); systematics of Mesozoic and Cenozoic Curculionid-beetles; Quaternary Coleoptera genesis.

A.E. Brown
629 Euclid Avenue
Berkeley, California 94708
USA
Alex Brown collects amber from around the world.