Rare leaf fossils of Monimiaceae and Atherospermataceae (Laurales) from Eocene Patagonian rainforests and their biogeographic significance
Plain Language Abstract
This study focuses on two fossil-leaf species of flowering plants found at the Eocene fossil localities Laguna del Hunco (LH, ca. 52.2 Ma) and Río Pichileufú (RP, ca. 47.7 Ma) in Patagonia, Argentina. These sites yield some of the most diverse assemblages of fossil plants known and have been the focus of many paleontological studies. Historically, these paleofloras were thought to include several fossil plant species with affinities to living forests in southern South America. However, many of the taxa have recently been reclassified into genera with modern-day ranges in Australasian rainforests. Thus, the fossil floras may not include many connections to living Patagonian floras and instead support links to trans-Antarctic Gondwanan floras of the warm Eocene.
The two fossil species studied here, based on characteristic leaf morphology, show affinity to the magnoliid order Laurales of the basal angiosperms. Laurales are a diverse order with many genera that today show distinctly Gondwanan, often disjunct Southern Hemisphere distributions, making them of key interest for understanding southern biogeography. However, Laurales are well represented in the fossil record by only one of its families, Lauraceae. Here, we report new fossil evidence of Laurales from the families Atherospermataceae and Monimiaceae. One fossil species of the family Atherospermataceae, Laurelia guinazui, was previously described by Berry (1935) from RP, but new specimens from LH and RP with better preservation prompted our re-evaluation. The second fossil leaf species, of the family Monimiaceae, is new and known from a single specimen only. The purpose of this study is similar to that of other work evaluating certain components of the floras: to identify the fossil species to at least family level, to determine their probable closest living relatives, and to use both the fossil occurrences and the living ranges of relatives to improve understanding of paleobiogeography and ancient ecology.
Our results suggest that the most similar living relatives of Laurelia guinazui, reassigned here to Atherospermophyllum guinazui (Berry) comb. nov. (Atherospermataceae), and the new fossil species, Monimiophyllum callidentatum sp. nov. (Monimiaceae), live only in Australasia today. These records of Atherospermataceae and Monimiaceae are important because they are some of the only fossil occurrences of the two families from South America known to date. The affinities of these two Patagonian fossil species with living Australian taxa further support the recent evidence that the Patagonian fossil floras show strongest connection to living Australasian rainforest floras, and that significant biotic exchange was occurring between South America and Australasia, via Antarctica, before the final separation of South America and Antarctica during the middle-late Eocene. Based on fossil leaf traits and the ecology of the living relatives, our results also reveal a novel understory component of basal angiosperms on the Eocene landscape.
Resumen en Español
Hojas fósiles de Monimiaceae y Atherospermataceae (Laurales) de los bosques húmedos del Eoceno de Patagonia y su significado biogeográfico
Laguna del Hunco (~52.2 Ma) y Río Pichileufú (~ 47.7 Ma) son dos localidades del Eoceno de Patagonia (Argentina) que han proporcionado algunas de las floras fósiles más diversas de los bosques húmedos, dominados por angiospermas, de Gondwana. En este trabajo nos centramos en el estudio de hojas fósiles dentadas correspondientes a las familias Atherospermataceae y Monimiaceae (Laurales), que actualmente muestran una amplia, y a menudo disyunta, distribución en el hemisferio sur y que presentan un particular interés para la biogeografía de Gondwana. Damos a conocer 24 nuevos ejemplares de Laurelia guinazui Berry 1935 (Atherospermataceae), especie de la que proponemos su reasignación a Atherospermophyllum gen. nov. y A. guinazui (Berry) comb. nov. Se creía que esta especie era un elemento sudamericano de las floras del Eoceno, pero hemos descubierto que muestra mayor afinidad con los géneros australianos actuales, estrechamente relacionados, Daphnandra y Doryphora que con Laureliopsis (Sudamérica) y Laurelia (Sudamérica y Nueva Zelanda). La familia Monimiaceae está representada por un único ejemplar, procedente de Laguna del Hunco, y que atribuimos a Monimiophyllum callidentatum sp. nov. Este fósil muestra una gran semejanza con Wilkiea, un género descendiente actual, en clara contradicción con los análisis moleculares que sitúan la divergencia del clado Wilkiea en Australasia hace 16-38 Ma. Por tanto, el linaje Wilkiea podría ser más antiguo y tener una historia biogeográfica más dilatada a lo largo de Gondwana. Nuestros hallazgos mejoran significativamente el escaso registro fósil de Atherospermataceae y Monimiaceae. Las formas fósiles se hallan a una gran distancia actual de sus parientes vivos más cercanos y, especialmente, con géneros similares asociados, lo que aumenta los lazos de las floras eocenas de Patagonia con Australasia y debilita aún más sus señales de supervivencia en los bosques actuales de Sudamérica.
Palabras clave: Patagonia; Eoceno; Laurales; biogeografía; nuevo género; nueva especie
Traducción: Miguel Company
Résumé en Français
De rares fossiles de feuilles de Monimiaceae et Atherospermataceae (Laurales) des forets tropicales éocènes de Patagonie et leur importance biogéographique
Deux site fossiles éocènes de Patagonie, Argentine, Laguna del Hunco (ca. 52,2 Ma) et Río Pichileufú (ca. 47,7 Ma), ont donné parmi les flores fossiles les plus diversifiés connues à ce jour, représentant des forêts tropicales gondwaniennes dominées par les angiospermes. Nous mettons l'accent sur de rares fossiles de feuilles dentées appartenant aux familles Atherospermataceae et Monimiaceae (Laurales), qui montrent actuellement une large distribution au sud, souvent discontinue, et présentent un grand intérêt pour la biogéographie gondwanienne. Pour Laurelia guinazui Berry 1935 (Atherospermataceae), nous présentons 24 nouveaux spécimens et proposons la réaffectation à Atherospermophyllum gen. nov. et A. guinazui (Berry) comb. nov. Cette espèce était considérée comme un élément sud-américain des flores Eocènes, mais nous montrons une plus forte ressemblance avec les genres actuels australiens d'affinité proche Daphnandra et Doryphora plutôt qu'avec Laureliopsis (Amérique du Sud) et Laurelia (Amérique du Sud et Nouvelle Zélande). Les Monimiaceae sont représentées par un seul spécimen fossile de Laguna del Hunco, attribué ici à Monimiophyllum callidentatum sp. nov. Ce fossiles montrent de grandes similarités avec Wilkiea, un genre dérivé actuel d'Australie, en contradiction apparente avec les analyses moléculaires plaçant la divergence du clade Wilkiea en Australasie vers 16-38 Ma. En conséquence, la lignée Wilkiea pourrait être plus ancienne et avoir une histoire biogéographique plus large à l'échelle du Gondwana. Nos découvertes améliorent significativement le registre fossile pauvre pour les Atherospermataceae et les Monimiaceae. Les fossiles ont été trouvés à bonne distance de leur plus proches parents actuels et, remarquablement, avec des genres associés similaires, augmentant les liens entre les flores de l'Eocène de Patagonie et d'Australasie et affaiblissant d'autant leur signal de survie dans les forêts actuelles d'Amérique du Sud.
Mots clés : Patagonie; Eocène; Laurales; biogéographie; nouveau genre; nouvelles espèces
Translator: Olivier Maridet
Deutsche Zusammenfassung
In progress
Translator: Eva Gebauer
Arabic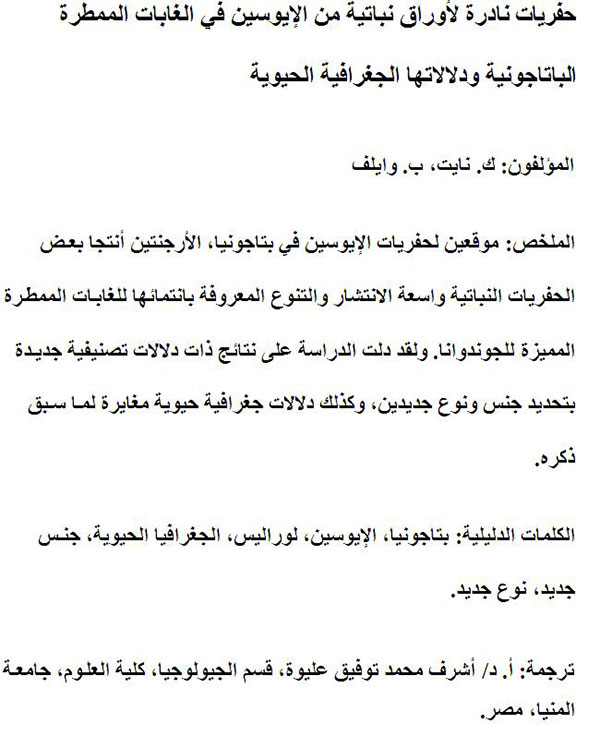 Translator: Ashraf M.T. Elewa