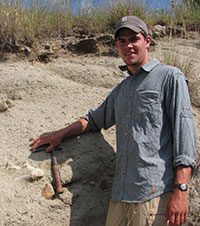 Daniel P. Maxbauer
Department of Biology
Saint John's University
Collegeville, Minnesota, USA
and Department of Earth and Environmental Sciences,
Wesleyan University
Middletown, Connecticut, USA
and Department of Earth Sciences
University of Minnesota
Minneapolis, Minnesota, USA
This email address is being protected from spambots. You need JavaScript enabled to view it.
Daniel Maxbauer is a PhD student in earth sciences at University of Minnesota. He studied earth and environmental sciences at Wesleyan Universtiy (CT) for his Master's degree and natural sciences as an undergraduate at Saint John's University (MN). His research has focused on using fossil plants to reconstruct past climates and environments.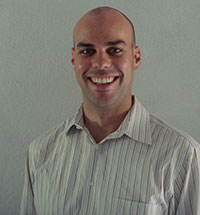 Daniel J. Peppe
Department of Geology
Baylor University
Waco, Texas, USA
This email address is being protected from spambots. You need JavaScript enabled to view it.
Daniel Peppe is an assistant professor of Geology at Baylor University. He received his degrees from St. Lawrence University (BS) and Yale University (MPhil, PhD), and was a postdoctoral researcher at Wesleyan University. His research program uses a collaborative, interdisciplinary approach to address how environmental change drives evolutionary processes in plants and animals. In his research, Peppe integrates methods in paleobotany, ecology, sedimentology, stratigraphy, and paleomagnetism to address questions about the underlying dynamics of environmental, biotic, and climatic change through time. Peppe's research is focused on reconstructing ancient climates and ecosystems in North America and East Africa, and on developing better and more accurate paleoclimate and paleoecological proxies.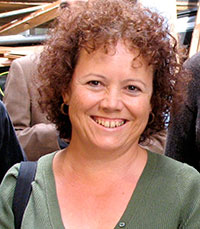 Marion Bamford
Bernard Price Institute for Palaeontology
University of the Witwatersrand
Johannesburg, South Africa
This email address is being protected from spambots. You need JavaScript enabled to view it.
Professor Marion Bamford is a palaeobotanist at the Bernard Price Institute, University of the Witwatersrand, Johannesburg, where she lectures to undergraduate students, supervises post-graduates and carries out research. Her specialty is fossil wood but she also works on charcoal, leaves, seeds, phytoliths and pollen. She works with multidisciplinary teams in South Africa on the Karoo, Cretaceous and Quaternary floras. She also works on projects in East African hominid sites such as Rusinga, Laetoli, Olduvai Gorge, and Koobi Fora.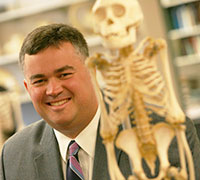 Kieran P. McNulty
Evolutionary Anthropology Lab
Department of Anthropology
University of Minnesota
Minneapolis, Minnesota, USA
This email address is being protected from spambots. You need JavaScript enabled to view it.
Kieran McNulty is an associate professor working in the Evolutionary Anthropology Laboratory at the University of Minnesota. His study of ape and human evolution is conducted, in part, using modern quantitative techniques for understanding components of cranial variation. He also conducts paleontological research in the early Miocene deposits of Western Kenya with the aim of better documenting the early diversification of hominoid primates.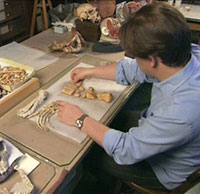 William E.H. Harcourt-Smith
Department of Anthropology
Lehman College CUNY
Bronx, New York, USA
and Department of Anthropology
Graduate Center CUNY
New York, New York, USA
and Division of Paleontology
American Museum of Natural History
New York, New York, USA
This email address is being protected from spambots. You need JavaScript enabled to view it.
William Harcourt-Smith is a paleoanthropologist specializing in the evolution of fossil apes and humans. He earned his Ph.D. in vertebrate paleontology from University College London and now has joint appointments at the American Museum of Natural History in New York and Lehman College. He helped to curate the new permanent Hall of Human Evolution and co-directs paleontological research on Rusinga Island, Kenya.

Larry E. Davis
Department of Biology
Saint John's University
Collegeville, Minnesota, USA
This email address is being protected from spambots. You need JavaScript enabled to view it.
Larry Davis is a Professor of Geology/Biology at the College of Saint Benedict and Saint John's University and received his PhD from Washington State University. He teaches courses in invertebrate and vertebrate paleontology, evolution and diversity, carbonate depositional environments, and reef ecology. He has conducted studies on the Chambered Nautilus in Papua New Guinea and Palau.