X-ray micro-CT reconstruction reveals eight antennomeres in a new fossil taxon that constitutes a sister clade to Dundoxenos and Triozocera (Strepsiptera: Corioxenidae)
Plain Language Abstract
A remarkable fossil twisted-wing parasite (Strepsiptera) was found as a partially visible fossil in Baltic amber. The characteristics where examined with X-ray scans and the results were analysed with cladistic software. The fossil specimen turned out to represent a new species and a new genus. The re-appearance of an ancestral characteristic in this otherwise quite evolved genus is remarkable.
Samenvatting
Een nieuwe soort en genus Strepsiptera uit Baltische amber, Eocenoxenos palintropos gen. nov. et sp. nov. wordt beschreven. De positie van het nieuwe genus binnen de Strepsiptera is gebaseerd op een cladistische analyse van morfologische gegevens. De meeste kenmerken van het fossiel werden geobserveerd door middel van 3D micro-CT scan reconstructies. Uit de cladistische analyse blijkt dat het nieuwe taxon stevig gepositioneerd is als zustergroep van de Dundoxenos-Triozocera clade in de familie Corioxenidae. Het eocene taxon combineert een aantal afgeleide kenmerken die typisch zijn voor Corioxenidae, met het bezit van 8 antennomeres met 5 lange flabella, een herwonnen ancestrale eigenschap.
Translation: Authors
Resumen en Español
La reconstrucción mediante microtomografía computarizada de rayos X revela le existencia de ocho antenómeros en un nuevo taxón fósil que constituye un clado hermano de Dundoxenos y Triozocera (Strepsiptera: Corioxenidae)
Se describe Eocenoxenos palintropos gen. nov. et sp.nov., un nuevo taxón fósil del orden Strepsiptera en ámbar del Eoceno del Báltico. La posición sistemática del nuevo género se basa en análisis cladísticos de series de datos morfológicos. La mayor parte de esos datos se obtuvieron a partir de reconstrucciones tridimensionales mediante microtomografía computarizada. El nuevo taxón se sitúa inequívoxcamente como un grupo hermano del clado Dundoxenos-Triozocera, dentro de la familia Corioxenidae, y combina caracteres derivados típicos de la familia con la presencia de ocho antenómeros con cinco largas flabelas, un carácter ancestral recuperado.
PALABRAS CLAVE: Strepsiptera; nuevo género; nueva especie; microtomografía computarizada; ámbar fósil del Báltico
Traducción: Miguel Company
Résumé en Français
Une reconstruction de scan au rayon X micro-CT révèle huit antennomères dans un nouveau taxon fossile qui constitue un groupe frère à Dundoxenos et Triozocera (Strepsiptera: Corioxenidae)
Eocenoxenos palintropos gen. nov. et sp. nov., un nouveau taxon de strepsipterien fossile provenant d'ambre Baltique est décrit. La position du nouveau genre est basée sur des analyses cladistiques d'ensembles de données morphologiques. La plupart des données du fossile ont été récupéré aux avec reconstructions 3D de scans micro-CT. Le nouveau taxon est clairement situé comme un groupe frère du clade Dundoxenos-Triozocera dans la famille Corioxenidae. Le taxon de l'Eocène combine des caractéristiques typiquement dérivés de Corioxenidae avec la possession de huit antennomères avec cinq longues flabella, une caractéristique ancestrale reconquise.
MOTS CLÉS: Strepsiptera; nouveau genre, nouvelle espèce; scan micro-CT; ambre Baltique fossiles
Translator: Kenny J. Travouillon
Deutsche Zusammenfassung
Röntgencomputertomographie–Rekonstruktion enthüllt acht Anntennomere bei einem fossilen Taxon das die Schwestergruppe zu Dundoxenos und Triozocera (Strepsiptera: Corioxenidae) darstellt
Eocenoxenos palintropos gen. nov. et sp.nov., ein neues fossiles Taxon der Strepsiptera aus dem Baltischen Bernstein wird beschrieben. Die Stellung der neuen Gattung basiert auf cladistischer Analyse von morphologischen Datensätzen. Die meisten Daten wurden durch 3D Mikro-CT-Scan-Rekonstruktionen gewonnen. Das neue Taxon ist unzweifelhaft die Schwestergruppe der Dundoxenos-Triozocera Klade innerhalb der Corioxenidae. Das eozäne Taxon vereint abgeleitete Merkmale, typisch für die Corioxenidae mit dem Vorhandensein von acht Antennomeren mit fünf langen Flabella, ein wiedererlangtes basales Merkmal.
SCHLÜSSELWÖRTER: Strepsiptera; neue Gattung ; neue Art; Mikro-CT Scan; Fossil aus dem Baltischen Bernstein
Translator: Eva Gebauer
Arabic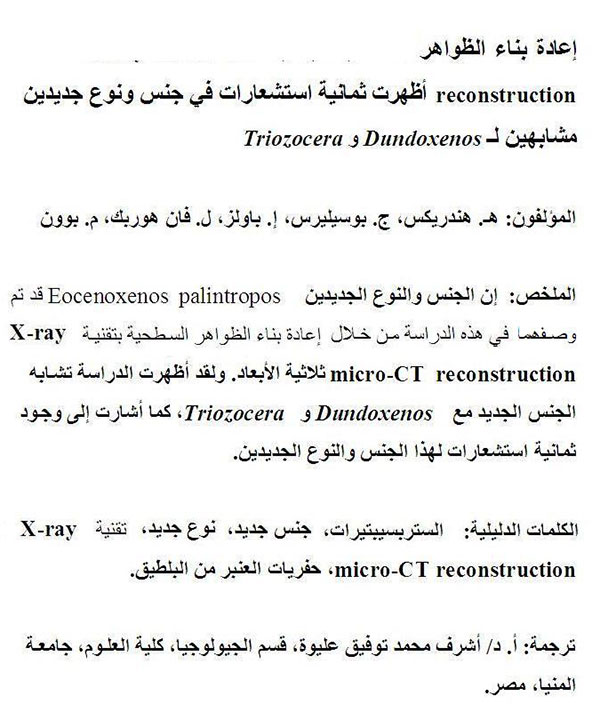 Translator: Ashraf M.T. Elewa