Partial skull and endocranial cast of the ankylosaurian dinosaur Hungarosaurus from the Late Cretaceous of Hungary: implications for locomotion
Plain Language Abstract
Ankylosaur remains from the Upper Cretaceous of Europe are very rare, thus every new piece of ankylosaur bone is important for a better understanding of the paleobiology and relationships of these armored dinosaurs.
A partial skull of ankylosaur discovered from Upper Cretaceous beds in Iharkút, Hungary and the silicone rubber mould taken from it are described in this study. The morphology of the bones clearly distinguish it from other ankylosaurs, thus it is assigned here to Hungarosaurus already known from the locality. Whereas the endocranial cast reflects a brain generally similar to those of other ankylosaurs, the dorsally expanded small brain region is quite unusual within the group suggesting a more sophisticated cerebral coordination of posture and movement and perhaps a more cursorial locomotary habit than predicted for other ankylosaurs.
Resumen en Español
Cráneo parcial y molde endocraneal del dinosaurio anquilosaurio Hungarosaurus del Cretácico superior de Hungría: implicaciones locomotoras
Se describe un cráneo parcial de anquilosaurio y su correspondiente molde endocraneal del Cretácico superior (Santoniense) del yacimiento de Iharkút (Formación Csehbánya). La morfología del exoccipital, la presencia de un "cuello" alargado en el basioccipital, la forma del cóndilo occipital y la diferente flexión de la médula en relación con la parte anterior del cerebro permiten diferenciarlo claramente del basicráneo de Struthiosaurus, por lo que se asigna a Hungarosaurus sp. Mientras que el molde endocraneal muestra que el cerebro era similar al de otros anquilosaurios, la presencia de un cerebelo dorsalmente hipertrofiado (también presente en Struthiosaurus transylvanicus) es bastante inusual dentro del grupo, lo que sugiere una coordinación cerebral más sofisticada para la postura y el movimiento, y quizá unos hábitos locomotores más cursoriales que los previstos para otros anquilosaurios.
Palabras clave: Santoniense, Iharkút, Ankylosauria, Hungarosaurus, cráneo, molde endocraneal.
Traducción: los autore
Résumé en Français
Crâne partiel et moulage endocrânien de l'ankylosaure Hungarosaurus du Crétacé supérieur de Hongrie : implications pour la locomotion
Un crâne partiel d'un ankylosaure du Crétacé supérieur (Santonien) de la formation de Csehbánya à Iharkút et un moulage endocrânien pris à partir de ce crâne, sont décrit . La morphologie de l'exoccipital , la région allongée du "cou" du basioccipital , la forme du condyle occipital , et la flexion différente de la moelle par rapport au cerveau antérieur, différencient sans ambiguïté ce specimen du basicrâne de Struthiosaurus ; il est donc attribué à Hungarosaurus sp. Tandis que le moulage endocrânien reflète un cerveau généralement similaires à ceux des autres ankylosaures, le cervelet dorsalement hypertrophié (également présent chez Struthiosaurus transylvanicus) est assez inhabituel pour ce groupe, suggérant une coordination cérébrale de la posture et du mouvement plus sophistiquée, et peut-être pouvait courir plus que prévu pour les autres ankylosaures.
Mots-clés: Santonien, Iharkút, Ankylosauria, Hungarosaurus, crâne, moulage endocrânien
Translator: Kenny J. Travouillon
Deutsche Zusammenfassung
Schädelteil und endocranialer Ausguss des ankylosaurides Dinosauriers Hungarosaurus aus der späten Kreide von Ungarn: Auswirkungen auf die Lokomotion
Ein teilweise erhaltener ankylosaurider Schädel aus der oberkretazischen (Santon) Csehbánya Formation in Iharkút und dessen endocranialer Ausguss werden beschrieben. Die Morphologie des Exoccipitale, die verlängete "Hals" –Region des Basioccipitale, die Form des Occipitalcondylus und die unterschiedliche Flexur der Medulla relativ zum Vorhirn unterscheiden dieses Stück unzweifelhaft von dem Basicranium von Struthiosaurus , daher wird es Hungarosaurus sp. zugeschlagen. Während der endocraniale Ausguss ein Gehirn, allgemein ähnlich denen anderer Ankylosaurier, widerspiegelt, ist das dorsal hypertrophierte Cerebellum (ebenso vorhanden bei Struthiosaurus transylvanicus) ziemlich unüblich für diese Gruppe. Es weist auf eine entwickeltere cerebrale Koordination von Gang und Bewegnung hin und möglicherweise auf eine mehr cursoriale Bewegugsweise als für andere Ankylosaurier vorhergesagt.
SCHLÜSSELWÖRTER: Santon, Iharkút, Ankylosauria, Hungarosaurus, Schädel, endocranialer Ausguss
Translator: Eva Gebauer
Arabic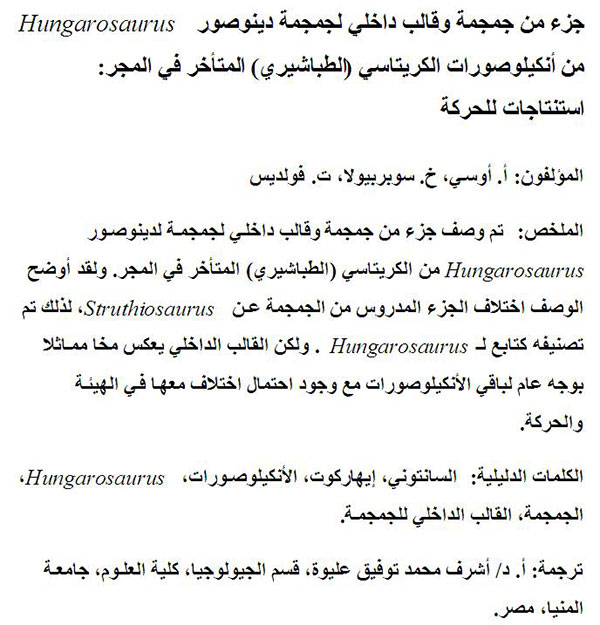 Translator: Ashraf M.T. Elewa