The last Iberian gomphothere (Mammalia, Proboscidea): Anancus arvernensis mencalensis nov. ssp. from the earliest Pleistocene of the Guadix Basin (Granada, Spain)
Plain Language Abstract
The discovery in 2006 of a 2.4-2.5 million year-old gomphothere jaw fragment in sedimentary layers of the Guadix Basin (Granada, Spain) provided information on the dental anatomy of the last Iberian Anancus. Detailed morphological analysis showed the upper third molar to possess a combination of primitive and derived features. These primitive features include six lophs with coarse folding of the enamel, indiscernible anancoidy (the cones face each other), and a rectangular distal outline. Among the more derived features are the presence of cement in the tooth-valleys and the reduced overall size of the molar. This mosaic of features, which has never before been reported, allows a new chronosubspecies of the European gomphothere to be proposed - Anancus arvernensis mencalensis. This subspecies is the most recent Anancus known for the Iberian Peninsula.
Resumen en Español
El último gonfoterio (Mammalia, Proboscidea) ibérico: Anancus arvernensis mencalensis nov. ssp. del Pleistoceno basal de la cuenca de Guadix (Granada, España)
En este trabajo se describe un fragmento de maxilar perteneciente a Anancus arvernensis localizado en el yacimiento de Fonelas SCC-3 (Cuenca de Guadix, Granada, España), del Pleistoceno basal (c.a. 2.5-2.4 Ma). El fósil, que conserva M2 y M3 en sus alveolos correspondientes, es atribuido a una nueva cronosubespecie basada en la peculiar combinación de caracteres observada en el tercer molar, el cual muestra un patrón estructural primitivo junto con un mosaico de caracteres derivados. Entre los primeros encontramos un una condición masiva y hexalofodonta, con un contorno distal subcuadrangular, un esmalte apenas plegado y ausencia de anancoidía. Sin embargo, esta condición primitiva se encuentra combinada con una serie de condiciones derivadas típicas de los últimos representantes del linaje, como es el pequeño tamaño de los molares, o la presencia de agregados de cemento que cubren los valles del diente. Esta combinación nos permite determinar una nueva subespecie, Anancus arvernensis mencalensis nov. ssp., que constituye el representante más moderno del género Anancus conocido hasta el momento en la península Ibérica (MNQ 17a). Esta nueva subespecie representaría un estadio evolutivo intermedio entre Anancus arvernensis arvernensis y Anancus arvernensis chilhiacensis, el último representante conocido del linaje europeo. Por lo tanto, A. arvernensis mencalensis permite reconocer una clina temporal entre los mastodontes durante el límite Plio-Pleistoceno e identifica importantes cambios en la configuración del tercer molar superior. Estos cambios anatómicos podrían considerarse como una respuesta a la aridificación climática acaecida hace unos 2.5 Ma y que tuvo como resultado un cambio en las comunidades vegetales.
PALABRAS CLAVE: Proboscidea; Anancus; nueva cronosubespecie; Pleistoceno basal; cuenca de Guadix; Península Ibérica
Traducción: Author
Résumé en Français
Le dernier gomphothère ibérique (mammifères, proboscidiens): Anancus arvernensis mencalensis nov. ssp . du tout début du Pléistocène du bassin de Guadix (Grenade, Espagne)
Ce travail décrit une nouvelle découverte de Anancus arvernensis ̶ un fragment de maxillaire qui préserve la M2 et la M3 ̶ du tout début du Pléistocène (environ 2.5 à 2.4 Ma) du site Fonelas SCC-3 (Cuenca de Guadix, Grenade, Espagne). Ce fossile est attribué à une nouvelle sous-espèce chronologiques basés sur la combinaison des caractéristiques anatomiques représentés sur la M3 : un motif anatomique primitif, en plus de caractéristiques dérivées. Les traits primitifs comprennent la condition hexalophodonte, un contour distale massif et rectangulaire, le pliage de l'émail discret, et un anancoidé indiscernable. Les caractéristiques dérivées ̶ vallées des dents couvertes par du ciment et la petite taille de la dent ̶ sont typiques des derniers représentants de la lignée. Cette mosaïque de caractéristiques permet la proposition d'une nouvelle sous-espèce chronologiques: Anancus arvernensis mencalensis nov. ssp . Celle-ci est la plus jeune représentante du genre Anancus connu de la péninsule ibérique ( MNQ 17a ), et représente un stade évolutif intermédiaire entre Anancus arvernensis arvernensis et Anancus arvernensis chilhiacensis, la dernier représentante connue de la lignée européenne. A. arvernensis mencalensis fait donc partie d'un déclin temporel pour la configuration de la M3 au cours de la transition Plio-Pléistocène. Ces changements anatomiques ont pu se produire en réponse à l' aridification qui a commencé vers 2,5 Ma, qui a produit des changements dans la composition des communautés végétales .
MOTS-CLÉS: proboscidiens; Anancus; nouvelles sous-espèces chronologiques; Pléistocène; bassin de Guadix, Péninsule ibérique
Translator: Kenny J. Travouillon
Deutsche Zusammenfassung
Das letzte Iberische Gomphotherium (Mammalia, Proboscidea): Anancus arvernensis mencalensis nov. ssp. aus dem frühesten Pleistozän des Guadix Beckens (Granada, Spanien)
Diese Arbeit beschreibt einen neuen Fund von Anancus arvernensis ̶ ein Maxillafragment mit erhaltenem M2 und M3 – aus dem frühesten Pleistozän (ca. 2.5-2.4 Ma) aus der Fonelas SCC-3 Fundstelle (Cuenca de Guadix, Granada, Spanien). Dieses Fossil wird basierend auf einer Kombination von anatomischen Merkmalen des M3 einer neuen Chronounterart zugeschrieben: ein primitives anatomisches Muster plus abgeleitete Merkmale. Die primitiven Merkmale beinhalten eine hexalophodonte Kondition, eine massive, rechteckige distale Kontur, unauffällige Zahnschmelzfaltung und eine kaum wahrnehmbare Anacoidität. Die abgeleiteten Merkmale - Zahngruben die mit Zement bedeckt sind und eine geringe Gesamtgröße des Zahns – sind typisch für die letzten Vertreter dieser Linie. Dieses Merkmalsmosaik erlaubt das Aufstellen einer neuen Chronounterart: Anancus arvernensis mencalensis nov. ssp. Dies wäre der jüngste Vertreter der Gattung Anancus auf der Iberischen Halbinsel (MNQ 17a). Er repräsentiert eine evolutionäre Zwischenstufe zwischen Anancus arvernensis arvernensis und Anancus arvernensis chilhiacensis, dem letzten bekannten Vertreter der Europäischen Linie. A. arvernensis mencalensis ist daher ein Teil der temporalen Kline in der Konfiguration des M3 über die Plio-Pleistozän Transition. Diese anatomischen Veränderungen traten möglicherweise als Reaktion auf die Aridifikation auf, die vor ca. 2.5 Millionen Jahren einsetzte und die zu Veränderungen in der Zusammensetzung der Pflanzengemeinschaften führte.
SCHLÜSSELWÖRTER: Proboscidea; Anancus; neue Chronounterart; Frühes Pleistozän; Guadix Becken; Iberische Halbinsel
Translator: Eva Gebauer
Arabic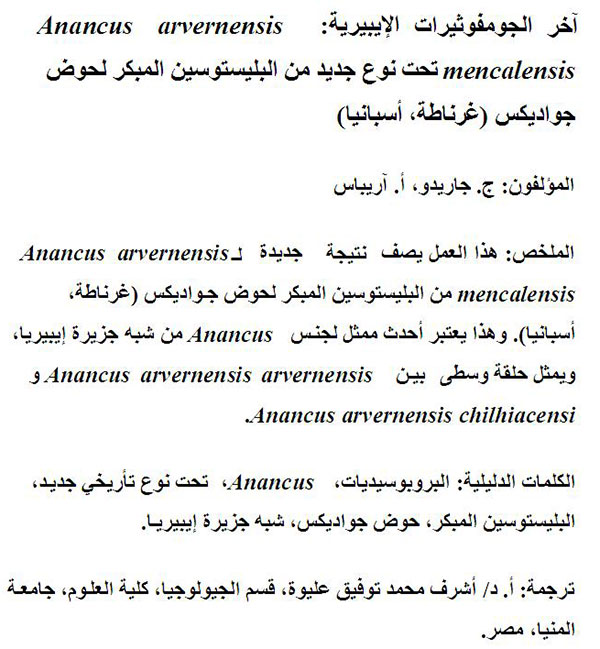 Translator: Ashraf M.T. Elewa