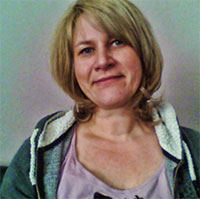 Isabelle Larocque-Tobler
L.A.K.E.S Institute
Dreihubelweg 68
3250 Lyss
Switzerland
and Institute of Geography
University of Bern
Erlachstrasse 9A
3012 Bern
Switzerland

Prof. Dr. Isabelle Larocque-Tobler is CEO of The L.A.K.E.S. Institute and scientific collaborator at the University of Bern, Switzerland. She has more than 15 years experience working with sub-fossil chironomids for climate and environmental reconstructions. She has published more than 40 papers on chironomids and numerous reports. She is associate editor of Journal of Paleolimnology

She is Canadian but has been living in Switzerland for the past 6 years. She has two children (5 and 8 years).