Determining the ontogenetic variation of lower cheek teeth occlusal surface patterns in lagomorphs using Micro CT-technology - preliminary results and perspectives
Chiara Angelone, Julia A. Schultz, and Margarita A. Erbajeva
Plain Language Abstract
Lagomorph teeth morphology changes considerably during the lifetime of an animal. The reconstruction of tooth development during lifetime is very important (particularly in lagomorphs with rooted teeth), so as to not overestimate the number of species in an assemblage and avoid consequent taxonomic and phylogenetic repercussions.
We performed Micro CT-scans of lower cheek teeth of some selected lagomorph taxa, in order to obtain virtual slices at different heights of the teeth and to obtain reliable reconstructions of the teeth development during lifetime.
We expected that every taxon could be univocally individuated by its teeth development, and our results (though limited to a few specimens) seem to confirm such hypothesis. Actually the analyzed taxa taken into consideration in our preliminary work show different sequences of appearance/development of some structures of the occlusal surface. Our results also suggest that ontogenetic teeth development can give suggestions about the relationship among taxa.
RIASSUNTO
Una serie di scansioni microtomografiche è stata effettuata su alcune mandibole appartenenti a differenti taxa dell'ordine Lagomorpha, con l'intento di ricostruire il loro controverso sviluppo ontogenetico. Le analisi hanno riguardato lo sviluppo di p3, mentre su p4-m2 le osservazioni si sono concentrate sulla sequenza di apparizione/sparizione dei flessi e delle fossette e sulla sequenza di connessione trigonide/talonide.
Questa è la prima volta che l'analisi microtomografica viene applicata allo studio dei lagomorfi fossili ed apre scenari molto promettenti specialmente per quanto riguarda la tassonomia e la filogenesi.
Resumen en Español
Determinación de la variación ontogenética de los patrones de la superficie oclusal de la dentición yugal inferior para lagomorfos con el uso de tecnología de Micro CT
Se han realizado análisis de las mandíbulas inferiores de algunos taxones seleccionados de lagomorfos con el uso de digitalización de Micro-CT para reconstruir fidedignamente su controvertido desarrollo ontogenético. Los análisis se centraron en el desarrollo del p3, y en las secuencias de conexiones de los lóbulos y en la secuencia de aparición/desaparición de fléxidos/fosetas de los p4-m2.
Esta es la primera vez que este enfoque se aplica al estudio de lagomorfos, la cual abre perspectivas prometedoras, especialmente en lo que se refiere a la taxonomía y la filogenia de este complejo orden.
Palabras clave: Micro-CT; Lagomorpha; ontogenia; dentición inferior
Traducción: Enrique Peñalver
Résumé en Français
Déterminer la variation ontogénétique des motifs de surfaces occlusales de dents de joues inférieurs chez les lagomorphes utilisant la technologie Micro CT
Des scans Micro CT ont été effectués sur des mâchoires inférieures d'une sélection de taxons de lagomorphes pour reconstruire sans équivoque leur développement ontogénétique controversé. Les analyses ont été concentrés sur le développement de la p3, et sur les séquences des connexions de lobe et de la séquence d'apparition / disparition des flexids/fossettes de p4-m2.
C'est la première fois que cette approche a été appliquée chez les lagomorphes et ouvre des perspectives prometteuses en particulier pour la taxonomie et la phylogénie de cet ordre complexe.
Mots-clés: Micro-CT; Lagomorpha; ontogenèse; dents inférieures
Translator: Kenny J. Travouillon
Deutsche Zusammenfassung
Bestimmung der ontogenetischen Variation okklusaler Kauflächenmuster der unteren Backenzähne bei Lagomorphen mittels Mikro-Ct-Technologie
Es wurde Mikro-Ct-Scanning bei Unterkiefern von einigen ausgewählten lagomorphen Taxa durchgeführt, um deren kontroverse ontogenetische Entwicklung unzweideutig zu rekonstruieren. Die Analysen waren auf die Entwicklung des p3, auf die Sequenzen der Lobenverbindungen und auf die Aufeinanderfolge von Vorkommen/ nicht Vorkommen von Flexiden/Fossetten von p4-m2 konzentriert.
Hiermit wurde zum ersten Mal ein solcher Ansatz in Bezug auf Lagomorphe angewendet, der vielversprechende Perspektiven zur Taxonomie und Phylogenie dieser komplexen Ordung öffnet.
Schlüsselwörter: Mikro-CT; Lagomorpha; Ontogenie; untere Zähne
Translator: Eva Gebauer
Arabic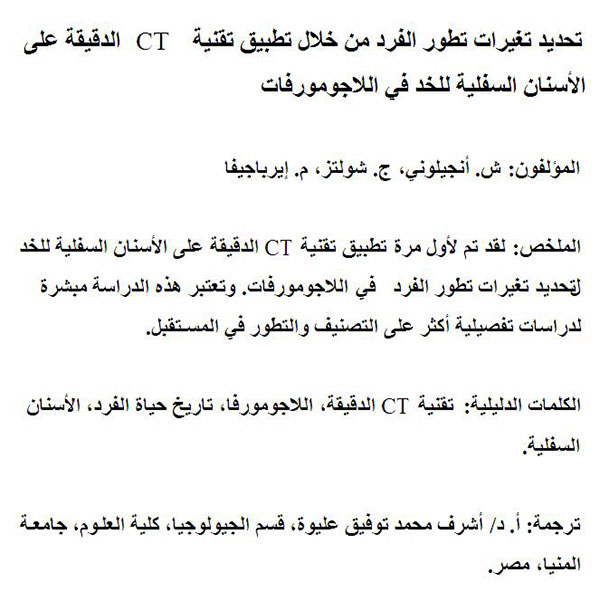 Translator: Ashraf M.T. Elewa