A description of small gomphotheriid (Mammalia, Proboscidea) manuses from the earliest Pleistocene 111 Ranch Beds, southeast Arizona, USA
Michael R. Pasenko
Plain Language Abstract
Gomphotheriids are a lesser known group of extinct proboscideans than the more familiar mammoths and mastodonts, but comprise a more diverse group with a greater distribution. Gomphotheriids are known from every continent except Australia. However, this greater distribution has not resulted in a greater knowledge of gomphotheriids, especially the postcranial elements. My attempt here is to describe two feet of a gomphotheriid discovered in southeastern Arizona and make comparisons to other proboscideans in hopes this promotes further discussions and comparisons of these elements. Future discussions could reveal whether the morphology of gomphotheriid feet can be used as a diagnostic tool for identifying different gomphotheriids.
Resumen en Español
Descripción de pequeñas manos de gonfoterio (Mammalia, Proboscidea) de los niveles del Pleistoceno más temprano de 111 Ranch, sureste de Arizona, Estados Unidos
Se describen dos manos incompletas de gonfoterio, una izquierda y otra derecha, de los depósitos del Pleistoceno más temprano de 111 Ranch, en el sureste de Arizona, Estados Unidos. El descubrimiento de estas manos bien conservadas ofrece una oportunidad poco común para describir estos elementos de una gonfoterio de América del Norte. Se proporcionan descripciones y mediciones detalladas, así como comparaciones de las manos con los de otros proboscídeos actuales o extintos. Los análisis de las manos indican que el individuo era un gonfoterio pequeño, posiblemente una hembra pequeña, que tenía unas características morfológicas más similares a otros gonfoterios, en menor medida a elefantes y mamuts. Los gonfoterios Stegomastodon y Rhynchotherium se habían encontrado anteriormente en la asociación fósil de 111 Ranch.
Palabras clave: mano; carpiano; metacarpiano; gonfoterios; 111 Ranch
Traducción: Enrique Peñalver
Résumé en Français
Une description des mains d'un petit gomphotheriid (mammifères, proboscidiens) du tout début du Pléistocène, provenant des lits 111 Ranch, au sud-est de l'Arizona, États-Unis
Des manus gauche et droite partiels d'un gomphotheriid provenant de dépôts du tout début du Pléistocène de 111 Ranch en Arizona du sud, Etats-Unis, sont décrits. La découverte de ces manus bien conservés offre une occasion rare pour décrire ces éléments chez un gomphotheriid d'Amérique du Nord. Je donne ici des descriptions et des mesures détaillées ainsi que des comparaisons des manus avec ceux des autres proboscidiens existants et disparus. Les analyses des manus indiquent que c'était un petit gomphotheriid, peut-être une petite femelle, ayant des attributs morphologiques plus similaires aux autres gomphotheriids qu'aux elephantids et mammutids. Les gomphotheriids Stegomastodon et Rhynchotherium ont tous deux été précédemment rapportés à 111 Ranch.
Mots-clés: manus; carpien; métacarpien; gomphotheriid; 111 Ranch
Translator: Kenny J. Travouillon
Deutsche Zusammenfassung
Beschreibung kleiner Gomphotherien-Manuum (Mammalia, Proboscidea) aus dem frühesten Pleistozän der 111 Ranch Beds, Südost Arizona, USA
Eine partielle linke und rechte Manus eines Gomphotheren aus den Ablagerungen der 111 Ranch im Südosten von Arizona, USA (frühestes Pleistozän) werden beschrieben. Die Entdeckung dieser gut erhaltenen Manuum bietet eine seltene Gelegenheit diese Elemente eines nordamerikanischen Gomphotheren zu beschreiben. Ich stelle detaillierte Beschreibungen und Messungen zur Verfügung ebenso wie Vergleiche mit den Manuus anderer noch lebender und ausgestorbener Proboscidea. Analysen der Manuum weisen darauf hin, dass es sich um einen kleinen Gomphotheren handelte, möglicherweise ein kleines weibliches Tier, dessen morphologische Attribute anderen Gomphotherien ähnlicher waren als Elephantiden oder Mammutiden. Über die beiden Gomphotherien Stegomastodon und Rhynchotherium wurde kürzlich aus 111 Ranch berichtet.
Schlüsselwörter: manus; Carpael; Metacarpale; Gomphotherien; 111 Ranch
Translator: Eva Gebauer
Arabic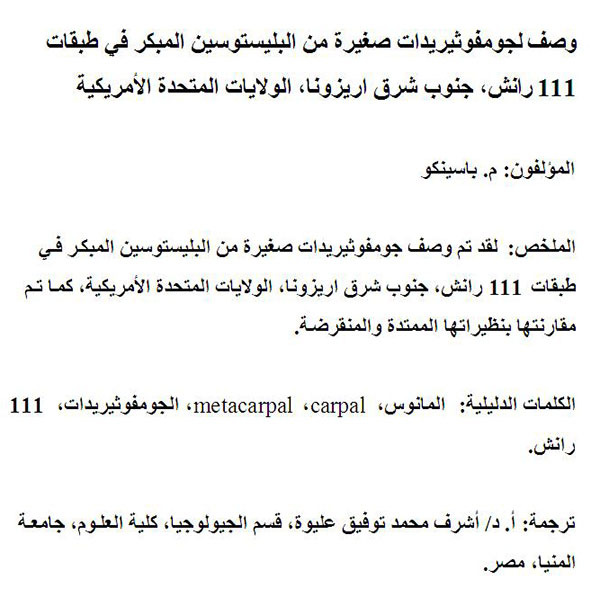 Translator: Ashraf M.T. Elewa