A complete passerine foot from the late Oligocene of Poland
Plain Language Abstract
Although the order Passeriformes includes more than half of all extant bird species, little is known about its early history because of the paucity of its fossil record from the Paleogene. The oldest two fossils of possible passerine affinities were found in Australia and are dated to the early Eocene, but unquestionable remains of passeriforms come from the Oligocene of Europe. So far only three species based on relatively complete specimens have been described from the Oligocene: Wieslochia weissi from Germany and two species from Poland – Jamna szybiaki and Resoviaornis jamrozi. Another complete specimen from the early Oligocene of Lubéron, France, has not been described yet (Mayr, 2009). The remaining Oligocene remains described in the literature include an articulated wing and a handful of isolated wing bones. Leg bones and especially their distal elements are even rarer. Legs of Wieslochia weissi, Jamna szybiaki and Resoviaornis jamrozi are incomplete. Only one nearly complete articulated passerine leg and two other fragments of the tarsometatarsus are known from the Oligocene so far.
In this paper we describe a nearly complete articulated specimen of a passerine foot imprinted on a slab and counter slab, found in the Menilite Formation of the Outer Carpathians in southeastern Poland and dated to the late Oligocene (Chattian, ca. 25 m.y.a.). Its passerine affinities were established on the basis of a combination of characteristic features but owing to the incompleteness of the specimen its more precise systematic position within Passeriformes cannot be resolved. For the same reason the specimen is not described as a new extinct species although it differs from all known Oligocene passerines. The proportions of phalanges, size of the tarsometatarsus and shape of claws point to an arboreal bird, which increases the known Paleogene diversity of this bird group.
Abstract in Polish
Praca opisuje prawie kompletną stopę ptaka wróblowego w jej niezmienionym porządku anatomicznym. Skamieniałość, datowana na późny Oligocen (ok. 25 mln lat p.n.e.), jest zachowana na dwóch płytkach w ilastym krzemionkowym łupku z Menilitowej formacji (Karpaty Zewnętrzne, płd.-wsch. Polska). Okaz ten jest jednym z nielicznych szczątków ptaków wróblowych z paleogenu i trzecim z kompletnie zachowaną stopą. O jego przynależności do wróblowych świadczy zespół charakterystycznych cech, jednak z uwagi na niekompletność okazu nie można go przyporządkować do niższej jednostki systematycznej w obrębie tego rzędu. Z tego samego powodu nie można na jego podstawie opisać nowego gatunku, chociaż różni się on od wszystkich dotychczas opisanych oligoceńskich ptaków wróblowych. Proporcje paliczków stopy, wielkość kości skokowej (tarsometatarsus) i kształt pazurów wskazują na ptaka prowadzącego nadrzewny tryb życia. Opisana skamieniałość zwiększa wiedzę o różnorodności ptaków wróblowych w paleogenie.
Resumen en Español
Una pata completa de paseriforme del Oligoceno tardío de Polonia
La presente contribución describe un ejemplar casi completo de pata articulada de paseriforme impresa como parte y contraparte en una laja de las limolitas laminadas arcilloso-silíceas pertenecientes a la parte superior de la Formación Menilite de los Cárpatos exteriores, en el sureste de Polonia, y datado como del Oligoceno tardío (Chatiense, alrededor de 25 millones de años). Este es uno de los pocos ejemplares conocidos de paseriformes del Paleógeno y el tercero que presenta conservado un pie completo. Sus afinidades paseriformes se establecieron al presentar una combinación de rasgos característica, pero no se ha podido establecer una posición sistemática más precisa dentro de los Passeriformes debido a lo incompleto del ejemplar. Por la misma razón, el ejemplar no se describe como una nueva especie fósil, aunque se diferencia de todos los paseriformes conocidos del Oligoceno. Las proporciones de las falanges, el tamaño del tarso-metatarso y la forma de las uñas sugieren que se trataba de un ave arborícola, lo cual aumenta la diversidad conocida de este grupo de aves para el Paleógeno.
Palabras clave: aves fósiles; Passeriformes; limolitas laminadas de la Formación Menilite; turbiditas de los Cárpatos; Oligoceno; Paleógeno
Traducción: Enrique Peñalver
Résumé en Français
Un pied de passereau complet de la fin de l'Oligocène de la Pologne
Le document décrit un spécimen articulé presque complets d'un pied de passereau, imprimé sur une dalle et contre dalle de schistes argileux siliceux, appartenant à la partie supérieure de la Formation Ménilite des Carpates extérieures en Pologne du Sud et datée de la fin de l'Oligocène (Chattien, environ 25 millions d'années). C'est l'un des rares spécimens de passereaux du Paléogène et seulement le troisième avec un pied complet conservé. Ses affinités de passereaux ont été établies à partir d'une combinaison de traits caractéristiques, mais comme le spécimen est incomplet, sa position systématique précise à l'intérieur des Passeriformes ne peut pas être résolue. Pour la même raison, le spécimen n'est pas décrit comme une nouvelle espèce fossile, même si elle diffère de tous les passereaux de l'Oligocène connus. Les proportions des phalanges, la taille des tarsometatarsus et la forme des griffes indiquent un oiseau arboricole, augmentant la diversité connu de ce groupe d'oiseau au Paléogène.
Mots-clés : oiseaux fossiles; Passeriformes; schistes Ménilite; flysch des Carpates; Oligocène; Paléogène
Translator: Kenny J. Travouillon
Deutsche Zusammenfassung
Ein vollständiger Sperlingsvogelfuß aus dem späten Oligozän von Polen
Die Arbeit beschreibt einen nahzu vollständigen artikulierten Sperlingsvogelfuß als Abdruck auf einer Platte mit Gegenplatte aus den kieselhaltigen Tonschiefern, die zum oberen Abschnitt der Menilite Formation der Äußeren Karpaten in Südostpolen gehören, und die auf das späte Oligozän (Chattium, ca. 25 Mio. Jahre) datiert sind. Es handelt sich hier um einen der wenigen paläozänen Sperlingsvögel und ist außerdem erst das dritte Stück bei dem der Fuß komplett erhalten ist. Die Zugehörigkeit zu den Sperlingsvögeln wurde aufgrund von charakteristischen Merkmalen festgesetzt, wegen der Unvollständigkeit des Stücks kann jedoch keine präzisere systematische Position innerhalb der Passeriformes genannt werden. Aus demselben Grund wird das Stück nicht als neue ausgestorbene Art beschrieben, obwohl es sich von allen bisher bekannten oligozänen Sperlingsvögeln unterscheidet. Die Proportionen der Phalangen, die Größe des Tarsometatarsus und die Form der Krallen weisen auf einen baumbewohnenden Vogel hin, was die bekannte paläogene Diversität dieser Vogelgruppe erhöht.
Schlüsselwörter: Fossile Vögel; Passeriformes; Menilite-Schiefer; Karparten-Flysch; Oligozän; Paläozän
Translator: Eva Gebauer
Arabic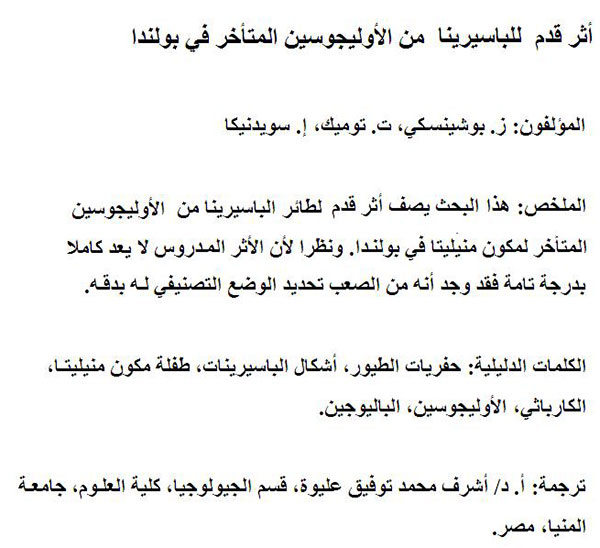 Translator: Ashraf M.T. Elewa