A revision of Heritschioides Yabe, 1950 (Anthozoa, Rugosa), latest Mississippian and earliest Pennsylvanian of western North America
Plain Language Abstract
The concept of the coral genus Heritschioides has had a complicated history. Originally, it was thought to be Permian in age and many Permian species, particularly in North America, were assigned to that genus. More recent work on associated microfossils, however, has shown that the type species is middle Carboniferous in age, and the detailed morphological study presented here confirms that all Permian species belong to different, unrelated genera. Heritschioides is especially interesting in that almost all known species of the genus occur in allochthonous terranes, which much later were amalgamated to the western margin of North America.
Resumen en Español
Revisión de Heritschioides Yabe, 1950 (Anthozoa, Rugosa): Misisipiense tardío y Pensilvaniense temprano del oeste de América del Norte
Los nuevos datos aportados por un estudio detallado de las colecciones tipo y topotipo de la especie tipo Heritschioides confirman el estatus único del género como colonial y portador de lamelas septales adicionales. Los microfósiles en la asociación establecen su edad como Serpujoviense tardío a Bashkiriense temprano. La estrecha conexión del septo cardinal a la lámina media y la estructura axial indica su pertenencia a la familia Aulophyllidae. Sin embargo, el papel inconsistente de los protoseptos en la formación de la lámina media es único para Heritschioides. Esta característica y la forma del crecimiento colonial permiten su asignación a una subfamilia separada, Heritschioidinae Sando, 1985 , la cual está estrechamente relacionada con la subfamilia Aulophyllinae. De acuerdo con los conocimientos actuales, la subfamilia Heritschioidinae únicamente está representada en las rocas que se encuentran a lo largo del margen occidental de América del Norte.
Palabras clave: Serpujoviense tardío-Bashkiriense temprano; coral colonial; ejemplares tipo; oeste de América del Norte; terranos alóctonos
Traducción: Enrique Peñalver
Résumé en Français
Une révision de Heritschioides Yabe , 1950 (Anthozoa , Rugosa) , de la fin du Mississippien supérieur et du tout début du Pennsylvanien inferieur à l'ouest de l'Amérique du Nord
De nouvelles données provenant d'une étude détaillée des collections type et topotype de l'espèce type de Heritschioides confirment le statut unique du genre en étant coloniale et portant des lamelles septales supplémentaires. Les microfossiles associés établissent son âge entre Serpukhovien supérieur et Bashkirien inferieur. La connexion proche de la cloison cardinale à la lamelle médiane et les structures axiales pointes vers la famille Aulophyllidae. Cependant, le rôle inconsistant de la protocloison dans la formation de la lamelle médiane est unique pour Heritschioides. Cette caractéristique et la forme de croissance coloniale permettent son affectation à une sous-famille distincte, Heritschioidinae Sando, 1985, qui est étroitement liée à la sous-famille Aulophyllinae. Jusqu'à présent, la sous-famille Heritschioidinae se trouve seulement dans les roches le long de la bordure ouest de l'Amérique du Nord.
Mots-clés : Serpukhovien superieur- Bashkirien inferieur; corail colonial; spécimens types; Ouest de l'Amérique du Nord; terrains allochtones
Translator: Kenny J. Travouillon
Deutsche Zusammenfassung
Eine Revision von Heritschioides Yabe, 1950 (Anthozoa, Rugosa), spätestes Mississippium und frühestes Pennsylvanium von Nordamerika
Neues Datenmaterial aus einer detaillierten Studie der Typen-und Topotypen-Sammlung der Typusart von Heritschioides bestätigen die einzigartige Stellung dieser Gattung als koloniales und spezielle Septumlamellen tragendes Taxon. Die assoziierten Mikrofossilien setzen das Alter auf spätes Serpukhovium bis frühes Bashkirium fest. Die enge Verbindung des cardinalen Septums mit der medianen Lamelle und die axiale Struktur weisen auf die Familie Aulophyllidae hin. Allerdings ist die widersprüchliche Rolle der Protosepten bei der Bildung der medianen Lamellen einzigartig für Heritschioides. Dieses Merkmal und die koloniale Wachstumsform erlauben die Zuordnung zu einer separaten Subfamilie, den Heritschioidinae Sando, 1985, die eng mit der Subfamilie Aulophyllinae verwandt ist. Bis jetzt war die Subfamilie Heritschioidinae nur aus Gesteinen entlang des westlichen Randes von Nordamerika bekannt.
Keywords: spätes Serpukhovium-frühes Bashkirium; koloniale Koralle; Typusexemplar; westliches Nordamerika; allochthone Terrane
Translator: Eva Gebauer
Arabic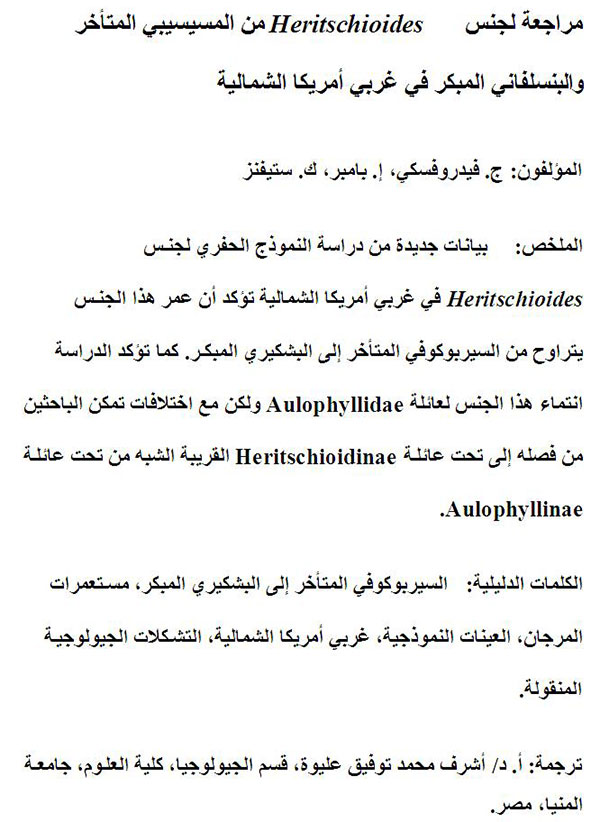 Translator: Ashraf M.T. Elewa