Additions to the latest Paleocene Buckman Hollow local fauna, Chappo Member of the Wasatch Formation, Lincoln County, southwestern Wyoming
Plain Language Abstract
Late Paleocene (approximately 57 to 55.7 million years ago) mammals from North America remain poorly known. Most fossils mammals from this age have been recovered from a single area in north-central Wyoming. Here we describe new fossils from a series of localities in southwest Wyoming called Buckman Hollow and document several species previously unknown in that area. These new discoveries include the multituberculate Neoliotomus conventus (a small plant-eating mammal), the oxyaenid creodont Dipsaladictis (a carnivorous mammal), and a rare phenacodontid condylarth Ectocion sp., cf. E. major (a plant eating hoofed mammal). Although fossils from the Buckman Hollow localities are sparse, they are important to understanding the biogeography and the stratigraphic relationships of mammals during this time period.
Resumen en Español
Información adicional sobre la fauna local del Paleoceno tardío de Buckman Hollow, Miembro Chappo de la Formación Wasatch, Condado de Lincoln, suroeste de Wyoming
Salvo unas pocas excepciones notables, las faunas de mamíferos del Paleoceno tardío de Norte América (Clarkforkian North American Land Mammal Age, 57 a 55.7 M.a. aproximadamente) son poco conocidas, siendo que la mayoría del registro se ha recuperado de una única área, la Cuenca Bighorn en el suroeste de Wyoming. Las faunas de edad comparable presentes en otros lugares son escasas. En el presente estudio describimos nuevos ejemplares, incluyendo algunas especies no documentadas hasta ahora, provenientes de la fauna local de Buckman Hollow en la Cuenca Green River del suroeste de Wyoming. Los nuevos hallazgos incluyen al multituberculado Neoliotomus conventus, el creodonto oxiaénido Dipsaladictis, y el raro fenacodóntido condilartro Ectocion cf. E. major. Aunque escasas, estas adiciones ofrecen la oportunidad de reevaluar los patrones bioestratigráficos y biogeográficos observados entre las faunas del Paleoceno tardío, las cuales incluyen diferentes patrones de co-ocurrencia de mamíferos en estas faunas más meridionales respecto a los observados en la Cuenca Bighorn.
Palabras clave: Paleoceno; Clarkforkiense; Mammalia; Bioestratigrafía; Biogeografía
Traducción: Enrique Peñalver
Résumé en Français
Ajouts à la faune locale de Buckman Hollow de la fin du Paléocène, Membre Chappo de la formation de Wasatch, comté de Lincoln, sud-ouest du Wyoming
Avec quelques exceptions notables, les faunes de mammifères de la fin du Paléocène de l'Amérique du Nord (Clarkforkien, âge des Mammifères nord-américain, environ 57 à 55,7 Ma) sont mal connus, la grande majorité récupéré à partir d'une seule région, le bassin de Bighorn au nord-ouest du Wyoming. Il y a très peu de faunes de cet âgés. Nous décrivons ici de nouveaux fossiles, y compris plusieurs nouvelles espèces, provenant de la faune locale de Buckman Hollow du bassin de Green River au sud-ouest du Wyoming. Nous documentons de nouvelle présence, comme le multituberculé Neoliotomus conventus, le creodont oxyaenide Dipsaladictis, et un rare condylarth phenacodontide Ectocion cf . E. majeur. Bien que rares, ces ajouts offrent la possibilité de réévaluer les modèles biostratigraphiques et biogéographiques observées chez les faunes de la fin du Paléocène, qui comprennent des modèles différents de coprésence de mammifères dans les faunes plus au sud que ceux observés dans le bassin de Bighorn.
Mots-clés: Paléocène; Clarkforkien; Mammalia; Biostratigraphie; Biogéographie
Translator: Kenny J. Travouillon
Deutsche Zusammenfassung
Ergänzungen zur spätpaläozänen Buckman Hollow Lokalfauna, Chappo Member der Wasatch Formation, Lincoln County, Südwest-Wyoming
Mit wenigen bemerkenswerten Ausnahmen sind Säugetierfaunen aus dem spätesten Paläozän von Nordamerika (Clarkforkian North American Land Mammal Age, ungefähr 57 bis 55.7 Mio. Jahre) wenig bekannt. Die überwiegende Mehrheit dieser Faunen wurde in einem einzigen Gebiet entdeckt, dem Bighorn Becken von Nordwest-Wyoming. Andernorts gibt es nur wenige Faunen mit einem vergleichbaren Alter. Hier beschreiben wir neues Material einschließlich einiger bisher undokumentierter Arten aus der Buckman Hollow Lokalfauna des Green River Beckens von Südwest-Wyoming. Neu aufgenommene Vorkommen beinhalten den Multituberculaten Neoliotomus conventus, den oxyaniden Creodonten Dipsaladictis und den seltenen phenacodontiden Condylarthren Ectocion cf. E. major. Obwohl sie selten sind, bieten diese Ergänzungen die Gelegenheit biostratigraphische und biogeographische Muster, welche in spätpaläozänen Faunen beobachtet worden waren, zu re-evaluieren. Diese mehr südlicheren Faunen weisen von denen aus dem Bighorn Becken abweichende Säugetier-Kookkurenz-Muster auf.
Keywords: Paläozän; Clarkforkian; Mammalia; Biostratigraphie; Biogeographie
Translator: Eva Gebauer
Arabic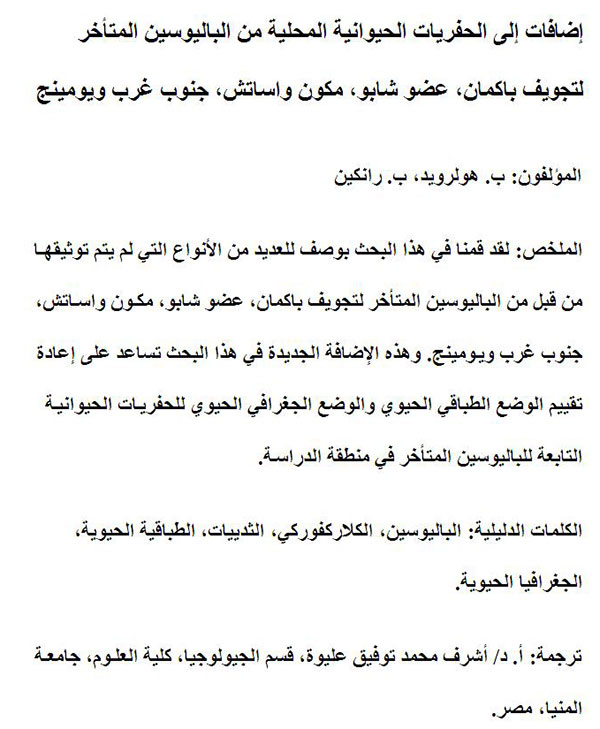 Translator: Ashraf M.T. Elewa