The earliest occurrence and remarkable stasis of the family Bostrichidae (Coleoptera: Polyphaga) in Cretaceous Charentes amber
Plain Language Abstract
A new species of beetle (Stephanopachys vetus) has been found embedded in opaque fossil resin. The fossil was collected in a quarry from the south-west of France, which is Cretaceous in age (100 m.y.a.). The biological inclusions entombed in opaque resin are inaccessible with conventional optical methods, so a methodological process with high potential X-ray to obtain a three-dimensional (3D) reconstruction of the specimen is used in this work. The resulting images permit the description of the new species and comparison with extant species from the same genus. It is possible to conjecture an effect of the palaeofires regard to the resin production mechanisms and the ecology of this beetle family. A bibliographic review of the fossil record of the family is also offered.
Resumen en Español
El primer registro y la estasis morfológica remarcable de la familia Bostrichidae (Coleoptera: Polyphaga) en el ámbar Cretácico de Charentes
Una especie nueva de escarabajo (Stephanopachys vetus) ha sido hallada en el interior de resina fósil opaca. El fósil fue colectado en un yacimiento del Sur-Oeste de Francia, del periodo Cretácico (100 millones de años). Las inclusiones biológicas sepultadas por resina opaca son inaccesibles por métodos ópticos convencionales, por ello se usa en este trabajo una metodología con rallos X de alta potencia para obtener una reconstrucción tridimensional (3D) del ejemplar. La imagen resultante permite la descripción de la nueva especie y la comparación con especies actuales del mismo género. Es posible suponer un efecto de los paleo-fuegos como mecanismo de producción de resina debido la ecología de esta familia de escarabajos. Se ofrece también una revisión del registro fósil de la familia.
Palabras clave: escarabajo; nueva especie; Charente-Maritime; Francia; paleoambiente; imágenes de sincrotrón
Traducción: authors and Enrique Peñalver
Résumé en Français
La plus ancienne présence et la remarquable stase de la famille Bostrichidae (Coleoptera: Polyphaga) dans l'ambre du Crétacé des Charentes
Une nouvelle espèce fossile de coléoptère (Coleoptera: Bostrichidae), conservée dans de l'ambre du Crétacé moyen (Albien - Cénomanien) du sud- ouest de la France, est décrite comme Stephanopachys vetus Peris, Delclos et Perrichot sp. n. L'espèce est le plus ancien bostrichide fossile découvert à ce jour, mais elle est remarquablement semblable aux espèces récentes du genre Stephanopachys, soutenant une longue conservation morphologique chez les coléoptères xylophages. Le spécimen est fossilisé dans de l'ambre opaque et a été imagé en 3D en utilisant la microtomographie en contraste de phase par rayonnement X synchrotron. En se basant sur l'écologie des espèces actuelles apparentées, il est suggéré que S. vetus sp. n. a été un recolonisateur précoce suite aux feux de forêt dans les forêts du Crétacé moyen. Le registre fossile de la famille est passé en revue.
Mots-clés: Coléoptère; nouvelle espèce; Charente–Maritime; France; paléoenvironnements; imagerie synchrotron
Translator: authors and Kenny J. Travouillon
Deutsche Zusammenfassung
Das früheste Auftreten und die bemerkenswerte Stasis der Familie (Coleoptera: Polyphaga) im kretazischen Charentes Bernstein
Eine neue fossile Art von Bohrkäfern (Coleoptera: Bostrichidae) aus dem mittel-kretazischen (Alb-Cenoman) Bernstein von Südwest-Frankreich wird als Stephanopachys vetus Peris, Delclòs et Perrichot sp. n. beschrieben. Diese Art ist das bis dato früheste entdeckte bostrichide Fossil. Es ist jedoch den heutigen Arten der Gattung Stephanopachys bemerkenswert ähnlich, was eine lange morphologische Konservation bei Holz bohrenden Käfern unterstützt. Das Stück ist in vollständig opakem Bernstein fossilisiert und wurde in 3D abgebildet, indem Propagations-Phasenkontrast-synchotronstrahlung mit Microtomographie benutzt wurde. Basierend auf der Ökologie und dem Verhalten von heutigen verwandten Arten wird vorgeschlagen, dass S. vetus sp. n. ein Primärsukzessions-Pionier war, der Wildfeuern oder Lavaströmen in mittel-kretazischen Wäldern folgte. Der Fossilbericht der Familie wird überprüft.
Schlüsselwörter: Käfer; neue Art; Charente-Maritime; Frankreich; Paläoenvironment; Synchrotron Aufnahme
Translator: Eva Gebauer
Arabic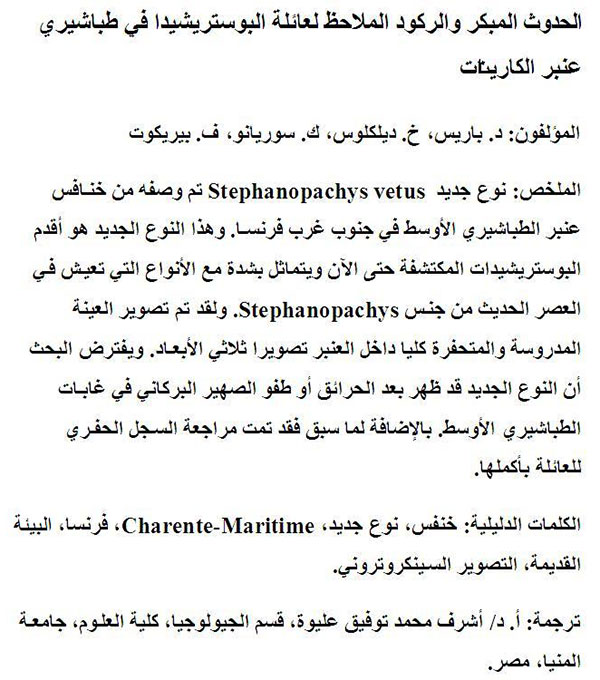 Translator: Ashraf M.T. Elewa