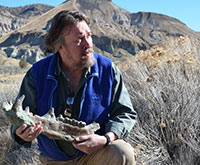 Theodore J. Fremd
Dept. of Geological Sciences and
Museum of Natural and Cultural History
The University of Oregon
1680 E. 15th Ave.
Eugene, Oregon 97403-1224
U.S.

Ted Fremd recently retired from the U. S. National Park Service. During his time as a paleontologist and senior science advisor, he pioneered collaborative approaches to the management of paleontological resources on public lands. He now divides his time between "guest scientist" activities at John Day Fossil Beds National Monument and as an adjunct curator and research associate at the University of Oregon. His research focus remains principally on the biostratigraphy of the John Day Basin of eastern Oregon.