Ambergris cololites of Pleistocene sperm whales from central Italy and description of the new ichnogenus and ichnospecies Ambergrisichnus alleronae
Plain Language Abstract
Early Pleistocene clay marine deposits of Umbria, Central Italy, contain trace fossils, which are interpreted as specimens of fossil ambergris and attributed to cololites of sperm whales. These specimens represent a unique occurrence and so this paper provides a complete description of these trace fossils and proposes a new ichnogenus and ichnospecies Ambergrisichnus alleronae. This work increases knowledge of vertebrate bromalites. Moreover, this new finding increases the data about the frequency of sperm whales in the Tyrrhenian Sea during Early Pleistocene, and it also raises questions about the causes of this anomalous accumulation. These coprolites were deposited in a 100-150 m deep marine environment, and the large number of structures in a restricted area is reasonably interpreted as due to multiple death events of sperm whales. Due to the water depth, these events are more likely due to whale falls rather than with mass stranding events. The mineralogical and microstructural analyses, which accompany the description of A. alleronae igen. et isp. nov., give insights about the processes that took place after the sperm whale carcasses reached the seabed and led to fossilization.
Resumen en Español
Cololitos de ámbar gris de cachalotes del Pleistoceno de Italia central y descripción del nuevo icnogénero e icnoespecie Ambergrisichnus alleronae
Se describe Ambergrisichnus alleronae igen. et isp. nov. de los depósitos de arcillas marinas del Pleistoceno temprano de Umbria, Italia central, atribuido a cololitos (evisceralitos) de cachalotes. Esta interpretación se apoya en las siguientes características que se observan a menudo en ejemplares modernos de ámbar gris: organización interna en forma de estructuras concéntricas, forma externa con estrías convergentes y protuberancias (rognons), y presencia de inclusiones de picos de calamar. Estos cololitos quedaron depositados en un ambiente marino relativamente profundo (100-150 m), y la concentración de un gran número de estas estructuras en un área restringida es atribuida de forma plausible a múltiples eventos de muerte de cachalotes. La descripción de A. alleronae igen. et isp. nov. se lleva a cabo mediante el análisis de los procesos tafonómicos que tuvieron lugar después de que los cadáveres de los cachalotes alcanzasen el fondo como paso previo a la fosilización. El análisis de la micro- y macrofauna bentónica localizada cerca de las estructuras estudiadas proporciona datos complementarios, los cuales apoyan la reconstrucción de las condiciones paleoambientales y paleoecológicas comparables con las que se dan actualmente para el establecimiento de comunidades de organismos sobre los cadáveres de ballenas. Este trabajo aumenta el conocimiento de los coprolitos de vertebrados. Por otra parte, esta nueva información proporciona datos sobre la abundancia de cachalotes en el mar Tirreno durante el Pleistoceno temprano, y plantea nuevas preguntas sobre las causas de esta acumulación anómala.
Palabras clave: Icnología; Cololitos; Cachalotes; Pleistoceno temprano; Paleoambiente; Italia central
Traducción: Enrique Peñalver
Résumé en Français
Cololites en ambre gris de cachalots du Pléistocène de l'Italie centrale et description du nouveau ichnogenre et ichnoespèce Ambergrisichnus alleronae
Ambergrisichnus alleronae igen. et isp. nov., provenant de dépôts d'argiles marins de l'Ombrie, du Pléistocène inférieur, de l'Italie centrale, est ici décrit, et attribué à des cololites (evisceralites) de cachalots. Cette interprétation est soutenue par les caractéristiques suivantes qui sont fréquemment mentionnés dans l'ambre gris moderne, y compris: l'organisation interne des structures concentriques, la forme extérieure de la convergence des stries et des renflements (rognons), et les inclusions de becs de calamars. Ces cololites ont été déposés dans un milieu marin relativement profond (100-150 m), et le grand nombre de structures dans cette zone restreinte est plausiblement attribuées à plusieurs événements de décès de cachalots. La description de A. alleronae igen. et isp. nov. est tenue par l'analyse des processus taphonomiques qui ont eu lieu après que les carcasses de cachalot eu atteint le fond de la mer et conduit à la fossilisation. L'analyse des micro- et macrofaune benthiques, trouvé à proximité des structures étudiées, fournit des données supplémentaires, qui soutiennent la reconstruction de conditions paléoécologiques et paléoenvironnementales comparables à ceux des communautés de chute de baleine. Ce travail augmente la connaissance des coprolithes vertébrés. En outre, cette nouvelle information fournit des données sur la fréquence des cachalots dans la mer Tyrrhénienne, au Pléistocène inférieur, et soulève de nouvelles questions sur les causes de cette accumulation anormale.
Mots-clés: Ichnologie; Cololites; cachalots; Pléistocène inférieur; paléoenvironnement; Italie centrale
Translator: Kenny J. Travouillon
Deutsche Zusammenfassung
Ambergris Koprolithen pleistozäner Pottwale aus Zentralitalien und Beschreibung der neuen Ichnoganttung und Ichnoart Ambergrisichnus alleronae
Ambergrisichnus alleronae igen. et isp. nov. aus frühpleistozänen marinen Tonablagerungen von Umbrien, Zentralitalien ist hier beschrieben und den Cololithen (Evisceralithen) von Pottwalen zugeschrieben. Diese Interpretation wird unterstützt durch die folgenden Charakteristika, die häufig im modernen Ambergis identifiziert werden: interne Ausrichtung von konzentrischen Strukturen, externe Form mit konvergierenden Striae und Wülsten (rognons) und Einschlüssen von Tintenfischschnäbeln. Diese Cololithen wurden in einem relativ tiefen (100-150m) marinen Milieu abgelagert. Die große Anzahl dieser Strukturen in einem solch begrenzten Gebiet ist glaubhaft den mehrfachen Sterbeereignissen von Pottwalen zugeschrieben. Die Beschreibung von A. alleronae igen. et isp. nov. ergibt sich aus der Analyse des taphonomischen Prozesses, der stattfand, nachdem der Walkadaver den Ozeanboden erreicht hat und die Fossilisation anfing. Die Analyse der benthischen Mikro-und Makrofauna, die in der Nähe der untersuchten Strukturen gefunden worden war, liefert zusätzliche Daten, die die Rekonstruktion der paläoökologischen und Paläoumwelt-Konditionen unterstützt, die mit denen der Wal-Gemeinschaften vergleichbar sind. Diese Untersuchung vermehrt das Wissen über Wirbeltierkoprolithen. Darüber hinaus liefert diese neue Information Daten über die Häufigkeit von Pottwalen im Tyrrhenischen Meer während des frühen Pleistozän und wirft neue Fragen zu dieser ungewöhnlichen Ansammlung auf.
Schlüsselwörter: Ichnologie; Cololithen; Pottwale; frühes Pleistozän; Palaeoenvironment; Zentralitalien
Translator: Eva Gebauer
Arabic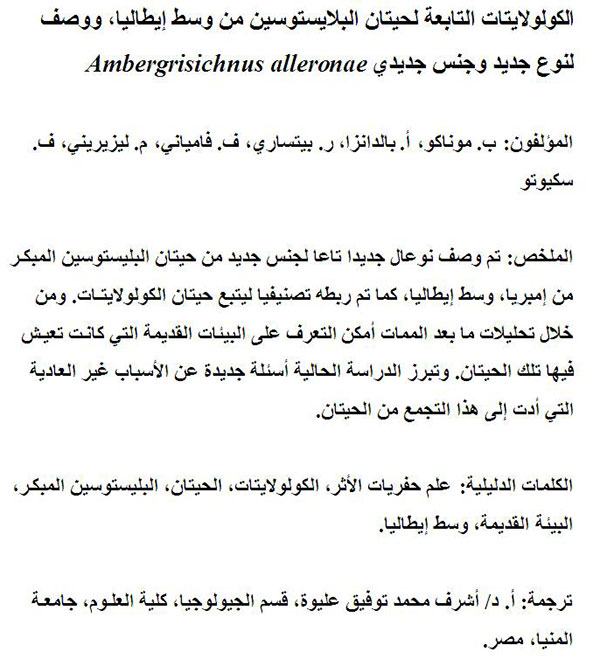 Translator: Ashraf M.T. Elewa