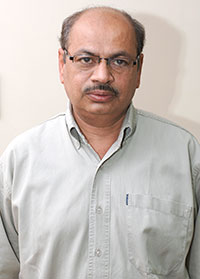 Sunil Bajpai
Department of Earth Sciences
Indian Institute of Technology
Roorkee 247667
Uttarakhand
India
Current address: Birbal Sahni Institute of Palaeobotany
Lucknow 226007
Uttar Pradesh
India
;
Sunil Bajpai is professor of paleontology and stratigraphy at the Department of Earth Sciences of the Indian Institute of Technology, Roorkee, but is currently on deputation as Director of the Birbal Sahni Institute of Palaeobotany Lucknow, India. He has done extensive research in the late Cretaceous through Tertiary sequences of peninsular India. His current research interest is mainly in the Indian Paleogene vertebrates, especially mammals, as well as Paleogene stratigraphy, biogeography and climates.

J.G.M. Thewissen (corresponding author)
Department of Anatomy and Neurobiology
Northeast Ohio Medical University
Rootstown, Ohio 44272
U.S.A.

J.G.M. 'Hans' Thewissen, a native of the Netherlands, holds the endowed Ingalls-Brown Chair of Anatomy at the Northeast Ohio Medical University, where he teaches anatomy and embryology to medical students. His main field of study is the documentation of macroevolution in mammals, and he has published extensively on Eocene mammals from India and Pakistan, as well as on the paleontology, embryology, and anatomy of modern and fossil whales.