Hadimopanella oezgueli Gedik, 1977: a palaeoscolecidan sclerite useless for taxonomic purposes
Plain Language Abstract
An assemblage of phosphatic sclerites belonging to the parataxon Hadimopanella oezgueli has been sampled in the Cantabrian Mountains, northern Spain. Hadimopanella oezgueli is a button-shaped structure that formed part of Cambrian palaeoscolecidan scleritomes. Several biometric and statistical analyses have been carried out in a representative number of H. oezgueli sclerites to differentiate different morphotypes. These have been compared with other occurrences of H. oezgueli from other parts of Gondwana and the Siberia Platform. The main conclusion is that, although the isolate sclerites of H. oezgueli display distinct morphological patterns, these morphs are useless for any (bio) taxonomic diagnosis of H.oezgueli-bearing palaeoscolecidan scleritomes. Etched sclerites have recorded distinct diagenetic processes, such as occlusion of primary porosity and secondary fissures by authigenic chlorites. Their palaeoecological distribution was controlled by patchy development of epibenthic multispecies clumps on shell (both carbonate and clayey) substrates.
Resumen en Español
Hadimopanella oezgueli Gedik, 1977: un esclerito de paleoscolécido no apropiado para propósitos taxonómicos
Se describe una nueva asociación de Hadimopanella oezgueli Gedik, 1977 del Caesaraugustiense medio (Cámbrico medio) del Miembro Genestosa (Formación Oville) en la Cordillera Cantábrica, norte de España. Los escleritos se encuentran desarticulados y muestran distintos procesos diagenéticos, con cloritas autigénicas rellenando la porosidad primaria y las fisuras secundarias. La distribución de escleritos fue controlada por el desarrollo desigual de agrupaciones de múltiples especies epibentónicas en sustratos arcillosos o de carbonato. Un análisis biométrico y estadístico conjunto en vistas dorsal y lateral de los escleritos desarticulados permite la caracterización de dos morfotipos distintos. Estos se comparan con otros escleritos de la especie H. oezgueli provenientes de otros márgenes de Gondwana y de la Plataforma Siberiana, y como resultado se ha podido identificar otro morfotipo. Se pueden extraer dos conclusiones principales: (i) diferentes escleritos ventrales del mismo escleritomo engloban diferentes morfotipos de esclerito y (ii) un mismo morfotipo de esclerito se encuentra en diferentes géneros y especies. Estos resultados apoyan la idea de que las características diagnósticas que caracterizan al parataxón H. oezgueli no deberían ser utilizadas para la clasificación (bio)taxonómica de escleritomos en paleoscolécidos.
Palabras clave: análisis biométrico; parataxonomía; tafonomía; Cámbrico; Gondwana
Traducción: Enrique Peñalver
Résumé en Français
Hadimopanella oezgueli Gedik, 1977: une sclérite paléoscolécidien taxonomiquement inutile
Un nouvel assemblage de Hadimopanella oezgueli Gedik 1977 est décrit à partir du membre Genestosa (Formation Oville) du Caesaraugustien moyen (Cambrien moyen), dans les montagnes Cantabriques, au nord de l'Espagne. Les sclérites se produisent désarticulées et exposent des processus diagénétiques distincts, avec des chlorites authigènes en occlusion de porosité primaire et de fissures secondaires. La distribution sclérite était contrôlé par le développement inégal des touffes épibenthiques multispécifiques sur les coquilles substrats (à la fois de carbonate et argileux). Une analyse conjointe biométrique et statistique, à la fois en vue dorsale et latérale des sclérites désarticulés, permet la caractérisation de deux morphotypes distincts. Ces résultats sont comparés avec d'autres occurrences de sclérites de H. oezgueli, provenant d'autres marges de Gondwana et de la plate-forme sibérienne, à la suite de laquelle, un autre morphotype est identifié. Deux principales conclusions peuvent être tirées: (i) différents sclérites à face de tronc ventrale d'un même scléritome comprennent différents morphotypes de sclérite et (ii) un morphotype de sclérite distinct se produit dans différents genres et espèces. Ces résultats soulignent l'idée que les traits diagnostic qui caractérisent le parataxon H. oezgueli ne doit pas être utilisé pour la classification (bio) taxonomique de scléritomes paléoscolécidien.
Mots-clés: analyse biométrique; parataxonomie; taphonomie; Cambrien; Gondwana
Translator: Kenny J. Travouillon
Deutsche Zusammenfassung
Hadimopanella oezgueli Gedik, 1977: ein paläoscolecider Sklerit, unbrauchbar für taxonomische Zwecke
Es wird eine neue Assemblage von Hadimopanella oezgueli Gedik, 1977 aus dem mittleren Teil des Ceasaraugustianums (mittleres Kambrium) des Genestosa Members (Oville Formation) aus dem kantabrischen Gebirge, nördliches Spanien beschrieben. Sklerite treten disartikuliert auf und zeigen einen bestimmten diagenetischen Prozess mit authigenen Chloriten die primäre Porosität und sekundäre Fissuren okkludieren. Die Skelritenverteilung wurde durch ungleichmäßige Bildung von epibenthischen Klumpen mehrere Arten auf Schalensubstraten (sowohl Karbonat als auch Ton) kontrolliert. Eine biometrische und statistische Analyse sowohl der dorsalen als auch der lateralen Ansicht der disartikulierten Sklerite ergab die Unterscheidung von zwei abgegrenzten Morphotypen. Diese wurden mit anderen Vorkommen von Skleriten von H. oezgueli von anderen Rändern der Gondwanischen und Siberischen Plattform verglichen und als Resultat wurde ein weiterer Morphotyp identifiziert. Es können zwei Hauptrückschlüsse gezogen werden: (i) verschiedene körperseitige Sklerite desselben Skleritoms bestehen aus verschiedenen Skleriten-Morphotypen und (ii) ein bestimmter Skleriten-Morphotyp tritt bei verschiedenen Gattungen und Arten auf. Diese Ergebnisse unterstreichen die Idee, dass die diagnostischen Kennzeichen welche das Parataxon H. oezgueli kennzeichnen, nicht zur (bio)taxonomischen Klassifizierung paläoscolecider Skleritome benutzt werden sollten.
SCHLÜSSELWÖRTER: biometrische Analyse; Parataxonomie; Taphonomie; Kambrium; Gondwana
Translator: Eva Gebauer
Arabic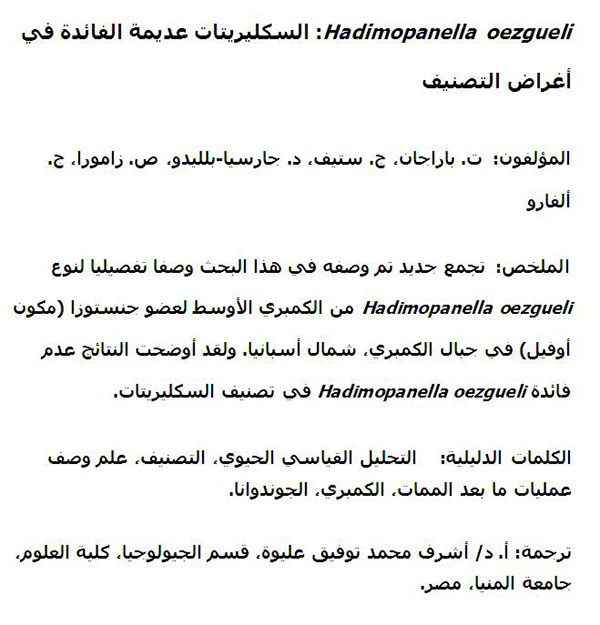 Translator: Ashraf M.T. Elewa